What You Need to Know About the E-2 Investor Visa
The E-2 visa was designed to strengthen economic relations between the United States and a host of nations around the world with which the U.S. engages in commerce. Here's everything you need to know about the E-2 investor visa, and how you can take advantage of it.

What is an E-2 Investor Visa?
An E-2 investor visa allows nationals of certain countries admission into the United States when they invest a significant amount of capital in a U.S.-based business. These countries are referred to as "treaty" countries.
What Exactly is a Treaty Country?
A treaty country is one with which the U.S.:
Maintains a treaty of commerce and navigation
Maintains a qualifying international agreement; or
Has enacted qualifying legislation
Treaty countries include Italy, United Kingdom, Jamaica, Israel, Mexico, Norway, Netherlands, Bulgaria, Egypt, and France.
As well as these nations:
Turkey (since 1990)
Ethiopia (since 1953)
Ukraine (since 1996)
Spain (since 1903)
Pakistan (since 1961)
Australia (since 1991)
Germany (since 1956)
Cameroon (since 1989)
Paraguay (since 1860)
New Zealand (since 2019)
Oman (since 1960)
Costa Rica (since 1852)
You can find a full list of treaty countries on the website of the U.S. Department of State.
Helpful Business Immigration Links
Learn More About Business Immigration
Artist Visas for the USA and Entertainer Visas for Foreigners
H-4 EAD Removal: What You Need to Know as an H-4 Visa Holder
New Investment Minimums for EB-5 Visas
The Economic Benefits of the H-1B Program
How Do You Qualify for an E-2 Visa?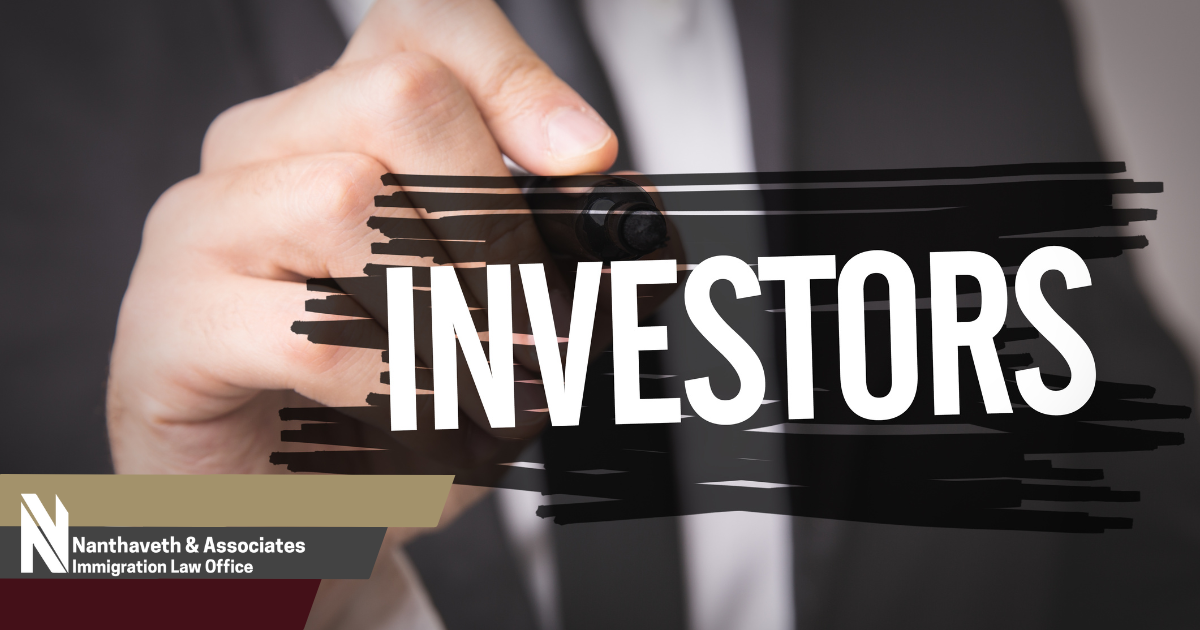 To be eligible for an E-2 visa you must be a national of a treaty country and have invested or be actively investing a substantial amount of capital in a bona fide U.S. enterprise in which you have a minimum of 50 percent ownership, or operational control as a manager or corporate officer.
Your capital investment and profit potential should be at risk of partial or complete loss if your investment fails.
What is a Substantial Capital Investment?
A capital investment is considered "substantial" as it relates to the cost of purchasing an existing business or creating a new one. Although there's no specific minimum dollar amount for an investment to be deemed substantial, a substantial investment is one that's considered sizable enough to ensure that the investor is committed to the success of the operation. The lower the cost of the business, the higher the investment must be in order to be deemed substantial.
What is a Bona Fide U.S. Enterprise?
A business that's considered to be "bona fide" is one that is an active and functioning commercial or entrepreneurial venture that generates goods or services for a profit. The enterprise must comply with legal requirements for businesses within its locality.
How Do You Apply for E-2 Classification?
When Inside of the U.S.
A treaty investor who is currently in the U.S. with a lawful nonimmigrant status can file Form I-129 with U.S. Citizenship and Immigration Services (USCIS) to apply for a change of status to an E-2 classification. If an investor's employee is presently in the U.S. with a lawful nonimmigrant status, a qualifying employer can file Form I-129 on behalf of the employee so that they may obtain a change of status to an E-2 classification.
When Outside of the U.S.
An individual who is physically located outside of the U.S. cannot request an E-2 classification via Form I-129. They must file paperwork with the U.S. State Department. An immigration attorney is an ideal resource for individuals in this situation. A skilled attorney can guide applicants through this process.
After receiving a visa, the individual can seek admission into a U.S. port of entry as an E-2 nonimmigrant.
Frequently Asked Questions
How Long Can You Stay in the U.S. on an E-2 Investor Visa?
An E-2 visa allows holders an initial stay of two years in the U.S. If they wish to extend their time in the country, they may do so in intervals of up to two years, if approved. There's no limit to how many extensions an E-2 visa holder can receive—the visa can be extended indefinitely. However, with each extension, the holder must confirm that they will ultimately leave the United States.
E-2 visa holders who travel outside of the U.S. may be granted an automatic two-year interval of readmission, if they're deemed admissible by U.S. Customs and Border Patrol.
Can Your Family Travel With You on an E-2 Visa?
Members of your family are permitted to travel along with you on your E-2 visa, including your spouse and your children—if your children are unmarried and under age 21. (Their nationalities do not have to be the same as yours).
These family members can pursue E-2 nonimmigrant classification as dependents. If they're approved, they can receive the same period of stay as you. If your spouse and kids are already in the U.S. and want to change their status to an E-2 dependent classification, or to extend their stay in an E-2 dependent classification, they can apply by filing Form I-539, Application to Change/Extend Nonimmigrant Status, with USCIS.
Can Your Spouse Work While in the U.S.?
If your spouse has a valid E-2 status, he or she is considered to have employment authorization "incident to status," meaning that their permission to work is conferred with their immigration status.
Evidence of their employment authorization that they can use to show employers includes:
A valid Form I-94, Arrival/Departure Record, with an admission code indicating E-2 nonimmigrant status
A valid Employment Authorization Document (EAD). Although spouses of E-2 visa holders don't have to apply for employment authorization (because their authorization is incident to status), they can still request an EAD, which they can show employers as evidence of their identity and ability to work. To do so, they'll need to file Form I-765, Application for Employment Authorization, with USCIS
Can Your Children Attend School in the U.S.?
Your dependents can attend schools, universities, and colleges in the United States (without having to obtain a student visa).
Do You Need to Talk to an Attorney About Obtaining an E-2 Visa?
If you're interested in getting an E-2 investor visa, we can help you. Call our office today to schedule your free consultation to discuss your case.
Helpful Business Immigration Links
Learn More About Business Immigration
Artist Visas for the USA and Entertainer Visas for Foreigners
H-4 EAD Removal: What You Need to Know as an H-4 Visa Holder
New Investment Minimums for EB-5 Visas
The Economic Benefits of the H-1B Program
Frequently Asked Questions

11211 Taylor Draper Lane Suite 107
Austin, TX 78759
Tel: (512) 371-9000
Hours: 8:00 AM - 6:00 PM
Payment: all major credit cards, cash, check, money orders, cashiers check