What to Do When Your Green Card is Denied: Step By Step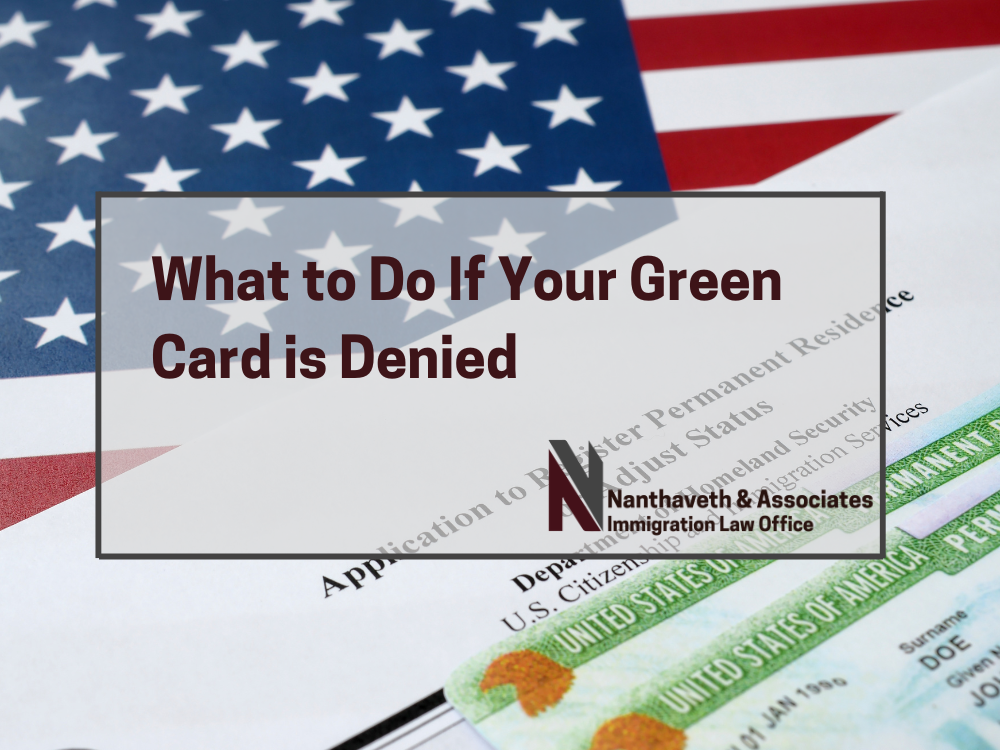 Getting a green card is oftentimes a lengthy and challenging process, so being granted permanent residency in the U.S. can feel like a major accomplishment.
If you apply for a green card and your application gets denied, it's a big disappointment—but you do have options. Here, we'll talk about how to make a second effort at becoming a permanent resident in the United States.
Filing a Motion
If you submitted your application for a green card while in the U.S., adjusting your status (USCIS Form I-485), you can file a motion with USCIS to have your green card denial reconsidered.
What to File
To file a motion, you will need to submit Form I-290B, Notice of Appeal or Motion.
Motion to Reconsider
You may decide to file a Motion to Reconsider if you believe that USCIS denied your application for a green card in error, based on the facts considered in your case. An immigration attorney may be able to prove that a legal mistake was made by USCIS, which could cause the agency to overturn its decision and grant you permanent residency.
This is a prime example of why working with an immigration attorney is so important. A skilled attorney will be able to review all of the facts associated with your case, and how your case was evaluated, to identify any mistakes by USCIS that could have resulted in your green card denial.
Motion to Reopen
A Motion to Reopen may be an ideal option if you've found new evidence that you weren't previously able to obtain. It's important to understand that this motion isn't an opportunity to submit documents that you simply forgot to include the first time. A motion to reopen is based on providing new evidence that you were initially unable to submit. It indicates that new evidence has changed the conditions of your case, and therefore USCIS should reopen it to be reevaluated.
Filing an Appeal
If your marriage-based green card application was denied because you didn't prove to USCIS that you were in a bona fide marriage, you may file a motion, or you may be able to appeal to the Administrative Appeals Office (AAO).
What to File
To file an appeal, you will need to submit Form I-290B, Notice of Appeal or Motion.
An Appeal
An appeal is for when you believe that USCIS has denied you in error. Therefore, your existing documentation is reevaluated. You won't be able to introduce any new evidence to support your case.
Once you appeal, your case will be transferred from the management of the USCIS officer who denied your application, to a different office. A new officer will review the same documentation and evidence that was evaluated by the previous one.
Winning an appeal can be a challenge since you're trying to get a favorable outcome without providing any new evidence.
That's why it's in your best interest to work with an immigration attorney. A skilled attorney will have the knowledge and experience to determine if it's wise to seek an appeal, or another option.
How to Fill Out Your Form for a Motion or Appeal
When you fill out Form I-290B, Notice of Appeal or Motion, be sure to complete every portion of the form that applies to you. USCIS may reject it if you leave certain fields blank. Your form will also be rejected if you submit the incorrect version, or if you include the incorrect fee (or if you don't include the fee at all).
Section one of the form identifies who you are, as well as your mailing address. In section two, you'll indicate whether you're filing a motion or an appeal. Be careful to make the appropriate selection—and don't mistakenly choose more than one option, otherwise USCIS will likely reject the form.
Where to File Your Form
USCIS provides a list of direct filing addresses so that you can know exactly where to mail your motion or appeal, and any associated documents. Be sure to choose the appropriate location, otherwise you may experience delays in having your documents processed.
Reapplying for a Green Card
Refiling an application to adjust status can be an ideal move. This may especially be the case if your initial filing was found to lack sufficient evidence, and you now have more information available to build a stronger case.
What to File
You can file a new Form I-485, Application to Register Permanent Residence or Adjust Status, with USCIS—being sure to include all the documentation, evidence, and new information required for a complete submission. These items may include:
Two passport-style photos
A copy of your government-issued photo ID
A copy of your birth certificate (you can submit other relevant evidence if yours isn't available to you or if it doesn't exist. This could be medical records, as well as school or church documents)
Form I-864, Affidavit of Support (if it applies to you)
If you didn't work with an immigration attorney during your initial application process, it would be in your best interest to work with one now.
A skilled attorney will ensure that your application and submission to USCIS is accurate and complete to help you submit a compelling case for a green card.
Schedule a FREE Consultation Or Call (512) 371-9000
---
About Nanthaveth & Associates:
Nanthaveth & Associates, PLLC is a trusted immigration law firm located in Austin, Texas. Immigration law experts at Nanthaveth and Associates are prepared to provide legal counsel for businesses, families and individuals in the areas of green cards, adjustment of status, work visas and investor visa applications, family-sponsored immigration, employer compliance, self-petitions, permanent residence, naturalization, waivers, appeals, foreign adoptions, and more.
For Austin, TX immigration help call Nanthaveth & Associates at 512.371.9000.