How to Adjust Your Status From an F-1 Student Visa
to a Green Card
F-1 visas are for students who are foreign nationals and wish to further their studies in the United States. If you're in the U.S. on an F-1 student visa, you may be able to adjust your status to become a permanent resident.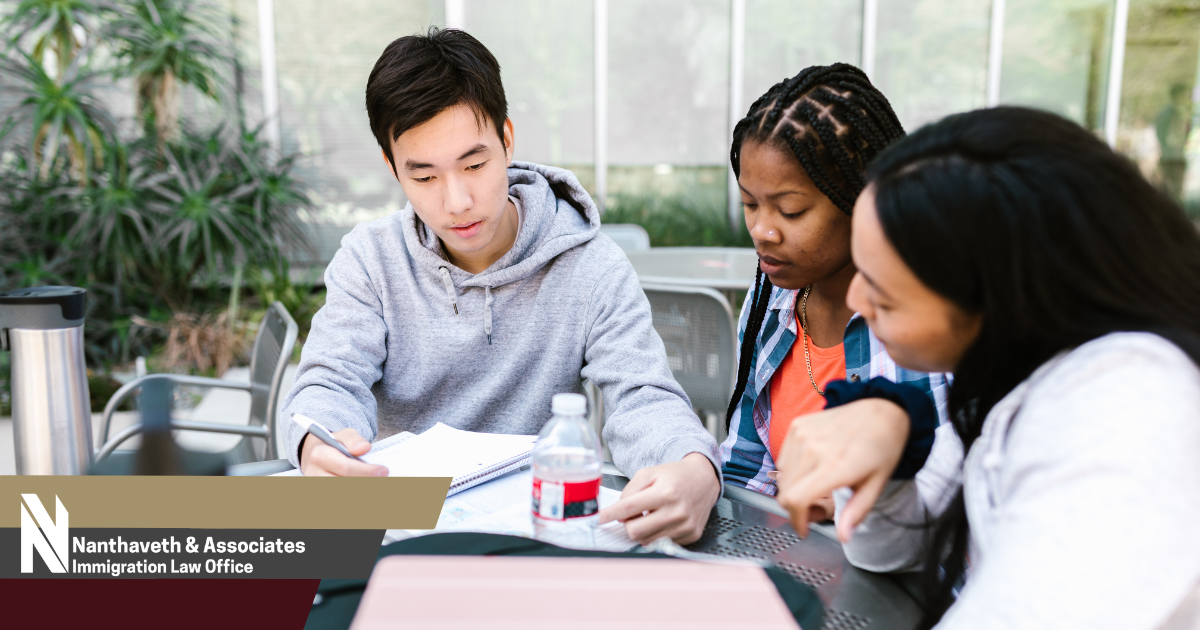 Being Sponsored by Your Employer
If you're unable to obtain an EB-1 visa, you may qualify for an EB-2 or EB-3 visa—both of which require the sponsorship of an employer. Let's take a look at each.
The EB-2 Visa
The EB-2 visa is for individuals who have an offer of employment for a job that necessitates an advanced degree and a minimum of five years of job experience, people who have exceptional ability in business, science, or the arts, and individuals who have a national interest waiver.
Having a national interest waiver means you may be able to obtain a green card without the sponsorship of an employer. The waiver may be used if your work is beneficial to the U.S. economy, education or health systems, and other sectors. A knowledgeable immigration attorney can explain how the waiver works and determine if it applies to your situation.
Your employer will need to petition on your behalf for the EB-2 visa by completing and submitting the proper forms to U.S. Citizenship and Immigration Services (USCIS). But there is also documentation that you'll need to provide. It includes:
Academic transcripts as evidence that you have an advanced degree
Documents that show your work experience
Professional certifications
Membership in a professional organization
Evidence of peer recognition for major contributions in your profession
The EB-3 Visa
The EB-3 visa is for professionals, skilled workers, and workers of other types, who have a minimum of two years of experience in their field. For this visa an employer must have offered you a full-time, permanent position. The employer will have to complete and submit the proper documentation to USCIS on your behalf.
Adjusting Your Status to a Dual-Intent Visa
As a student, you may participate in what is known as curricular practical training or optional practical training. Both training options, with the proper visa, may set you on a path to apply for a green card.
What is curricular practical training?
Curricular practical training, or CPT, is when an F-1 visa student works for their school through a cooperative education, work/study, internship, or other kind of required practicum offered through an agreement with the educational institution. Your CPT must play a fundamental role in the school's curriculum, and your performance in this capacity may influence the school to sponsor you and allow you to join the faculty as an associate instructor. You may begin participation in CPT after you receive authorization from a Designated School Official (DSO).
In order to participate in CPT you'll need to provide documentation, which can include:
An unexpired passport
Your driver's license
Form I-94, which indicates your F-1 nonimmigrant status
Form I-20, Certificate of Eligibility for Nonimmigrant Student Status
An approval for employment from the DSO
What is optional practical training?
Optional practical training, or OPT, provides work experience that relates directly to your primary area of study. Before you're permitted to work, you must first get an Employment Authorization Document (EAD) from USCIS, and you cannot begin work until the date specified on your EAD. If you're participating in an OPT while school is still in session, you may work as much as 20 hours weekly. When classes aren't in session, for instance during seasonal vacations, you may work full-time.
After you complete a course of study, you may be authorized for OPT for up to one year, however some students may qualify for an extension. Your employer may choose to sponsor you for an H-1B visa, which can allow you to remain in the U.S. and continue to work temporarily. The H-1B visa does not grant a green card.
Becoming an Investor
If you become a business investor in the United States, you may put yourself on a path toward becoming a permanent resident. This is uncommon for those who are adjusting their status from a student visa due to many students not having enough capital to invest, but it is still an option.
Your first step is to qualify for the EB-5 investor visa program. This can be a rather expensive endeavor, however, that requires a specific capital business investment and the fulfillment of certain requirements.
The requirements include: making a minimum financial investment of $800,000 in a business in the U.S. that's located in a rural area or a locale that has high unemployment, or a minimum investment of $1,050,000 in another jurisdiction. Also, you must create at least 10 full-time jobs for employees who qualify, and in some instances maintain the number of pre-existing employees for a period of at least two years.
To apply for an EB-5 investor visa you'll need to submit documentation to USCIS that includes: Form I-526—Immigrant Petition by Standalone Investor, along with proof that you've invested or are investing the necessary business capital, and evidence that you'll create 10 full-time jobs.
If you're approved for the EB-5 investor visa, you'll be able to later apply to adjust your status to become a conditional permanent resident, which is to get a green card. You may eventually file to remove the conditions on your permanent resident status.
Marrying a U.S. Citizen or a Lawful Permanent Resident
An international student who marries a U.S. citizen or a lawful permanent resident is eligible for a status adjustment to get a green card. However, to help detect and deter immigration fraud, USCIS makes the permanent resident status of the foreign spouse conditional—if they were married for less than two years on the day they were granted a green card.
After a specified time, you and your spouse must demonstrate that your marriage is genuine before you can remove the conditions on your green card.
Do You Need to Talk to an Immigration Attorney About Adjusting Your F-1 Student Visa to a Green Card?
Nanthaveth & Associates can help you with all aspects of obtaining a green card, including assisting with the application process. Contact us today to learn more about how we can help you.

11211 Taylor Draper Lane Suite 107
Austin, TX 78759
Tel: (512) 371-9000
Hours: 8:00 AM - 6:00 PM
Payment: all major credit cards, cash, check, money orders, cashiers check