Can I Work While My Green Card Application is Processing?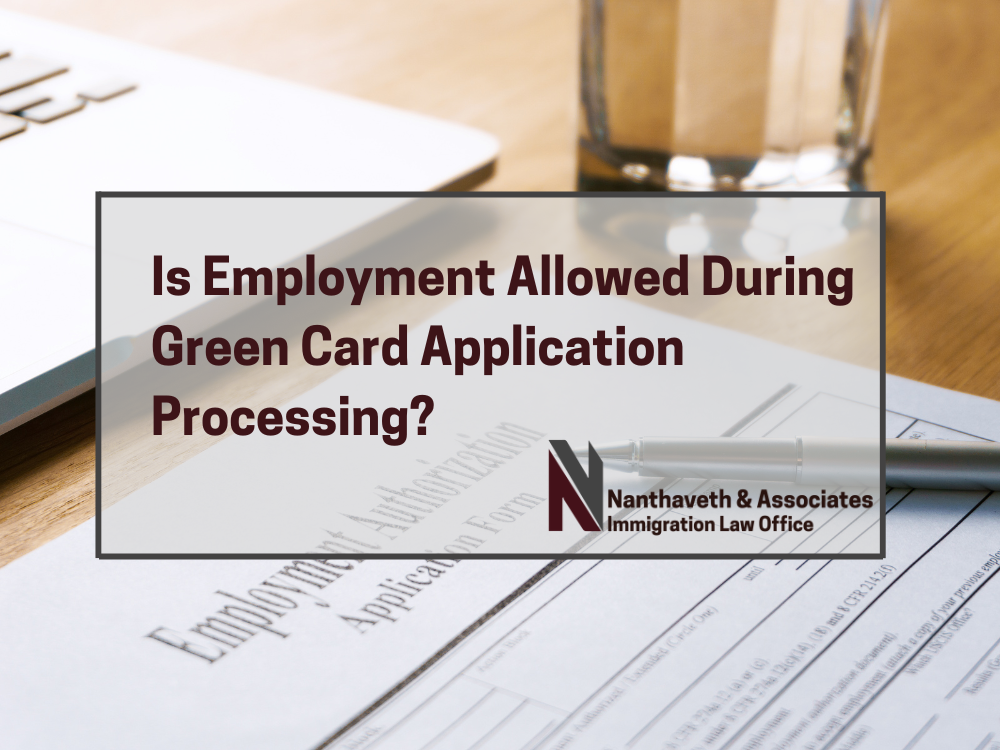 If you have an application for a green card that's pending with U.S. Citizenship and Immigration Services (USCIS), or if you're planning to apply for a green card, you may be wondering if you can work while your case is being processed. Here, you'll find everything you need to know.
What is Employment Authorization?
If you have an application for a green card in progress, you can work while your case is being evaluated by USCIS. Before you can work, though, you will need to apply to USCIS for permission to work, which is to obtain employment authorization.
To apply for employment authorization, you will need to file Form I-765, Application for Employment Authorization, along with the appropriate filing fee and necessary documents that include:
A copy of a government-issued identity document
Your passport or another travel document
Two identical passport-style photographs
How Long Does It Take to Get Employment Authorization?
If you haven't already applied for a green card, be aware that you can file for employment authorization at the same time you file to adjust status. Some people also file an application to obtain a travel document (Form I-131, known as advance parole) along with their application for a green card and employment authorization, in order to be able to travel outside of the U.S. while their green card application is being processed and be allowed reentry without a problem.
Be aware, though, that USCIS will process your request for employment authorization before your application for advance parole to reduce your wait time for a decision on your ability to work.
If you want to know how long it may take for USCIS to process your application for employment authorization, or any other application for benefits that you file, you can refer to the agency's online database to check case processing times.
How Do You Prove That You're Authorized to Work?
If USCIS reviews your application for employment authorization and approves you to work, you will receive what's called an Employment Authorization Document, or an EAD. An EAD is a card that provides physical proof of your permission to work and contains your photograph and sometimes your fingerprint. It's essentially a work permit, and you will need to show this card to potential employers—otherwise, they won't be able to hire you.
How Long Will It Take to Receive Your EAD?
If you were recently approved for employment authorization, or any another immigration benefit that grants a card, allow 90 days for the card to arrive. To know if your card was mailed out to you, you can check the USCIS Case Status Online System. If the status shows that it was mailed, USCIS will provide you with a U.S. Postal Service tracking number.
If USCIS mailed your EAD, but you never received it, you can create an online inquiry for your undelivered card. You can use the USCIS card inquiry system for any card that you're supposed to receive from them but didn't.
What Does an Employment Authorization Document Expire?
EADs typically last for two years. After that, they can be renewed for two-year intervals. If your EAD is about to expire, you should file to renew it within 180 days of the date of its expiration in order to prevent a disruption in your employment authorization. To do so, you will need to file a new Form I-765 and the filing fee, unless you're approved for a fee waiver. (If your work permit is lost, stolen, or destroyed, you'll follow the same process).
After Your Green Card is Approved, Will You Still Need an EAD?
Once you're granted a green card, you won't need an EAD anymore. You can work for anyone, anywhere in the U.S.
What if You Work Without a Permit?
A person who works for an employer in the U.S. without having a work permit is unlawfully employed. An individual is also considered unlawfully employed if their permit expires and they continue to work. Unlawful employment, however, does not just mean employment with a company. It also pertains to an individual operating a business enterprise of their own.
Unlawful employment includes:
Creating a business or running its day-to-day operations
Performing freelance work online
Engaging in foreign exchange trading (Forex)
If an individual works without having employment authorization, USCIS could bar them from adjusting their status (preventing them from getting a green card)—whether their illegal work is performed before or after they apply to adjust status. The person could also face removal proceedings, as well as become inadmissible for future entry into the United States. This means their visa will be canceled.
Are There Legal Ways to Earn Income Without Having Employment Authorization?
Not having employment authorization does not mean you aren't permitted to generate income. You are allowed to make passive financial investments, which means having assets like savings accounts that produce returns, and investments in stocks and bonds. You are also permitted to become a passive investor in a private enterprise.
If you want the benefit of gainful employment in the U.S. without violating immigration law and incurring the strict penalties that follow, it's in your best interest to work with an immigration attorney to obtain employment authorization.
Do You Need to Speak to an Attorney About Obtaining Employment Authorization?
If you've applied for a green card, or you're planning to, and you want to obtain employment authorization while your application is in progress, we can help. Call our office today to schedule a free consultation. You'll talk to an experienced Austin immigration attorney who can help you reach your goal.
Schedule a FREE Consultation Or Call (512) 371-9000
---
About Nanthaveth & Associates:
Nanthaveth & Associates, PLLC is a trusted immigration law firm located in Austin, Texas. Immigration law experts at Nanthaveth and Associates are prepared to provide legal counsel for businesses, families and individuals in the areas of green cards, adjustment of status, work visas and investor visa applications, family-sponsored immigration, employer compliance, self-petitions, permanent residence, naturalization, waivers, appeals, foreign adoptions, and more.
For Austin, TX immigration help call Nanthaveth & Associates at 512.371.9000.