How to Get a Green Card in the U.S.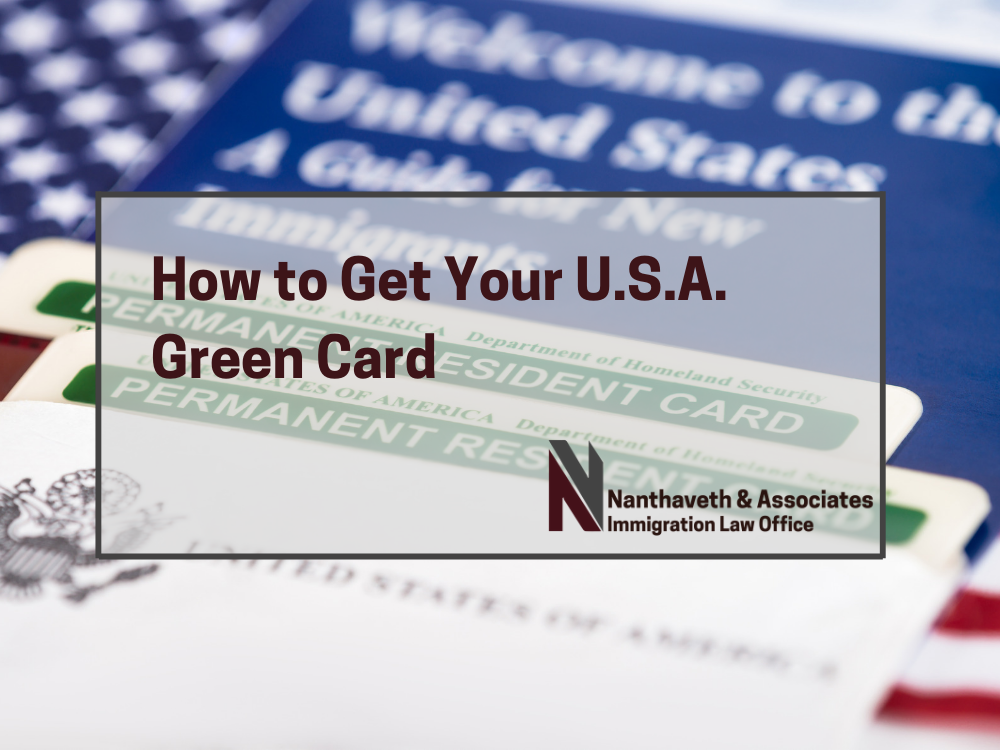 For millions of people in America, "lawful permanent resident" (LPR) status unlocks many opportunities and benefits. Eventually, with commitment and patience, permanent residents in good standing can petition to become naturalized citizens of the United States (U.S.).
When you want to become a permanent resident of the United States, you'll have to apply for a green card. Green cards are only available to people who meet certain criteria, including those who have immediate family in the U.S., those who have a job lined up, and those who fit into "special immigrant" categories. They're also available to refugees and asylees, trafficking and crime victims, and victims of abuse through humanitarian programs. Obviously, green cards play a critical role in the permanent immigration process, allowing beneficiaries to build careers and integrate into their communities.
For many people, working with a lawyer simplifies the entire application process. Your attorney can help you prepare the right forms, pull together the necessary documentation and prepare you for your interview. (Some interviews can be more intimidating than others, such as those involving green card marriage.)
In order to apply for a green card, you'll have to go through the same steps everyone else does. Here's how to apply for a green card in Austin, TX and the surrounding communities:
Find out whether you're eligible
Fill out the right forms
Provide supporting documentation
Go to a biometrics appointment, if necessary
Attend an interview with a U.S. Citizenship and Immigration Services official
Wait for a decision on your application
How to Apply for a Green Card in Austin, TX
Before you can apply for a green card in the U.S., you must meet eligibility requirements. Outside of humanitarian programs, you have to fit into a category outlined by the Immigration and Nationality Act, or INA. Many people choose to work with an Austin immigration attorney to make the process simpler – that way, they don't have to worry about which forms to file, how to fill them out, or where to file them; the attorney handles all of that.
What About Visas?
You must be legally allowed to be present in the United States before you can apply for a green card. Typically, that means you must have an immigrant visa.
If you are in the United States on a nonimmigrant visa, you must usually change your status or apply for a different type of visa before you can apply for a green card. Your attorney can give you specifics on what to do in your situation because every case is different.
Who Can Apply for a Green Card?
Many people may be unsure of exactly who is eligible to apply for a green card. The U.S. Citizenship and Immigration Services (USCIS) lists all green card eligibility categories on its website. In order to be considered eligible to apply for lawful permanent resident (LPR) status, any applicant must fit into one of these categories. Sometimes, there are several sub-categories within a larger group.
Additionally, it may be hard to identify who requires sponsorship by another person (typically a U.S. citizen or another lawful permanent resident). Finally, there are certain things, called "bars to eligibility," that may disqualify a person from applying for a green card.
We list specific eligibility categories below.
Eligibility Categories for Green Cards:
Family
Employment
Special Immigrant Status
Asylee or Refugee Status
Crime and Human Trafficking Victims
Victims of Abuse
"Other" Categories (e.g., Diversity Visas)
Via "Registry"
While some of these categories appear straightforward, others are less clear. For example, those applying through family or refugee status will likely easily be able to identify eligibility. On the other hand, categories like "Green Card Through Registry" may not be definitively understood. For clarity, we provide short descriptions of each eligibility category below.
Green Card Through Family
Certain relatives of both U.S. citizens and current lawful permanent residents (LPR)s can apply for a green card through their familial connections. These include "immediate relatives" – spouses, parents, and unmarried children under 21 years of age. Also eligible within this category are widows or widowers of U.S. citizens and certain victims of abuse at the hands of U.S. citizens or LPRs (VAWA self-petitioners).
It's important to note the USCIS allocates certain familial green cards based on family preference categories. These do not include direct spouses, minor children, and parents of U.S. citizens. Preference categories rank from first preference (F1) to fourth preference (F4) and are specifically described on the USCIS's website.
Green Card Through Employment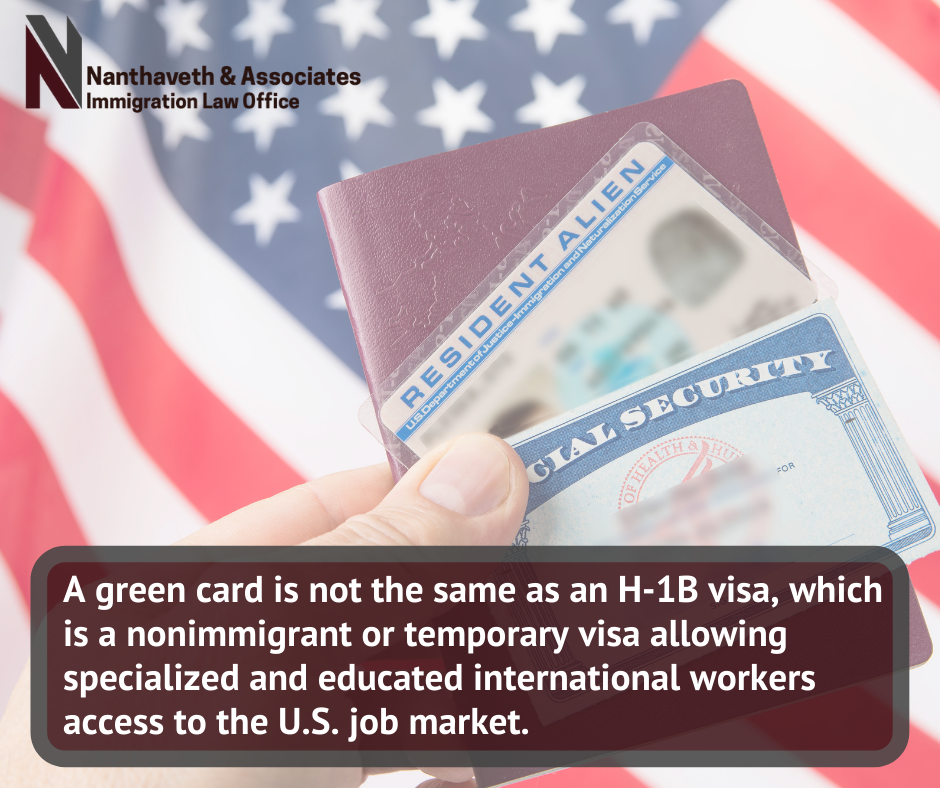 A green card through employment is available to certain groups of foreign professionals. A green card is not the same as an H-1B visa, which is a nonimmigrant or temporary visa allowing specialized and educated international workers access to the U.S. job market.
Those professionals eligible for a green card via employment are again ranked based on preference categories (EB-1, EB-2, and EB-3). According to the USCIS, those "priority workers" who receive first preference are professionals with "extraordinary ability in the sciences, arts, education, business, or athletics," as well as "outstanding professors and researchers," and certain high-level international executives.
While other foreign nationals with specific skills and strengths may apply with the appropriate eligibility and sponsors, they would likely fall under lower preference categories.
To learn more about H-1B Visas, read this quick guide to the H-1B Visa Process.
Green Card as a Special Immigrant
Certain foreign nationals can apply for lawful permanent residency as a "special immigrant." This category includes a broad spectrum of applicants, including religious workers, those abused or abandoned juveniles with "special immigrant juvenile" status, international broadcasters, and employees of certain international organizations (e.g., NATO). You can read more detailed information about these categories on the USCIS's website.
Green Card Through Refugee or Asylee Status
Any person who has already received either asylee or refugee status can apply for a green card. In order to receive either status, applicants must participate in a rigorous application and screening process involving background checks and interviews. Any green card applicant within this category must have had their assigned status for at least one year at the time of submission.
Green Card for Human Trafficking and Crime Victims
Certain victims of both human trafficking and other crimes can apply for green cards via this category. All applicants must already be in possession of specific visas in order to be eligible. A T nonimmigrant visa is issued to victims of human trafficking, while a U nonimmigrant visa is provided to select crime victims.
Green Card for Victims of Abuse
Some foreign nationals who suffered abuse may be eligible for a green card. These include "special immigrant juveniles" or SIJs. These children have suffered abandonment and abuse, and have ultimately received their status via the U.S. immigration court system. Violence Against Women Act (VAWA) self-petitioners are also eligible. This special category of applicants includes victims of abuse by U.S. citizens and lawful permanent residents. According to the USCIS, VAWA self-petitioners have suffered extreme abuse, cruelty, or battery by a family member or relation. Unlike other applicants applying via a familial connection, VAWA self-petitioners do not need a sponsor.
Green Card Through Other Categories
This category includes all other persons eligible who do not neatly fall into one of the other seven groups. Included in this category are Diversity Visa (DV) recipients. The U.S. provides 50,000 visas through the DV Lottery Program every year. The program is meant to provide immigration opportunities to those who may have no existing connection to America. In order to be eligible for the DV lottery, applicants must be from certain designated countries with low immigration.
You can read about all persons eligible via this eligibility category on the USCIS's website.
Green Card Through Registry
Finally, some people may be eligible to apply for a green card through "registry." This is a unique category and is only available to those who have "been present in the United States since January 1, 1972.
According to the USCIS, those who wish to apply via this category must:
Have been present in the U.S. since January 1, 1972;
Possess upstanding moral character;
Be considered eligible for naturalization; and
Not be inadmissible, deportable, or possess any bars to adjustment.
We discuss bars to adjustment below.
Bars to Adjustment
Even if a person is eligible, it is quite challenging to become a green cardholder. The application process is very detailed and involves rigorous background checks. For some people, certain "bars" to eligibility will prevent them from applying for and/or receiving a green card. The Immigration and Nationality Act (INA) lists specific bars to adjustment. If a candidate possesses one or more bars to adjustment, they will likely be incapable of acquiring a green card.
Bars to Adjustment include:
Certain criminal convictions both in the U.S. and abroad;
Any previous ties to terroristic acts or organizations;
Any history of violation of visa terms or rules; and/or
Participation in undocumented or unlawful employment.
The above list is not exhaustive. You can read more about bars to eligibility on the USCIS's website. If you think you may be ineligible for a green card, options might still exist. Talk to a skilled green card attorney – they may be able to help.
Sponsorship
Some green card candidates will need a sponsor in order to apply. For example, if an applicant is eligible through the "family" or "employment" categories,  they will need a family member or employer to act as a sponsor. Typically, sponsors will submit specific required paperwork in support of the applicant.
Familial sponsors can expect to submit an Affidavit of Support for applicants. This submission formally accepts financial responsibility for the petitioner. You can read specific information and details about this requirement on the USCIS's website.
If you plan to act as a sponsor for a green card candidate, speak with an experienced immigration lawyer. They will be able to explain every requirement for green card sponsorship.
What Forms Do You Need to Fill Out to Apply for a Green Card?
Your attorney can fill out your Form I-485 – Application to Register Permanent Residence or Adjust Status for you. He or she will also file it for you.
Supporting Documents for Your Green Card Application
You'll have to provide some supporting documentation when you apply for a green card. In addition to your passport-style photos, government-issued ID, birth certificate and initial admission documents, you may have to provide documents for your immediate relatives, as well. Some other documents you might need to provide include:
Certified police records
Your marriage certificate or license
Divorce records
Proof that you've maintained a lawful status since you arrived in the U.S.
Adoption records
Proof of employment
Waivers, if you were granted any
What Happens After You Apply for a Green Card?
Once you've officially filed your green card application, there are still two more steps before USCIS can make a decision.
Biometrics Appointment
After you apply for a green card, you'll have to appear for a biometrics appointment. A biometrics appointment usually only takes about 15 minutes. At your biometrics appointment, U.S. Citizenship and Immigration Services will take your photo, get your fingerprints, and obtain your signature for identification purposes. You'll have to bring the appointment notice from USCIS, your photo ID and receipts for any documents the USCIS is processing for you to your appointment. You'll also have to pay the biometric services fee at the time of your appointment.
The USCIS Green Card Interview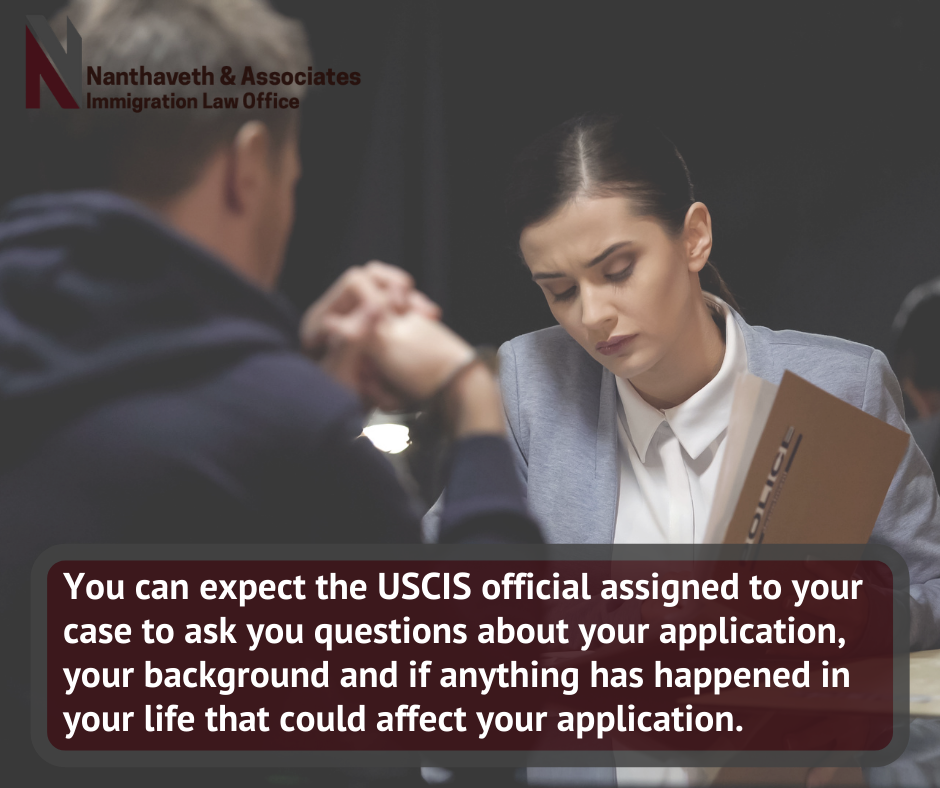 Almost everyone has to go through an immigration interview with a USCIS immigration officer when they're applying for a green card. These interviews are usually over in less than a half-hour, but not always.
You can expect the USCIS official assigned to your case to ask you questions about your application, your background and if anything has happened in your life that could affect your application, like an arrest, the birth of a child, or a new job. He or she may also ask you questions based on the type of green card application you've filed, like:
How, when and where did you meet your spouse?
What's your spouse's birthday?
What's your spouse's work schedule like?
Do you share money?
What kind of car did your spouse have when you first met?
When did you decide to marry? How did your spouse propose to you (or how did you propose to your spouse)?
Can you describe the furniture in your bedroom?
You'll also have to take an English and civics test (unless you qualify for a waiver). The officer will ask you up to 10 questions about the U.S. government and the country's processes, and you must answer at least six of them correctly. (You can check out a practice test here.)                                                    
Receiving a Decision on Your Application
You might receive a decision at your interview. However, sometimes immigration officials need more information to make a decision – and if that happens, you'll have to wait. Typically, you'll receive a decision within 90 days. 
Work With an Expert Green Card Attorney in Austin, TX
Only an experienced immigration attorney certified by your state's bar association possesses the specific knowledge required to help you with your questions. Proper legal counsel not only makes your life less stressful, but it increases your chances for success.
If you are unsure if you are eligible for a green card, you should contact an immigration lawyer immediately. When you work with an immigration attorney, they'll explain the green card application process and let you know whether or not you're eligible. If you are, they can expertly guide the process and ensure all application elements are submitted on time and error-free. They can also represent your interests should a delay or demand for additional information occur.
Learn more about Green Card Marriage.
Schedule a Free Immigration Consultation with Austin, TX Immigration Lawyer Nanthaveth & Associates
At Nanthaveth & Associates, our team provides excellent legal services and representation to clients across Austin, Texas. Our experienced associates practice only immigration law, guaranteeing you'll work with an industry expert. If you have questions about green cards, visas, deportation, or asylum – we can help.
If you need a lawyer's help to apply for a green card, we're here for you. Just call us at 512-792-3720 or schedule a free immigration consultation online – we'll be happy to help. You'll meet with an attorney, review your unique situation, and leave with a clear path forward.