What to Expect During a Green Card Interview
At some point during the processing of your application for a green card, you will be scheduled to attend a green card interview. You may have lots of questions about what to expect during this appointment. Here, we'll cover everything you need to know, including what happens during the interview, who and what you should bring, questions that may be asked of you, and what you may expect to happen afterward.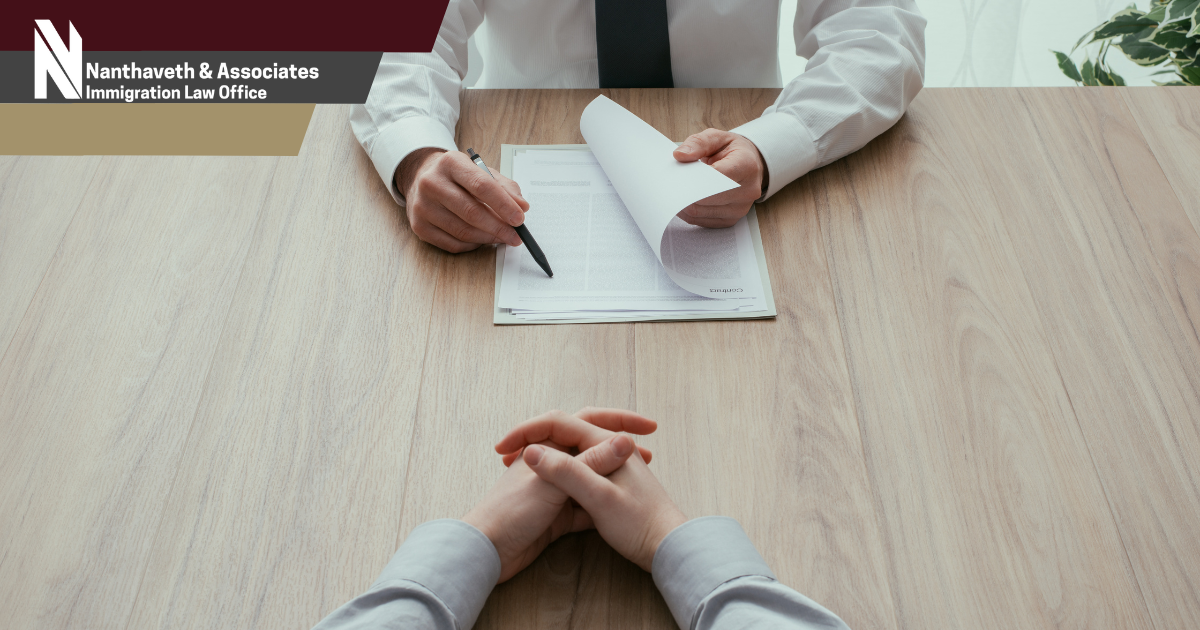 What Happens During a Green Card Interview?
If you've applied for a green card, whether your eligibility is based on family, employment, or marriage, a green card interview will almost always determine if you're granted permanent residency in the United States.
During your appointment, an interviewing officer will question you about the content of your green card application to verify your truthfulness and consistency. If you're an applicant for a marriage-based green card, the officer will not only verify information in your application, but evaluate the genuineness and authenticity of your marriage.
Where Do You Attend a Green Card Interview?
Green card interviews that take place in the United States are conducted at the offices of U.S. Citizenship and Immigration Services (USCIS). Interviews for those who live abroad are held at a U.S. consulate or embassy.
Who May Come With You to the Interview?
Individuals Listed on Your Appointment Notice
In most cases the only people who should join you at your green card interview are those listed on your appointment notice—likely your sponsoring family member, or your spouse (you and your spouse may be interviewed together or separately, depending on the interviewing officer).
An Interpreter
You may attend the interview with an interpreter if you aren't fluent in English. The interpreter must strictly translate what the interviewing officer says without adding personal commentary, answers, or opinion. The interpreter must also:
Provide their government-issued identity document
Complete an interpreter's oath and privacy release statement
Sign Form G-1256, Declaration for Interpreted USCIS Interview, in the presence of the USCIS officer after the interview has been conducted
An interpreter should be a neutral party to your application or petition for benefits, although the interviewing officer may decide to allow a relative or friend to interpret for you. If the officer is fluent in your language, they may opt to interview you without an interpreter.
It's important for you to know that the interviewing officer may disqualify your interpreter if he or she feels that their participation jeopardizes the integrity of the interview, or if they deem your interpreter to be unfit for the task.
Your Lawyer
It's wise to have your immigration attorney attend your green card interview if you have any criminal or immigration issues on record that could impact USCIS's evaluation of your case. A skilled attorney can explain and clarify what transpired in your past.
A Legal Guardian
If you're disabled, a legal guardian or friend may attend the interview with you. If this is the case, be sure to inform USCIS or the U.S. embassy or consulate in advance.
What Should You Bring to the Interview?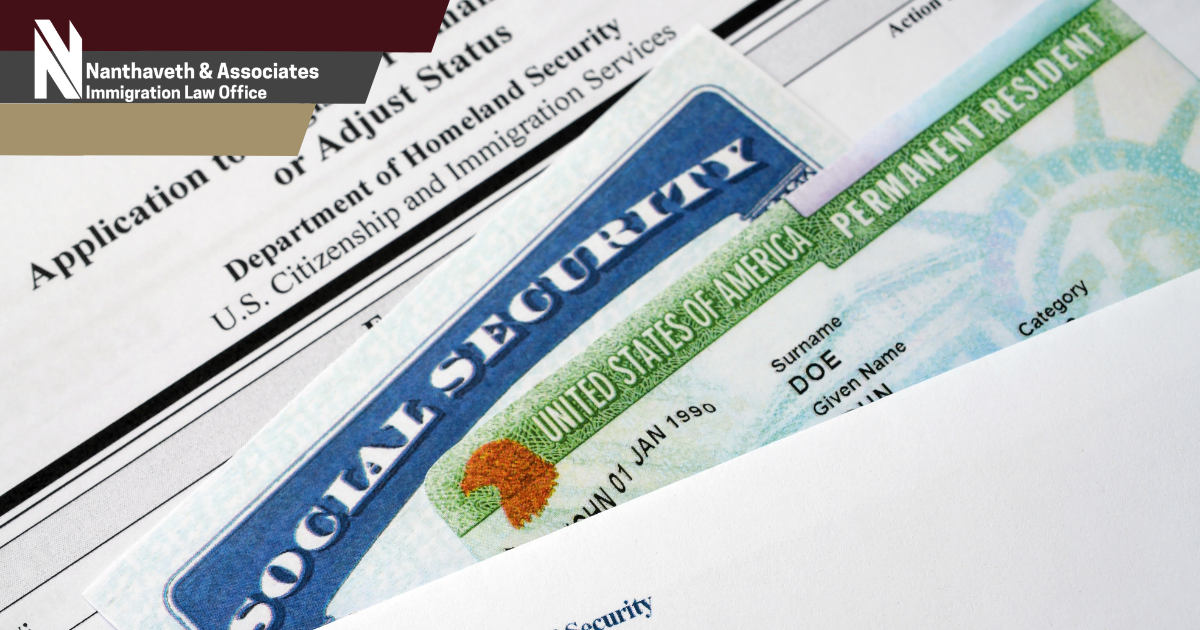 Your appointment notice should list the items required for your green card interview. Documentation that you should carry includes:
Your Form I-485 appointment notice
A copy of your entire adjustment of status application package
A government-issued ID, like your driver's license or passport
Form I-693, Report of Immigration Medical Examination and Vaccination Record (along with a report of your medical exam)
Advance parole documents (travel documents) if you made trips out of the U.S. between the time you applied for a green card and your green card interview date
Documentation and evidence proving that your marriage is genuine (bona fide); this is for a green card application that's based on marriage, and may include copies of children's birth certificates, joint credit card or bank account statements, or a joint lease or mortgage
An employment verification letter indicating that you are gainfully employed (specifying your salary); this is for a green card application that's based on employment
What Questions Are Asked During a Green Card Interview?
The interviewing officer will ask you to explain or confirm answers you provided in your green card application in order to verify your truthfulness and consistency. These questions could become personal, especially if your green card application is based on a marital relationship.
While these may not be the exact questions asked, questions posed during the interview could include:
What inspired you to come to the United States?
When is your spouse's birthday?
Did you go on a honeymoon? Where?
Who enjoys cooking and who enjoys cleaning?
What are your children's favorite foods?
Always be truthful and honest in your responses.
What Can You Expect After the Interview?
A green card interview may have several outcomes:
Your Case is Approved
The interviewing officer may approve your application for a green card. If so, in some cases they will place an I-551 ADIT stamp in your passport as temporary proof of your status as a permanent resident. Your new green card will be processed and mailed to you.
You Receive a Request for Evidence
USCIS may send you a Request for Evidence (RFE).  An RFE doesn't mean that your application is going to be denied. It simply means that the officer handling your case needs more information from you before making a final decision. You should respond swiftly. An RFE gives you a chance to clarify any portions of your submission that may still be confusing.
Your Case Requires More Review
After your interview, your case may require additional review. If so, USCIS will notify you and you'll be advised to wait for the next steps, or to wait for a final decision to be sent via mail.
You're Asked to Attend Another Interview
USCIS may request that you attend a second interview (during which an officer may focus on specific areas of your background or marital relationship). If this is the case, you will receive another USCIS interview notice.
You Receive a Notice of Intent to Deny
If you receive a Notice of Intent to Deny (NOID) from USCIS, it means that the documentation and evidence you provided in your case did not warrant approval for permanent residency, and that the agency plans to deny your green card application. The NOID will give you specific details as to why.
Before your case is rejected, though, you still have a final opportunity to give USCIS new evidence that may help establish your eligibility. If you're in this situation, you should contact an immigration attorney as soon as possible. A skilled attorney may help salvage your chance for a green card.
Your Application is Denied
A USCIS officer may deny your case due to issues that make you ineligible for a green card, like problems revealed in your background check, or issues relating to your immigration history.

11211 Taylor Draper Lane Suite 107
Austin, TX 78759
Tel: (512) 371-9000
Hours: 8:00 AM - 6:00 PM
Payment: all major credit cards, cash, check, money orders, cashiers check