Immigration Lawyer Fees Explained
What do immigration lawyers charge for their services? This guide breaks down the average fees charged by immigration lawyers, as well as how these fees are typically structured.

All About Immigration Lawyer Fees
Most immigration attorneys offer free consultations. During a free consultation, you have the opportunity to ask a number of questions, such as:
How much do you charge?
What is your fee structure like?
What happens if my case takes longer than expected?
You may also ask specific questions about your case. Some of the most common questions people ask immigration attorneys include:
How much will it cost to file my paperwork?
What are the chances of my case being approved?
How long will the process take?
Related: 8 reasons you need to book a free consultation with an immigration lawyer now
After your free consultation, you have the opportunity to decide whether working with a particular lawyer is right for you. You may judge the attorney on their communication style, fees, knowledge and abilities, and a wide range of other factors.
If you decide to work with an attorney, you need to know that:
You will most likely need to pay a retainer fee
Every attorney's hourly rates vary
Visas and other immigration petitions cost different amounts
Premium processing costs extra
The following sections outline each of these types of immigration lawyer fees.
Paying a Retainer Fee for an Immigration Lawyer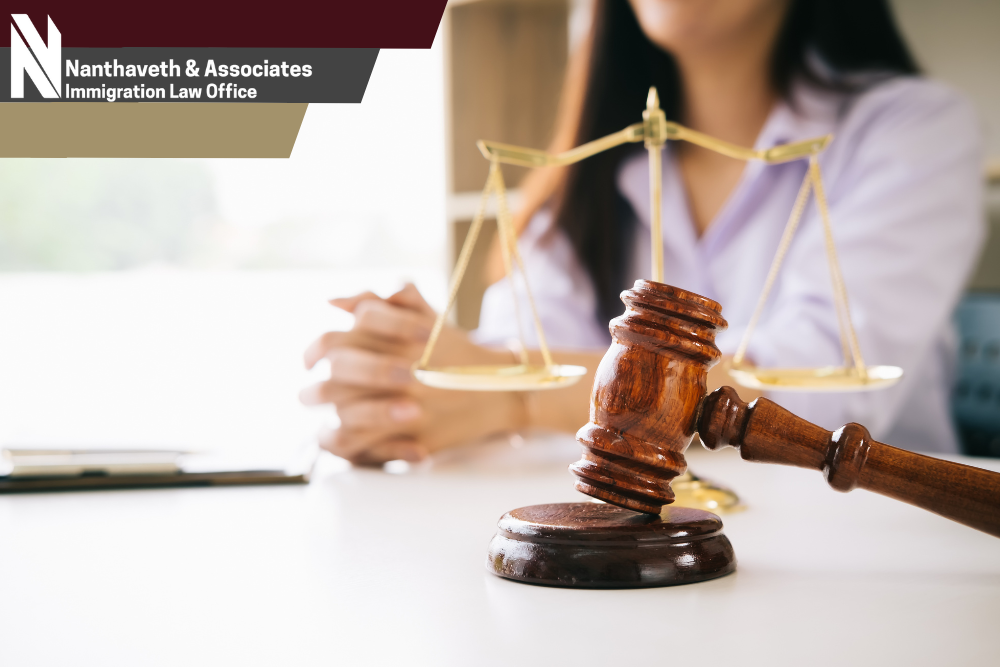 A retainer fee is a sum of money that you pay upfront in order to secure an attorney's services. Once you have paid a retainer, the lawyer is then able to begin working on your case. Retainer fees are common in the legal field. They exist because most lawyers work on an hourly basis, and they need to be sure that they will be compensated for their time.
The amount of the retainer fee varies depending on the lawyer. Some lawyers charge a few hundred dollars for their retainer fee, while others charge several thousand. The amount also varies depending on the type of case.
For example, a lawyer who commonly handles family-based immigration cases may charge a lower retainer fee than a lawyer who regularly handles business immigration cases. This is because family-based immigration cases are generally less complex than business immigration cases are. Complicated cases tend to cost more than simple ones do.
Your attorney will "work off" the retainer fee at their regular hourly rate. After the attorney has worked through the retainer fee, you'll begin paying the standard hourly rate for the attorney's services.
How Does an Attorney Calculate Their Retainer Fee?
In order to calculate their retainer fee, most attorneys start by estimating the total number of hours they expect to work on your case. They then multiply their hourly rate by the number of hours they expect to work.
For example, let's say an attorney has an hourly rate of $250. They expect to work 10 hours on your case. In this scenario, the attorney would charge a retainer fee of $2,500.
It's important to note that the total number of hours an attorney works on your case may be different than the number of hours they estimated when they calculated the retainer fee. If this happens, you will either be refunded for any unused portion of the retainer fee or you will be billed for any additional hours worked.
Related: The step-by-step guide to renewing your green card
Paying an Attorney's Hourly Rate
As we mentioned before, most immigration lawyers work on an hourly basis. This means that they charge a set amount of money for each hour (or fraction of an hour) that they work on your case. Hourly rates can vary greatly between attorneys.
More established law firms typically charge more than attorneys with very little experience do. Usually, rates are directly proportional to an attorney's track record of success in representing their clients.
Paying Filing Fees for Visa Applications, Green Card Petitions, and Other Immigration Forms
In addition to paying an attorney's hourly rate, you will also need to pay filing fees for any visa applications, green card petitions, or other immigration forms that need to be submitted on your behalf.
The filing fee for each application or petition can vary greatly. For example, the current filing fee for an I-130 Petition for Alien Relative (the form used to sponsor a family member for a green card) is $535. The filing fee for an Application for Employment Authorization (the form used by many people who have work visas) is only $410.
Some immigration forms require additional fees to be paid, in addition to the standard filing fee. For example, the current biometrics fee (the fee charged for providing your fingerprints and photo) is $85.
Paying Other Miscellaneous Fees
In addition to the fees we've already discussed, you may also need to pay other miscellaneous fees throughout the immigration process. These fees can include the cost of getting a medical exam, obtaining police clearances, or translating documents into English. The cost of these miscellaneous fees will vary depending on the specific type of fee involved.
It's important to remember that in some cases, your attorney will pay the fees on your behalf and then bill you later.
Related: Can you get legal status in the U.S. if you're an undocumented immigrant?
Paying for Premium Processing on Your Immigration Petition
Some people are eligible for premium processing. This means that they can pay an additional fee of $1,225 and receive a decision on their petition within 15 days.
Not everyone is eligible for premium processing. For example, people who are applying for employment-based green cards are not currently eligible for premium processing.
Should You Pay for Premium Processing?
Whether or not you should pay for premium processing depends on your needs. If you're in a rush (and you have the cash), premium processing can save you a lot of time.
On the other hand, if you're not in a hurry, it might make more sense to save your money and wait the standard processing time.
What to Expect When Meeting With an Immigration Attorney for the First Time (or Consulting by Phone)
When you meet with an immigration attorney, they will likely ask you a series of questions about your case. They may also review any documents that you have related to your case. Remember, you have the opportunity to ask questions, as well. Your questions can be about your specific situation or about what it's like to work with that attorney; you may want to ask things like:
How much experience do you have with cases like mine?
What are your success rates?
What are your fees?
How long have you been practicing law?
Do you focus on other types of cases, or only immigration?
After the consultation, the attorney will give you an estimate of their fees and let you know what you can expect moving forward.
It's important to remember that you are not obligated to hire the attorney that you meet with. If you feel like the attorney is not a good fit for your case, you can always consult with another attorney.
Related: How to become a permanent U.S. resident
Choosing an Immigration Attorney
When choosing an immigration attorney, it's important to make sure that you choose someone who is experienced and knowledgeable in the area of immigration law. You should also make sure that you feel comfortable with the attorney. This means that you should feel like you can trust the attorney and that they have your best interests in mind. Finally, you should make sure that you are able to afford the attorney's fees. Keep in mind that in some cases, attorneys may be willing to work out a payment plan.

11211 Taylor Draper Lane Suite 107
Austin, TX 78759
Tel: (512) 371-9000
Hours: 8:00 AM - 6:00 PM
Payment: all major credit cards, cash, check, money orders, cashiers check