Pasadena , TX Immigration Lawyers
Immigration to the United States can be difficult – and you may need help from a Pasadena immigration lawyer. Regardless of the type of immigration you're pursuing, whether you're coming to the U.S. on a fiancé visa or you intend to work here temporarily, the required forms, supporting documentation, interviews and other requirements can be confusing. For many people, the easiest way to work through the immigration process is to work with an attorney in Pasadena who understands U.S. law and the continually changing requirements people must meet to enter the country.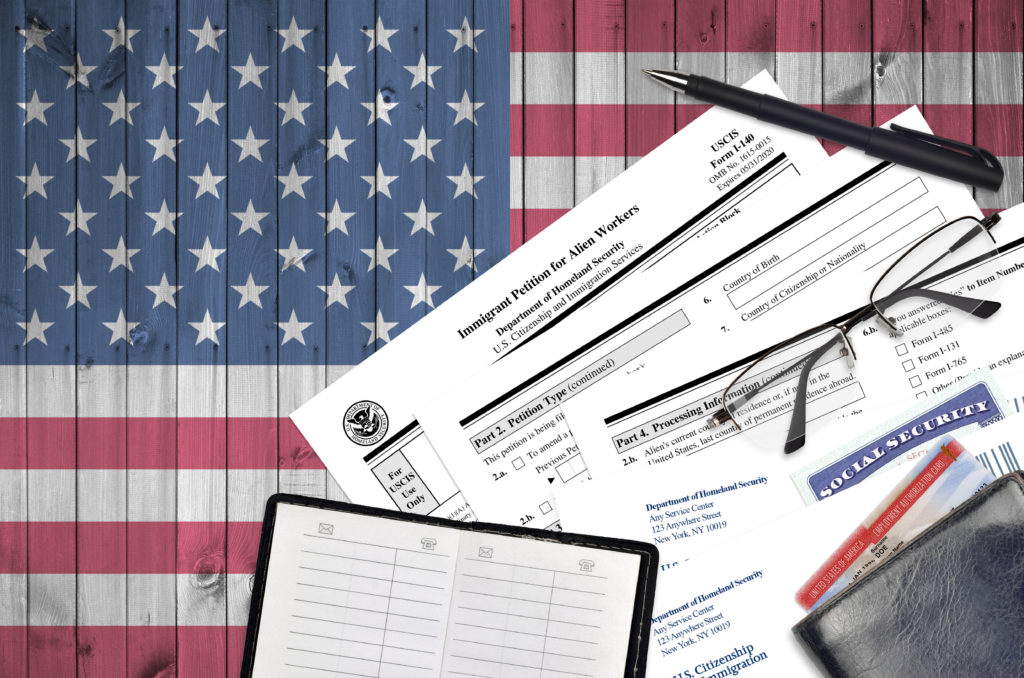 Citizenship and Naturalization: How a Pasadena Immigration Lawyer Can Help You
Working your way to U.S. citizenship can be a time-consuming – and sometimes confusing – process. For that reason, many people turn to a Pasadena, TX immigration attorney who can help. Usually, you'll need a temporary visa before you can get a green card and become a lawful permanent resident; and you'll need to be a lawful permanent resident before you can become a U.S. citizen. While there are a few exceptions, that's the general route that most people must take. A lot of people choose to work with an attorney to ensure that the process goes smoothly – and to ensure that they're as prepared as possible every step of the way.
Family Immigration Help From a Pasadena Immigration Lawyer
Many people are eligible to immigrate to the United States because of their familial connections. Citizens and lawful permanent residents, or LPRs, can often petition for qualifying relatives, including spouses, children, siblings and parents.
Family immigration falls into several categories, including:
Immediate relatives
Family preference immigration
There are several types of visas available for family members of citizens and LPRs. In most cases, the process begins with a U.S.-based sponsor who petitions the government for his or her family members. The sponsor, often with the help of an attorney, files paperwork, pays fees and submits supplemental documentation.
Fiancé Visas
If you intend to marry someone from abroad, you may be able to file an application for a fiancé visa for him or her. There are specific requirements you must meet, and your attorney can help you with the petition and supporting documentation.
K-3 and K-4 Visas
K-3 and K-4 visas are for spouses and stepchildren of U.S. citizens. These 2-year visas are for people who want to come to the U.S. to await approval on a Form I-130, Petition for Alien Relative.
Family Preference
There are several "preference" categories for family members of U.S. citizens and lawful permanent residents:
First preference (F1) is for unmarried sons and daughters who are 21 years of age or older, of U.S. citizens
Second preference (F2A) is for family members of lawful permanent residents – specifically spouses and children who are unmarried and under the age of 21
Second preference (F2B) is for unmarried sons and daughters of lawful permanent residents, provided the unmarried sons and daughters are 21 years of age or older
Third preference (F3) is for married sons and daughters of U.S. citizens
Fourth preference (F4) is for brothers and sisters of U.S. citizens, if the U.S. citizen is 21 or older
Working With a Pasadena Immigration Lawyer for Business Immigration Purposes
There are several avenues for companies to bring in immigrant workers – but filling out and filing business immigration forms, understanding all a company's legal requirements and keeping up with the most recent changes to U.S. immigration law can be confusing and time-consuming. Many businesses choose to work with an immigration attorney who keeps tabs on current laws and understands which avenues to take.
Some of the most common work-related visas include:
O-1
P-1A, P-1B, P-2, P-3
B-1 / B-2
EB-1, EB-2, EB-3, EB-4, EB-5
F-1
M-1
And more!
These visas are typically available when an employer files on behalf of an employee. The length of stay can vary, and some can be extended while others cannot.
Some investors are also eligible to come to the United States, as are those who intend to start a business here. Because there are so many different ways for a business to bring in workers from other countries, you may want to talk to an attorney who can answer your questions and give you the right legal guidance.
Business Compliance With Immigration Rules
Employers must meet certain criteria to be eligible to sponsor employees to come to the United States. Companies have to comply with the U.S. Department of Labor's Foreign Labor Certification Program, which requires them to:
Complete the appropriate paperwork
Determine that the job vacancy meets the criteria outlined by the Department of Labor's program
Ensure that any job candidate the company hires will be paid at least the prevailing wage
Identify a need to hire a foreign worker over an American worker to fill a specific job vacancy
Working with an attorney can help ensure that your company is in compliance for the program you want to use.
Help With Deportation Proceedings From a Pasadena Immigration Lawyer
Deportation – the act of putting a person into removal proceedings to be removed from the United States – is scary for the people who face it. There are several reasons the U.S. government might use to deport someone, such as the commission of certain types of crimes, but there's good news: If you've been notified that you're being placed in removal proceedings (and that you're facing deportation, which is removal from the country), you may have legal recourse.
When the government sends you notice of removal proceedings, a court will decide whether you must leave the country or you can remain in the U.S. You have the right to legal counsel – and you can hire a Pasadena immigration attorney who understands the law to help you. There's no way to predict how an immigration judge will rule, but you absolutely have the right to legal help during the process. Your lawyer can answer your questions, speak up for you in court, and fight for your ability to stay in the U.S.
Immigration Appeals: Help From a Pasadena Immigration Lawyer
Sometimes immigration judges make negative decisions on immigration. It's completely natural to be disappointed if that happens in your case. For some people, especially those who have family members living in the United States, an unfavorable immigration decision can be terrifying. The good news is that you may be able to appeal a removal decision, which gives you another chance at getting the outcome you want. An immigration appeal attorney in Pasadena can also help you with cases involving:
Asylum denial
Citizenship or naturalization denial
Deportation
Green card denial
Do You Need to Talk to a Pasadena Immigration Lawyer About Your Case?
If you need to talk to a Pasadena, TX immigration lawyer, we're here to help. You can call our office for a free consultation or contact us online. We'll be happy to answer your questions and give you case-specific legal advice that helps you make the right choices for yourself and your family.
Frequently Asked Questions

11211 Taylor Draper Lane Suite 107
Austin, TX 78759
Tel: (512) 371-9000
Hours: 8:00 AM - 6:00 PM
Payment: all major credit cards, cash, check, money orders, cashiers check