Everything You Need to Know About the U.S. Citizenship Test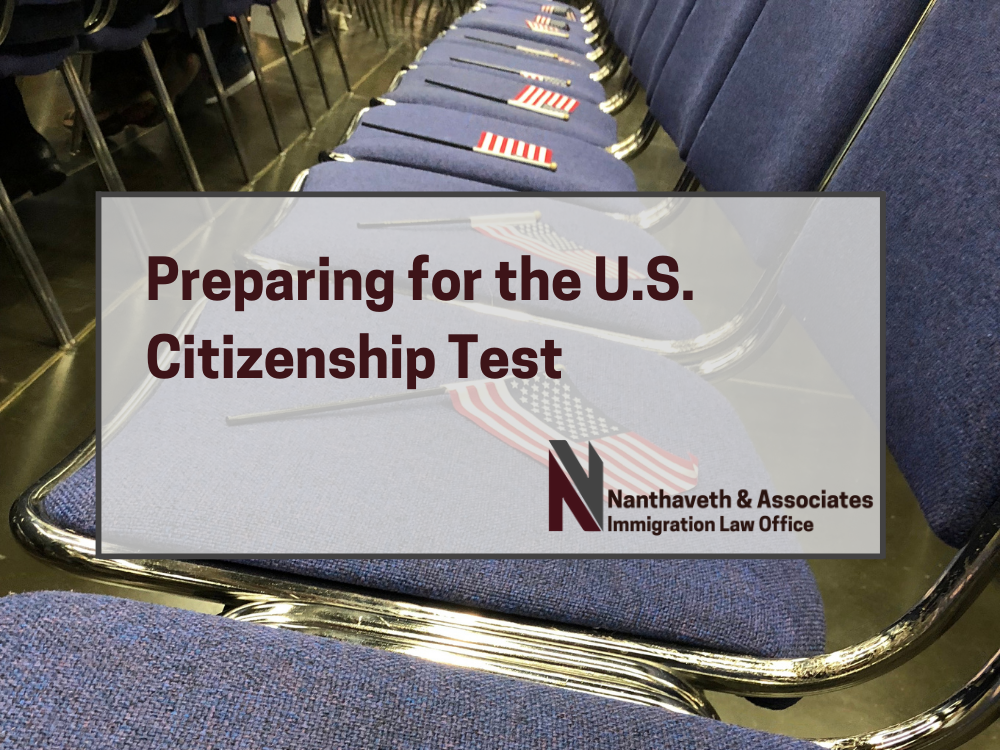 If you have permanent residency in the United States for at least five years, or three years if your spouse is a U.S. citizen, you may apply for naturalization, which is the final step toward becoming a U.S. citizen. You may apply 90 days before you reach your residence requirement.
As part of the naturalization process, you'll have to take a citizenship test. As Austin immigration attorneys, we get a lot of questions about the U.S. citizenship test: what's on it, how long is it and how can someone study for it?
These are answers to the most frequently asked questions about the citizenship test, as well as a few tips from the pros – that way, you'll be as prepared as possible when it's your turn to take it.
What is the U.S. Citizenship Test?
The citizenship test – also called the naturalization test – is a test you take on the same day that you talk to a U.S. Citizenship and Immigration Services (USCIS) officer for your naturalization interview. There are two parts to the test: English and civics. During the test, you must answer six of 10 questions to pass, and all the questions are asked orally.
For most people, the test isn't incredibly difficult. In fact, USCIS has a list of possible questions on its website – and you can study the questions and answers as much as you'd like before you take your test.
English
The English test has three parts of its own:
Speaking. The USCIS officer who interviews you will evaluate your ability to speak English.
Reading. You must read one out of three sentences correctly to demonstrate that you can read in English. This is the Reading Test Vocabulary List from USCIS.
Writing. You must write one of three sentences correctly to demonstrate that you can write in English. This is the Writing Test Vocabulary List from USCIS.
Civics
The civics portion of the test covers topics about history and how the U.S. government, the Constitution and other aspects of American life work.
There is a pool of 100 history and government questions that USCIS officers can ask, and officers may ask up to 10 questions. You must answer six out of 10 questions correctly to pass this part of the test.
There's no written section of the civics part of the citizenship test – it's all oral. You may be asked things like:
Name one U.S. territory.
Why does the flag have 13 stripes?
There were 13 original states. Name three.
What are two rights in the Declaration of Independence?
Who makes federal laws?
What did Susan B. Anthony do?
You can study the civics questions here and look at how they've been categorized here. And don't worry – for most people, the citizenship test is a lot easier than they think it will be. The pass rate averages over 90 percent. As soon as you answer six questions correctly, the USCIS officer will stop asking; that means if you get the first six questions right, you don't have to answer any more.
If you cannot answer six of the 10 questions correctly, don't worry – you'll get another chance to take the test (and you'll have more time to study).
Exemptions and Accommodations When You Take the U.S. Citizenship Test
Some people qualify for exemptions and accommodations during the test. Most notably, individuals with disabilities or who are a specific age and have lived in the U.S. for a certain number of years.
What is the 50/20 Special Consideration on the Citizenship Test?
Some applicants are exempt from the English language requirements for naturalization, and they may take the civics test in any language they'd like. This exemption applies to people who are over the age of 50 and have been a permanent resident of the United States for at least 20 years (that's why it's called 50/20).
What is the 55/15 Exemption to the English Language Requirement?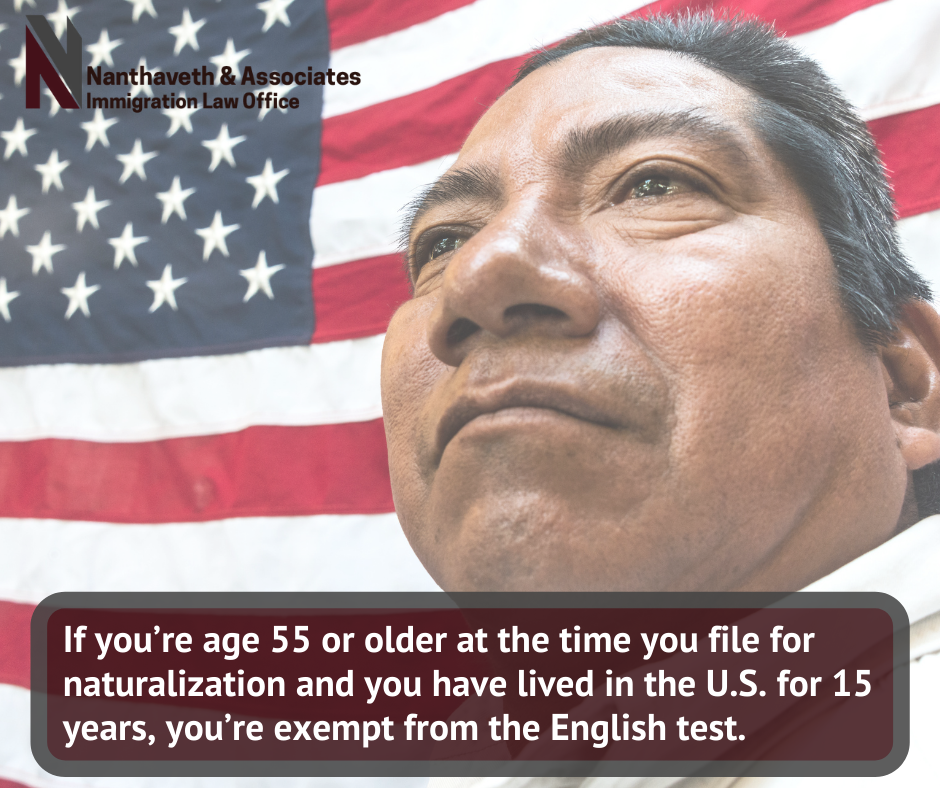 If you're age 55 or older at the time you file for naturalization and you have lived in the United States for 15 years, you're exempt from the English language test. Like those who meet the criteria for the 50/20 exemption, you must still take the civics test.
What is the 65/20 Exemption?
If you are age 65 or older and have been a permanent resident in the U.S. for at least 20 years at the time you file your application, you receive special consideration (in addition to being exempt from the English language requirement). The people who take this test are only required to study 20 questions for the naturalization test, as well. Those questions are:
What is one right or freedom from the First Amendment?
What is the economic system in the United States?
Name one branch or part of the government.
What are the two parts of the U.S. Congress?
Who is one of your state's U.S. senators now?
In what month do we vote for president?
What is the name of the President of the United States now?
What is the capital of your state?
What are the two major political parties in the United States?
What is one responsibility that is only for United States citizens?
How old do citizens have to be to vote for president?
When is the last day you can send in federal income tax forms?
Who was the first president?
What was one important thing that Abraham Lincoln did?
Name one war fought by the United States in the 1900s.
What did Martin Luther King, Jr. do?
What is the capital of the United States?
Where is the Statue of Liberty?
Why does the flag have 50 stars?
When do we celebrate Independence Day?
What About Medical Disability Exceptions?
If you are unable to comply with the requirements for the English or civics portion of the citizenship test due to a medical disability, you may be exempt. However, your attorney should file Form N-648, Medical Certification for Disability Exceptions, with USCIS after it has been completed by a licensed medical or osteopathic doctor, or by a licensed clinical psychologist.
What Are Continuous Residence Exceptions on the Citizenship Test?
Some people who are engaged in overseas employment are eligible for exceptions to the continuous residence requirement. You should talk to your attorney if you work overseas and are interested in pursuing your U.S. citizenship – he or she will know whether you qualify for a continuous residence exception.
Disability Accommodations
The U.S. government is required by law to provide accommodations or modifications for applicants who have physical or mental impairments that make it difficult or impossible to complete the naturalization process. If you have need of accommodations, your attorney should include your needs in the space provided for that purpose on Form N-400, Application for Naturalization.
What if You Fail the Citizenship Test?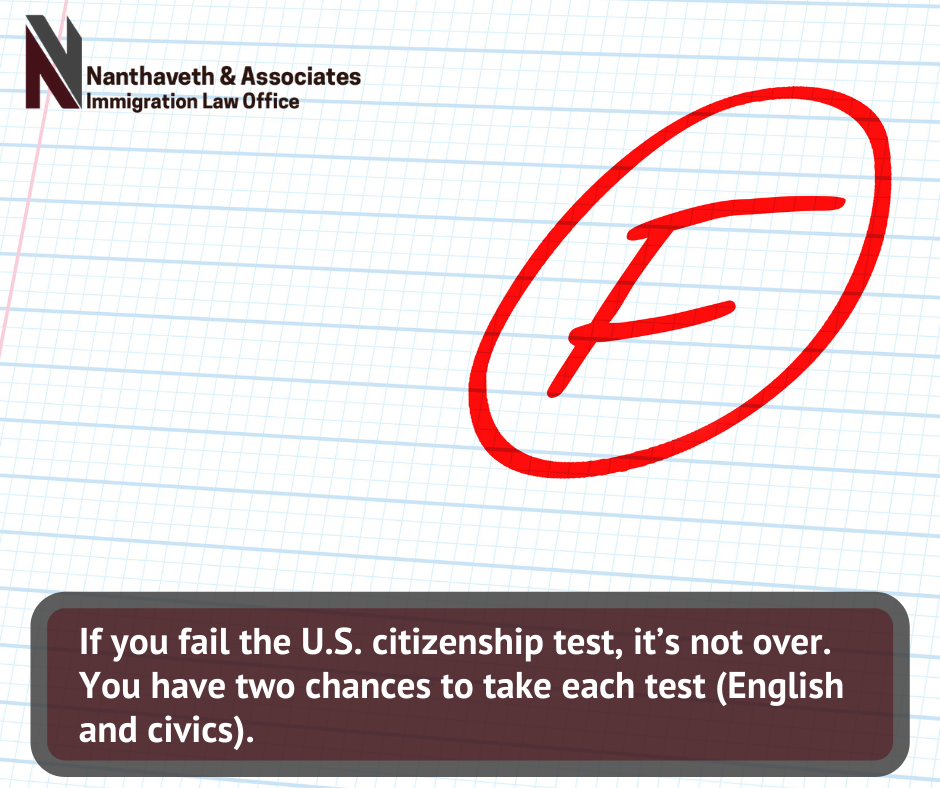 After you finish the citizenship test, you can expect to get results on the same day. If you passed the exam you will receive information regarding attending an oath ceremony. If USCIS cannot schedule your oath right away, the agency will mail you a notice indicating the location, date, and time when your ceremony will take place. You're not officially a U.S. citizen until after you take the Oath of Allegiance.
If you fail the test, it's not over. You have two chances to take each test (English and civics). If you fail one part and not the other, you don't have to take both tests over again. You'll be retested on the part of the test you failed within 60 to 90 days from your initial interview date.
It's very important that you do not miss your appointment to retake the test. If you miss your appointment without prior notification to USCIS, the agency will count your absence as a failed test and deny your application for citizenship.
If after your second attempt you fail the test, USCIS will reject your application for citizenship. You may appeal the agency's decision, in writing, within 30 days of your receipt of their denial. If USCIS grants your appeal, it will arrange a hearing within 180 days of receipt of the appeal. At the hearing you'll be retested on the part of the exam that you failed during your second effort.
How to Prepare for the English Test
The official conducting your interview will evaluate your ability to understand and speak English from the moment you walk in the door. Remember:
If you don't understand a question, it's always okay to ask the USCIS officer to repeat it or rephrase it.
You don't have to speak perfect English. You just need to show that you know enough to get by through basic communication.
You can study for the English portion of the test by practicing your vocabulary, your writing skills, and your listening skills. USCIS provides several tools you can use to study, as well (they're listed in the earlier section, "English").
How to Prepare for the Civics Test
The best way to prepare for the civics portion of the test is to study the list of 100 potential questions that USCIS provides. Your interviewer will only ask you questions from this list, and your answers do not have to be absolutely perfect. For example, if the officer asks you, "What are the two parts of the U.S. Congress," you can say "The Senate and House" or "The Senate and House of Representatives."
What Else Happens at Your Citizenship Interview (Aside From the Citizenship Test)?
During your citizenship interview, you'll take the citizenship test – but you'll also be interviewed by a U.S. Citizenship and Immigration Services officer. The officer will ask to see your identification, place you under oath, and ask you questions that may relate to things like:
Your background
Your character
How attached you are to the U.S. constitution
Whether you have evidence supporting your case
Where you live and how long you've lived there
Your willingness to take the Oath of Allegiance to the United States
You'll certainly need to review your entire N-400 application before you show up at your citizenship interview – it's what the USCIS official will use to test your English skills and to confirm that the answers you give are correct. If the official interviewing you notices any differences between the answers on your application and your oral answers, he or she may ask you to explain why. You should be prepared to offer any information you have. Everything that happens during this part of the interview is part of your English test; the official is determining whether you can communicate in English. Don't stress about it too much – you don't have to speak with perfect grammar to pass. You simply have to show that you speak enough English to get by.
Where Do You Take the Citizenship Test?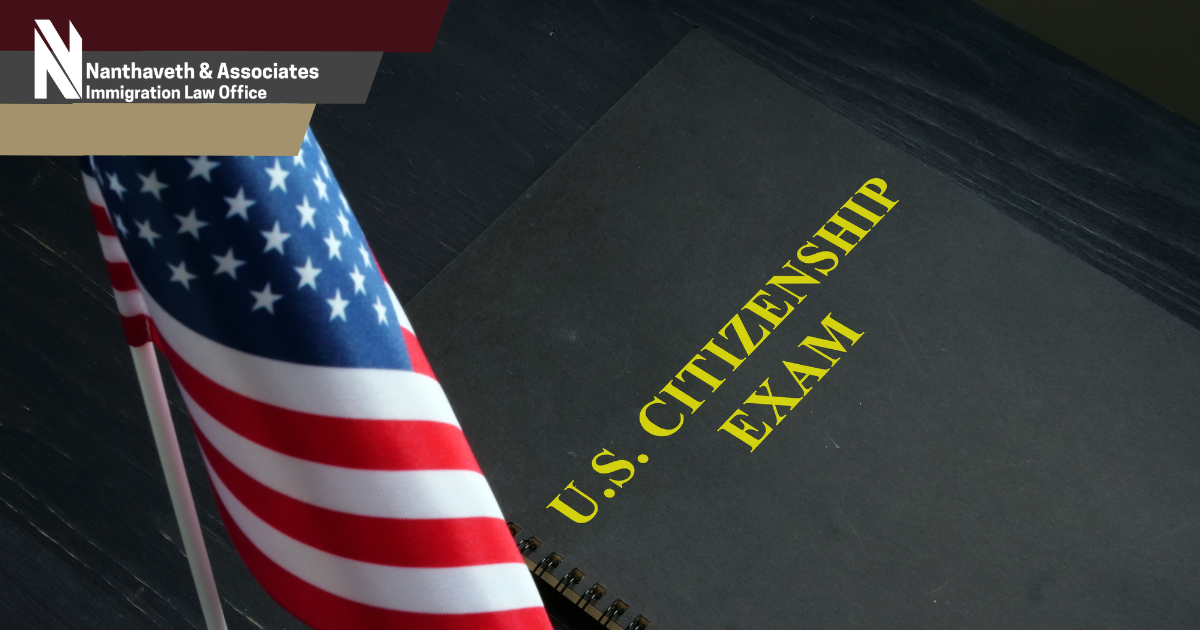 In the same way that USCIS schedules your biometrics appointment when you adjust your status to get a green card, the agency will send you an appointment notice indicating the date, time, and location for you to appear at one of its offices for the citizenship test and interview.
How Early Should You Arrive for the Test and Interview?
It's wise to arrive for your test and interview 15 to 20 minutes ahead of your scheduled appointment time. This will give you time to be processed through a security checkpoint. Be sure that you're not late. If you are, USCIS may cancel your application.
What Identification Should You Bring to Your Appointment?
Identification that you should bring to the citizenship interview includes:
A valid photo ID. This can be:

A passport
A driver's license, or a state-issued ID card
A military ID

An original birth certificate, as well as school records to prove your age and identity (for citizenship applicants who are under age 18)
How Should You Dress for the Citizenship Interview?
The citizenship test and interview are crucial steps toward becoming a naturalized U.S. citizen. Still, when you show up for your appointment, you aren't required to wear fancy clothes. You do, however, need to dress appropriately. Aim for a business casual appearance. Make sure that you are comfortable, but steer clear of items like shorts, jeans, and T-shirts. A shirt with a collar or a blouse can be a better choice. You don't have to dress more formally, unless you want to.
Do You Have the Option to Become a Dual Citizen Down the Road?
If after obtaining United States citizenship you later decide to also seek citizenship in a foreign country, which is to attain dual citizenship, you may do so without jeopardizing your status as a U.S. citizen. The United States does not make its citizens choose between one nationality and another. However, you will owe allegiance to the United States and the other country, as well as obedience to the laws of both.
Do You Need to Talk to an Attorney About the Citizenship Test (or Any Other Immigration Issue)?
If you need to speak with an attorney about any aspect of your immigration or naturalization process, including taking the citizenship test, we're here for you. Call our office now to schedule your free consultation; we'll be happy to answer your questions and get you started on the right path to naturalization.
Schedule a FREE Consultation Or Call (512) 371-9000
---
About Nanthaveth & Associates:
Nanthaveth & Associates, PLLC is a trusted immigration law firm located in Austin, Texas. Immigration law experts at Nanthaveth and Associates are prepared to provide legal counsel for businesses, families and individuals in the areas of green cards, deportation, adjustment of status, work visas and investor visa applications, family-sponsored immigration, employer compliance, self-petitions, permanent residence, naturalization, waivers, appeals, foreign adoptions, mediation and more.
For Austin, TX immigration help call Nanthaveth & Associates at 512.371.9000.