Everything You Need to Know About the U.S. Citizenship Test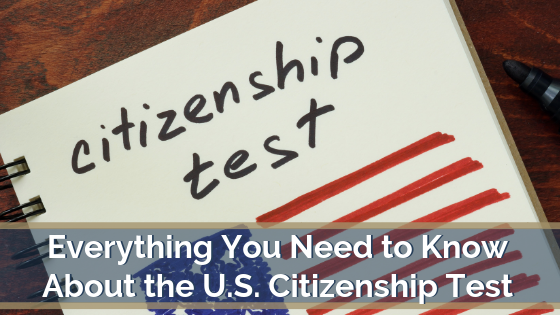 If you have permanent residency in the U.S., applying for naturalization is the final step toward becoming a U.S. citizen – but as part of the naturalization process, you'll have to take a citizenship test. As Austin immigration attorneys, we get a lot of questions about the U.S. citizenship test: what's on it, how long is it and how can someone study for it?
These are answers to the most commonly asked questions about the citizenship test so you're as prepared as possible when it's your turn to take it.
What is the U.S. Citizenship Test?
The citizenship test – also called the naturalization test – is a test you take on the same day that you talk to a USCIS officer for your naturalization interview. There are two parts to the test: English and civics.
English
The English test has three parts of its own:
Speaking. The USCIS officer who interviews you will evaluate your ability to speak English.
Reading. You have to read one out of three sentences correctly to demonstrate that you can read in English. This is the Reading Test Vocabulary List from USCIS.
Writing. You have to write one of three sentences correctly to demonstrate that you can write in English. This is the Writing Test Vocabulary List from USCIS.
Civics
The civics portion of the test covers topics about history and how the U.S. government, the Constitution and other aspects of American life work.
There are a pool of 100 history and government questions that USCIS officers can ask, and officers may ask up to ten questions. You must answer six out of ten questions correctly to pass this part of the test.
There's no written section of the civics part of the citizenship test – it's all oral. You may be asked things like:
Name one U.S. territory.
Why does the flag have 13 stripes?
There were 13 original states. Name three.
What are two rights in the Declaration of Independence?
Who makes federal laws?
What did Susan B. Anthony do?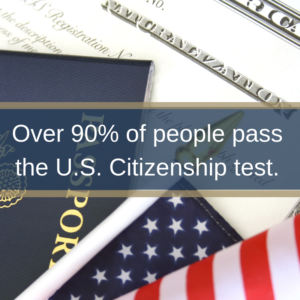 You can study the civics questions here and look at how they've been categorized here. And don't worry – for most people, the citizenship is a lot easier than they think it will be. The pass rate averages over 90 percent. As soon as you answer six questions correctly, the USCIS officer will stop asking.
What if You Fail the Citizenship Test?
If you fail the U.S. citizenship, it's not over. You have two chances to take each test (English and civics). If you fail one part and not the other, you don't have to take both tests over again. You'll be retested on the part of the test you failed within 60 to 90 days from your initial interview date.
Do You Need to Talk to an Austin Immigration Attorney?
If you're thinking about applying for naturalization, it may be a good idea to get a free consultation with an Austin immigration lawyer. Call us at 512-371-9000 right now – we may be able to help you move forward on the path to citizenship.
Schedule a FREE Consultation Or Call (512) 371-9000
---
About Nanthaveth & Associates:
Nanthaveth & Associates, PLLC is a trusted immigration law firm located in Austin, Texas. Immigration law experts at Nanthaveth and Associates are prepared to provide legal counsel for businesses, families and individuals in the areas of green cards, deportation, adjustment of status, work visas and investor visa applications, family-sponsored immigration, employer compliance, self-petitions, permanent residence, naturalization, waivers, appeals, foreign adoptions, mediation and more.
For Austin, TX immigration help call Nanthaveth & Associates at 512.371.9000.