5 Reasons to Schedule a Free Consultation with an Immigration Lawyer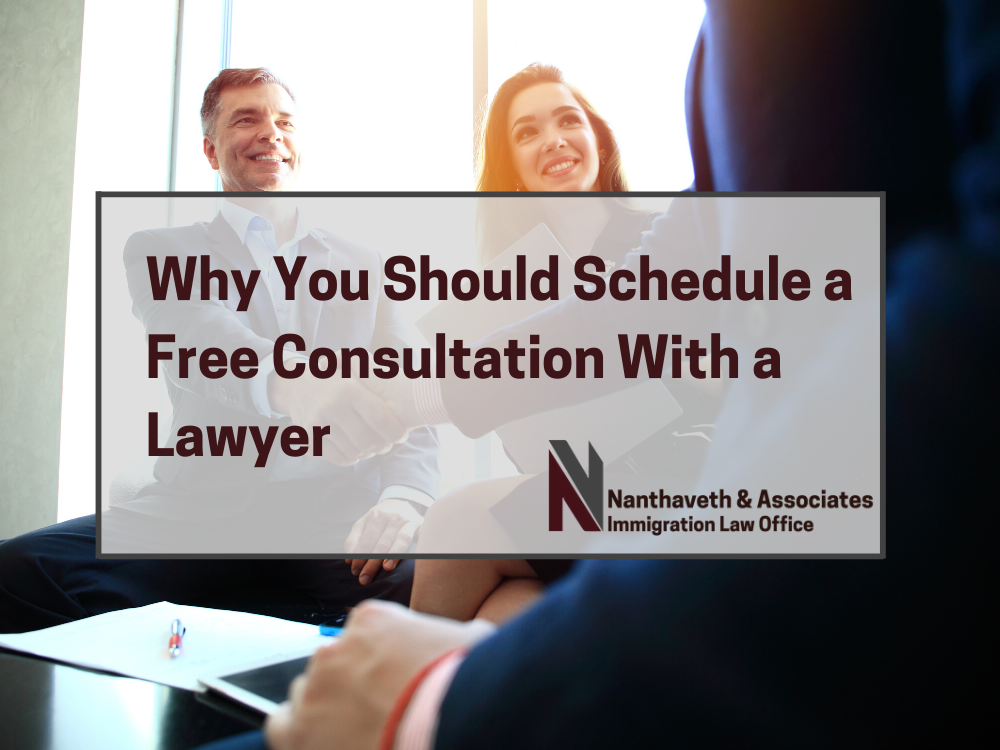 If you're reading this, you may be asking yourself – "Do I need a lawyer?" The answer is likely "yes." Your livelihood in the United States is too important to leave any court ruling to chance.
When unexpected troubles arise concerning your right to live and work in the United States, you may wonder what steps you can take to ensure your rights are protected and you receive fair consideration. Whether you are looking for help sponsoring a family member's green card application, want to defend yourself from deportation, or are ready to pursue naturalization, an experienced and compassionate immigration attorney can make all the difference. The United States immigration and naturalization process can be confusing, intricate, and lengthy. This can translate into considerable worry, stress, and fear for you and/or your loved ones.
There are many reasons why you should consult with an attorney at a respected immigration law firm. The benefits certainly outweigh the risks when the consequences of failure could be disastrous. Below, we break down some of the reasons why you should schedule a consultation with a lawyer today. It's always important to discuss your immigration questions, concerns, and needs. Only someone certified and trained to navigate the United States legal system can provide you with the support you require when immigration challenges occur. The attorneys at Nanthaveth & Associates are prepared to help, whatever fight you or your loved ones may face.
Keep reading for five important reasons to schedule a free consultation with Nanthaveth & Associates today.
1. Most immigration law firms offer free consultations.
You may be wondering if you'll be expected to pay for a consult with an expert immigration attorney. The good news is that most respectable law firms provide free initial consults with an attorney free-of-charge. Scheduling a free consultation will cost you nothing, yet you will learn crucial information about your situation, including whether or not a lawyer is necessary. Nanthaveth & Associates offers free 30-minute consultations to anyone seeking advice or guidance regarding their immigration concerns.
2. They deeply understand the United States legal system.
Immigration attorneys specialize in helping immigrants and their families secure the right to live and work in the United States. They know the system better than anyone and can provide expert guidance regarding your situation. Talking to a lawyer skilled in immigration and deportation law, even for a short time, is essential. You'll gain priceless insight into processes such as green card applications, deportation hearings, and fiancé(e) visas.
3. You can review your case and materials.
Remember to bring any and all materials regarding your case to your free consultation. This would include any legal paperwork or affidavits, calendars or court dates, as well as any other physical records or items of importance to your situation. The more information you can provide regarding your concerns, the better an expert immigration attorney will be able to help you.
4. You'll learn your options, including expected costs.
Until you talk to a trained attorney certified by your state's bar association, you may not be aware of every option available to you. If you do not consult an immigration attorney, you may be putting your future in jeopardy. During your discussion, you'll also receive a cost estimate for the lawyer's services. These would include all estimated costs if you hire the law firm to provide informed counsel and protect your rights. Remember, expect to pay more for experienced, courteous immigration attorneys with successful case histories.
5. You'll make an action plan.
When you are facing a tough legal battle as an immigrant or lawful permanent resident (LPR), the challenges can seem insurmountable and the consequences of failure dire. Thus, your first step should be to schedule a free consultation with a practiced lawyer specializing in immigration law. You'll learn how to move forward with the greatest likelihood of success during your case. Expect to take notes during your free consultation. You can refer to these later, especially if you are considering several lawyers or law firms.
Talk to an Expert Immigration Attorney in Austin, Texas
In conclusion, proper immigration representation may protect you from a variety of unsavory legal outcomes, including drastic, life-changing events like deportation. While no attorney can promise a specific outcome, skilled legal expertise and counsel provide you with the best chance of receiving a favorable ruling. Schedule a free consultation with Nanthaveth & Associates today to review your materials, learn your options, and make an action plan.