8 Reasons to Book Your Immigration Lawyer Free Consultation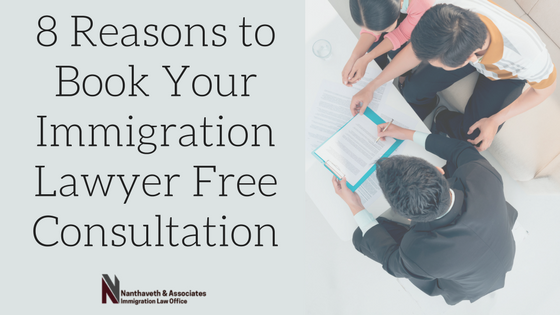 With so much national attention on immigration and law enforcement, consulting with an experienced immigration lawyer free consultation is a significant step toward understanding your rights and achieving peace of mind. Also, having a trusted immigration lawyer nearby whom you can call in case of a confrontation with law enforcement is essential. Without that contact, you can be defenseless.
Many qualified immigration lawyers offer a free initial consultation so that you may become acquainted, discuss the facts of your situation, and develop strategies in case your presence in the United States should ever become threatened.
In Austin, TX, the Law Office of Vi Nanthaveth offers a free consultation for your first visit so that you and their immigration lawyers may determine how the firm might help you now and in the future. The lawyers recognize that knowing you is the first step toward helping you.
Here are some reasons why you should not hesitate to schedule a free consultation with a qualified immigration attorney.
8 Reasons to Make an Appointment for Your Immigration Lawyer Free Consultation

It is free.
Calm Your Fears. The laws of immigration and residency can seem complicated. If you and perhaps your family are residing in the United States and are concerned about recent activity surrounding immigration, you will find an immigration lawyer free consultation can be very helpful. As experts on these matters, an experienced immigration attorney will advise you about your risks and help develop a strategy to ensure you and your family will not be separated.
Learn how to enter the United States for work. Whether you are an employer hoping to bring in workers or are a worker entering the United States for a job, an experienced immigration lawyer can assist with the proper Labor Certification to ensure your stay in the United States is legal.
Learn about eligibility for a Green Card. After certain qualifications have been met, you may be able to apply for a green card that designates you as a permanent resident. Your immigration lawyer free consultation can advise you about the importance of staying out of trouble, time of residence, and other requirements for applying for this status.
Discuss your Green Card or other application rejection. Sometimes a green card or work visa application rejection may have been because the form was completed improperly or some other misunderstanding arose. An experienced immigration attorney can review the denial with you and advise how and when to reapply correctly.
Request a family or fiancé visa for entry into the United States. A legal immigrant residing in the United States should be able to apply to bring family members or a bona fide fiancé to reunite. During an immigration lawyer free consultation, you can learn about the process and the proper documentation needed. To ensure success and reduce the time until you are reunited, the qualified immigration attorneys at Nanthaveth & Associates of Austin can guide you through the process.
Challenge deportation. Arrests of undocumented immigrants have risen during 2017, according to The Atlantic. Most of the arrests are undocumented immigrants who have committed serious crimes. For law-abiding non-citizens, experienced immigration attorneys can employ strategies that may prevent deportation and even improve your circumstances. If you fear deportation or are threatened with the possibility, you should consult with an experienced immigration attorney immediately.
Protect yourself in emergency situations. Circumstances frequently arise in which law enforcement or immigration officials may decide to arrest or detain you or a family member. In these cases, individuals are defenseless without a lawyer to protect their rights as a resident of the United States.
To summarize, when your right to live and work in the United States is challenged, defending yourself will usually be unsuccessful. An experienced immigration attorney knows what information immigration officials require and how it should be presented. With the straightforward advice and support provided by a professional immigration lawyer, your chances of success are far better.
Contact Nanthaveth & Associates
Nanthaveth & Associates is a professional and proven immigration law firm with expertise in all areas of immigration, citizenship, and permanent residency law. An immigration law free consultation with Vi Nanthaveth & Associates can help clarify your understanding of your personal and family situation in light of current immigration enforcement activities in Texas and other parts of the country. Multilingual in English, Spanish, Thai, and Laotian, the Nanthaveth experts can map out some strategies to protect your rights and secure your future.
Moreover, visit the Nanthaveth & Associates website to see client testimonials and learn about the successful resolutions of the firm's cases.
Schedule a FREE Consultation Or Call (512) 371-9000
---
About Nanthaveth & Associates:
Nanthaveth & Associates, PLLC is a trusted immigration law firm located in Austin, Texas. Immigration law experts at Nanthaveth and Associates are prepared to provide legal counsel for businesses, families and individuals in the areas of green cards, deportation, adjustment of status, work visas and investor visa applications, family-sponsored immigration, employer compliance, self-petitions, permanent residence, naturalization, waivers, appeals, foreign adoptions, mediation and more.
For Austin, TX immigration help call Nanthaveth & Associates at 512.371.9000.