H-4 EAD Removal: What You Need to Know as an H-4 Visa Holder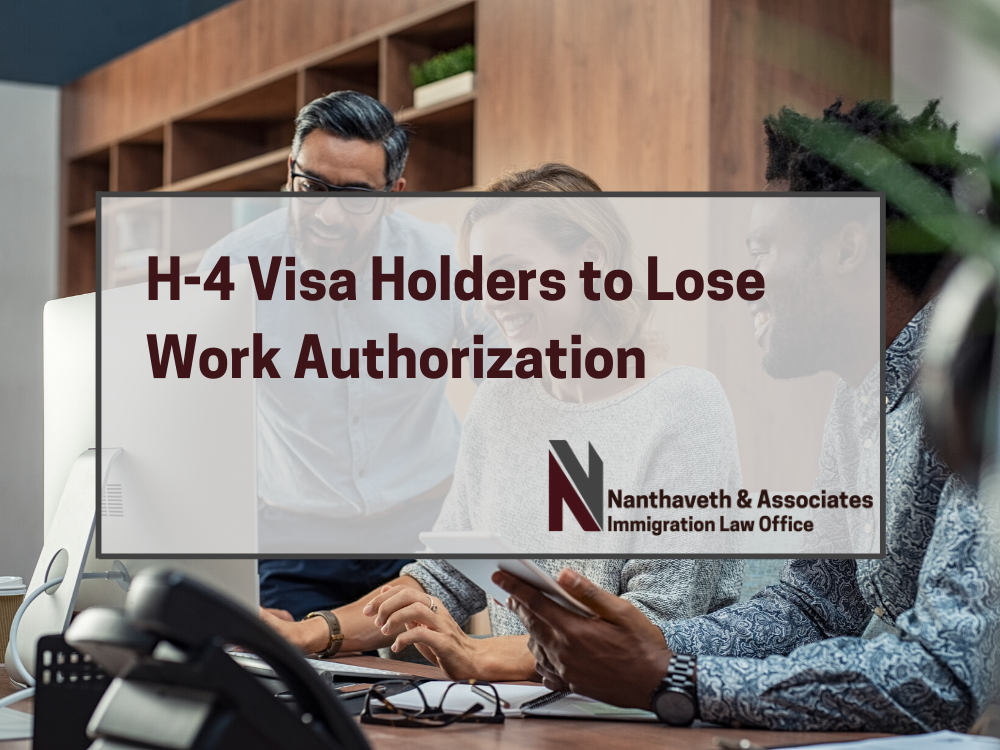 Some H-4 dependent spouses may be about to lose work authorization in the United States thanks to a recent decision in the U.S. Court of Appeals for the District of Columbia. The appellate court passed on making a decision on the revocation of work authorization, instead handing the decision back to a lower court for reassessment.
What is H-4 Employment Authorization?
Some dependent spouses of H-1B nonimmigrants – people who are working in the United States – qualify for employment authorization. In order to be eligible to work in the U.S. while your spouse is here on an H-1B visa, you must be an H-4 nonimmigrant and you must apply for employment authorization from within the United States. With employment authorization, you can work anywhere; you can even start your own business if you'd like.
Related: Can you get a green card?
What is H-4 EAD Removal, and How Will it Affect You?
The current presidential administration, in an effort to roll back Obama-era rules, has attempted to remove employment authorization privileges from H-4 visa holders. Since 2015, H-4 visa holders waiting for green cards have been eligible to get an employment authorization document, or EAD, and get to work – but in 2017, the current administration disclosed a plan to discontinue work permits. The plan has been a bitter battle in the court system since then.
Fast fact: 90 percent of all H-4 visa holders are women, who typically work to offset household expenses, and nearly 60 percent of them hold professional or graduate degrees.
Industry leaders such as Apple, Pepsi and American Airlines are battling to keep H-4 visa holders in the workforce because those highly skilled workers would ultimately be forced to take their skills abroad, hurting American companies in the process.
Related: 2019 immigration statistics
How Will H-4 EAD Removal Affect Visa Holders?
Some experts expect a final decision on H-4 EAD removal in March 2020, but the rule rollback has been on the battleground for nearly three years; the lower court slated to decide could kick the can down the road. However, if work authorization is revoked, H-4 visa holders will no longer be allowed to work in the United States.
While there are dozens of potential scenarios, most experts agree that the consequences could be dire; many H-4 visa holders will be forced to leave the country – and in some cases, their H-1B spouses will go with them. That leaves American companies in the lurch, because there are already tremendous shortages in specialty jobs involving science, information technology, engineering and mathematics (STEM) fields.
What Can You Do About H-4 EAD Removal?
If you're going to lose your work authorization, you have some options – and you may want to talk to an immigration attorney about them. For example, you could qualify for another type of business immigration (such as the H-1B visa your spouse currently has). We may be able to help you, so please, feel free to schedule your complimentary consultation today.
Schedule a FREE Consultation Or Call (512) 371-9000
---
About Nanthaveth & Associates:
Nanthaveth & Associates, PLLC is a trusted immigration law firm located in Austin, Texas. Immigration law experts at Nanthaveth and Associates are prepared to provide legal counsel for businesses, families and individuals in the areas of green cards, deportation, adjustment of status, work visas and investor visa applications, family-sponsored immigration, employer compliance, self-petitions, permanent residence, naturalization, waivers, appeals, foreign adoptions, mediation and more.
For Austin, TX immigration help call Nanthaveth & Associates at 512.371.9000.