New Investment Minimums for EB-5 Visas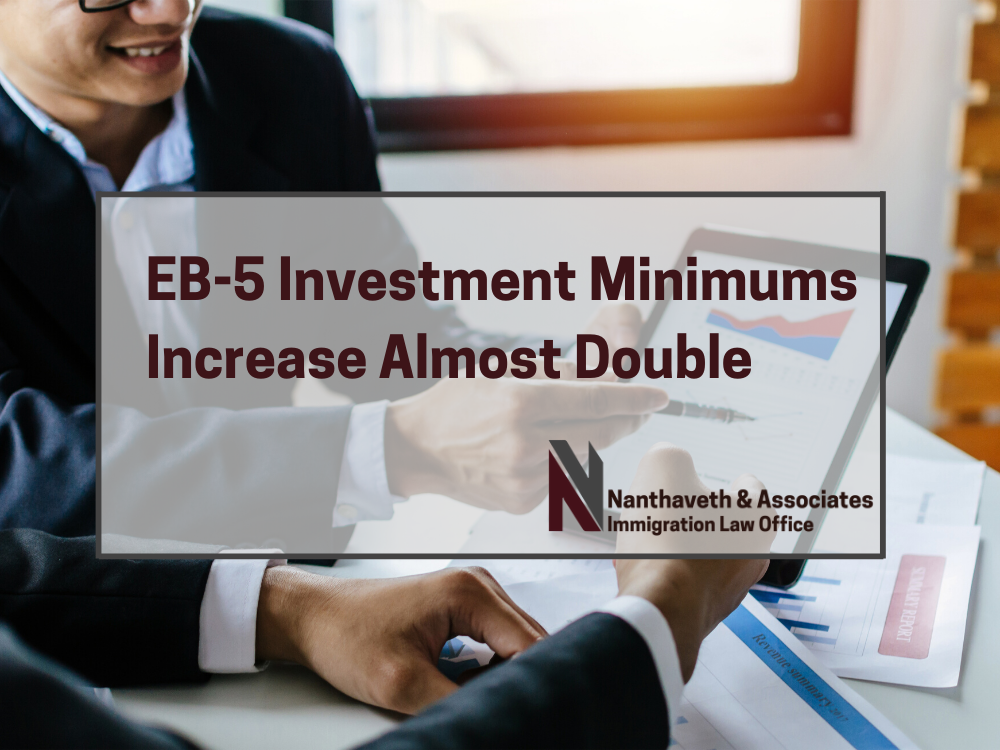 In November, the U.S. Department of Homeland Security – the agency responsible for U.S. Citizenship and Immigration Services – published a new rule that increased the minimum investment a person must make to enter the U.S. through the EB-5 Immigrant Investor Program. The rule, which took effect on November 21, modernized the entire EB-5 visa program by:
Increasing the required minimum investment amount
Reforming some targeted employment area designations
Providing priority date retention to some EB-5 investors
Because the EB-5 visa program is a type of business immigration, there are provisions for certain accompanying family members. DHS made a handful of other changes to the program, including some that apply to family members, but the biggest change was the increase of the minimum investment.
How Much Do EB-5 Investors Need Under the New Rule?
Prior to November 2019, investors needed to invest $1 million in a new or existing commercial enterprise that creates jobs or in a government-approved firm that manages investor funds and the immigration approval process.
However, the new rule requires investors to come up with $1.8 million – nearly doubling the previous amount.
What About Targeted Employment Areas?
If an investor wants to invest in a targeted employment area, or TEA, he or she must now invest a minimum of $900,000. That's a $400,000 increase over the previous rule's requirements.
The federal government, under the new rule, will evaluate and determine the designation of high-unemployment TEAs rather than deferring to designations made by state and local governments. The program has now expanded to include cities and towns with populations over 20,000, provided that those areas have an average unemployment rate of at least 150 percent of the national average, which will actually expand the coverage areas for TEAs.
Future adjustments to standard and TEA investments will be tied to inflation and will occur every 5 years.
Other Changes to the EB-5 Visa Investor Program
The new rule made sweeping changes to other areas of the EB-5 Immigrant Investor Program, as well. The most notable changes include:
Specifications on when lawful permanent resident family members must independently file to remove conditions on their own permanent resident statuses
Changes to interview locations
Updates to the regulations to accurately reflect the current process for issuing green cards
What if You Filed Prior to November 21, 2019?
The new rule took effect on November 21, 2019. If you filed prior to that date, you are only subject to the previous investment amounts ($1 million for high-employment areas and $500,000 for targeted employment areas). If you filed on or after November 21, you're required to invest at least $1.8 million in high-employment areas or at least $900,000 in targeted employment areas.
Do You Need to Learn More About the EB-5 Visa Immigrant Investor Program?
If you're considering immigrating to the United States and would like to use an investment to do so, we may be able to help you. Call us or fill out the form below to schedule your free immigration consultation today.
Schedule a FREE Consultation Or Call (512) 371-9000
---
About Nanthaveth & Associates:
Nanthaveth & Associates, PLLC is a trusted immigration law firm located in Austin, Texas. Immigration law experts at Nanthaveth and Associates are prepared to provide legal counsel for businesses, families and individuals in the areas of green cards, adjustment of status, work visas and investor visa applications, family-sponsored immigration, employer compliance, self-petitions, permanent residence, naturalization, waivers, appeals, foreign adoptions, and more.
For Austin, TX immigration help call Nanthaveth & Associates at 512.371.9000.