6 Temporary Work Visas an Immigration Lawyer Can Facilitate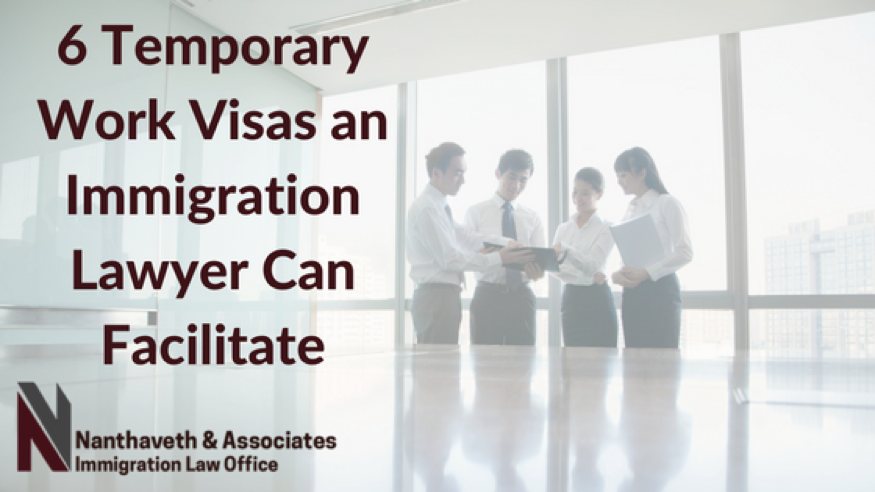 Many successful businesses have determined that they must reach beyond the borders of the United States to recruit individuals with specialized talents and education. In a global economy, jobs in technology, medicine, research, manufacturing, mechanical engineering, and others require experience and abilities that far exceed basic levels of education.
Multinational companies frequently wish to transfer individuals with proven skills and experience to their United States offices to transfer knowledge and know-how to U.S.-based employees.
In other instances, seasonal workers are an essential resource for employers who experience peak demand periods and cannot fulfill labor requirements with local workers.
In each of these circumstances and more, an experienced immigration law firm like Nanthaveth & Associates, an Austin immigration lawyer, provides real value by preparing and executing the necessary documentation to bring foreign supplemental workers to the United States without hassle or conflict.
Types of Non-Immigrant Work Visas
According to the U.S. Social Security website, several different types of visas are available in the United States that allow individuals to work. While there may be quotas in some cases, the assistance of a proven immigration lawyer can enhance the likelihood of success by smoothing out the petitioning process and managing any subsequent legal responsibilities that may be required during the employee's stay.
Some of the foreign worker nonimmigrant visa categories include:
H-1B: A work visa granted for three years (but extendable to six years), the 2019 quota stands at 65,000 with an additional 20,000 available to individuals with a Masters degree or higher education. These visa grants are intended for high-level professionals with proven technical skills and training.
H-1C: Hospitals and clinics may require the professional skills of an immigration lawyer like Nanthaveth & Associates to bring needed experienced medical nurses to the United States to fulfill shortages of qualified applicants.
H-2A: In the field of agriculture, many companies require the services of temporary workers during harvest and seasonal production cycles.
H-2B: For non-agricultural, temporary work as in the hospitality industry where seasonal demand exceeds the availability of local help, this visa category is often necessary to staff cruise ships, theme parks, and restaurants in particular tourist areas.
H-3: Multinational companies frequently wish to bring foreign workers to the United States for a defined period to learn the operational procedures of the company. These individuals then return to their home countries to manage or work in those foreign markets.
L-1: Another visa category frequently sought by multinational companies is the L-1 which allows nonimmigrant workers to come to the United States to fill a management role. These individuals, typically managers or executives, possess exceptional skills and talents that are deemed essential enough to bring them into the home office of the company. Intracompany transfers like these often apply for permanent residency or green card status after a one-year period in the United States
Staying in Compliance
By working closely with an immigration attorney, company legal and human resources departments can be assured that documentation is correct, timelines are met, and full compliance is in place. Nanthaveth & Associates, a team of Austin immigration lawyers, understand the requirements of each visa type in addition to the behavioral and reporting requirements of a non-resident visa holder.
Protecting the Rights of Foreign Employees
Maintaining a close relationship with an experienced immigration lawyer like Nanthaveth and Associates is essential in the event that any legal situations may arise. If a worker should be involved in some legal problem it is important to have them represented by an immigration attorney, right away.
Green Card Status
In some circumstances, foreign worker presence in the United States may be deemed essential to the company's future. Often these valuable employees will wish to apply for permanent residency status. In these cases, an experienced immigration lawyer can help to develop the strategy for attaining a green card and ensure that all of the necessary documentation is completed within the framework of existing immigration law. Eventually, the law firm may assist the employee in attaining U.S. citizenship.
Contact Nanthaveth & Associates, Austin immigration lawyer, for Assistance with Immigration Issues
Staying abreast of and handling the intricacies of immigration and residency in the United States requires continual attention. Deadlines must be met, petitions and applications filed promptly and accurately, and the rights of the company and its foreign workers must be protected.
Vi Nanthaveth, owner and lead attorney of Nanthaveth & Associates, is a top Austin immigration lawyer. Working with compassion and professionalism, Nanthaveth & Associates understand the complexities of the visa petition requirements and has helped numerous employers to navigate the process successfully.
For a free initial consultation, contact Nanthaveth & Associates to discuss the ways and means to bring foreign workers to the United States legally to continue to grow your business.
Visit the Contact Us page of Nanthaveth & Associates to schedule a free initial consultation. Alternatively, phone for an appointment at (512) 371-9000.
Schedule a FREE Consultation Or Call (512) 371-9000
---
About Nanthaveth & Associates:
Nanthaveth & Associates, PLLC is a trusted immigration law firm located in Austin, Texas. Immigration law experts at Nanthaveth and Associates are prepared to provide legal counsel for businesses, families and individuals in the areas of green cards, adjustment of status, work visas and investor visa applications, family-sponsored immigration, employer compliance, self-petitions, permanent residence, naturalization, waivers, appeals, foreign adoptions, and more.
For Austin, TX immigration help call Nanthaveth & Associates at 512.371.9000.