Understanding Green Card Marriage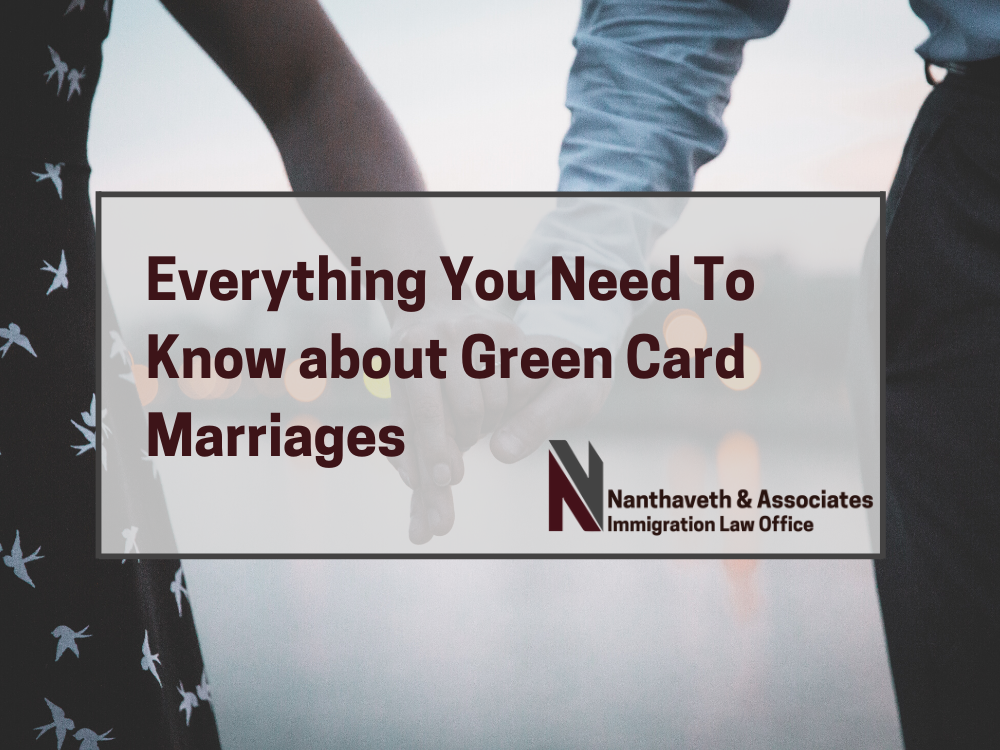 United States citizens may apply for a spouse to earn a green card by marriage. Similarly, after foreign citizens have lived and worked in the United States and met the qualifications for permanent residency status, they too may apply for a green card by marriage for a spouse.
The process for a green card by marriage application for U.S. citizens is different than it is for a current green card holder. In any case, you may decide that you'd like to work with an attorney who can help you through the process. Your attorney can answer your questions, file your paperwork, help you prepare for your interview and walk you through the entire immigration process.
What is a Green Card by Marriage?
The spouse of a U.S. citizen or current green card holder can get his or her own green card and become a lawful permanent resident of the United States. Green card holders enjoy several benefits, including the ability to travel outside the country and to work anywhere they wish. Additionally, people who have green cards are eligible to apply for U.S. citizenship after a certain period of time.
If you've been married for less than 2 years, the green card you obtain through marriage is conditional. You can't renew it, but 90 days before it expires, you can file a petition to get the conditions removed. If you don't get the conditions removed, you will no longer be a permanent resident of the United States – and you will be at risk for deportation.
Marriage Green Cards for Spouses of U.S. Citizen Sponsors
Once both the citizen-sponsor and the beneficiary have proven their eligibility, the U.S. citizen can apply for permanent residency for the spouse as an immediate relative. In these cases, the United States Citizenship and Immigration Service (USCIS) will grant a visa number immediately. The spouse may then apply for green card status with Form I-130.
For beneficiaries already in the United States, they should apply for a change of status to permanent residency.
For beneficiaries outside the United States, they should first apply for an immigration visa at the appropriate U.S. Embassy or consulate.
Another option for green card marriage is available for U.S. citizens. The United States also offers a K-1 Visa to a fiancé(e) of a U.S. citizen. The K-1 visa is valid for only 90 days during which the green card marriage should take place or the fiancé(e) must leave. Since this approach can be expensive and complicated, many prefer to marry outside the United States and apply for permanent residency when they return. If you're interested in a K-1 visa, you may want to talk to an Austin family immigration attorney about your case.
Marriage Green Cards for Spouses of Lawful Permanent Residents of the U.S.
After applying and receiving eligibility through the Form I-130 procedure, applicants must wait for a visa number to become available. Once the Department of State announces the status of the candidate's priority date, the beneficiary can then formally apply for permanent residency.
Children of Green Card Marriage Candidates
Whether the sponsor is a citizen or a current permanent resident, eligible minor children of foreign spouses many also immigrate with the foreign spouse. The USCIS website outlines additional family-based categories for permanent residency, including widows and widowers of U.S. citizens, as well as parents of U.S. citizens who are over the age of 21.
Green Card Marriage Interviews
As part of the process, USCIS requires an extensive interview with the couple usually about three months after the time of application. The USCIS officer in charge of your case will be looking for evidence that you're in a bona fide marriage. In these discussions, candidates for a green card marriage should be prepared to answer questions correctly and truthfully. Preparation is essential as poor responses can result in delay or rejection of the application. There are no questions or answers that must be memorized. The officer is mainly examining the couple's credibility and character.
Here are some suggestions to help you prepare for your interview:
Be on time.
Dress appropriately, in a way that demonstrates your respect for the process.
Listen carefully and answer briefly and to the point. The interviewer will have many precise questions to ask each of you regarding where you met, what you do, what kind of car each spouse drives, foods served at the wedding, and so on. These very specific questions are intended to reveal whether the sponsor and the candidate know each other and have shared memories.
Don't guess. It is better to say you do not understand or can't recall rather than make up an answer.
If the officer suspects the marriage may be faked to gain permanent residency status for the candidate, you may be separated and asked questions to determine whether you know each other. Trying to fake a green card marriage is a serious legal offense.
Bring original documentation and a set of copies to provide the interviewer to prove your wedding occurred.
What is a Bona Fide Marriage?
USCIS is interested in determining whether you're in a bona fide marriage or you simply married so that one of you could gain an immigration benefit. A bona fide marriage is a marriage in which two people intend to build a future together. The official working on your immigration case will want to see that you have a bona fide marriage, so he or she may ask you questions to match up your responses. Some questions you might encounter at a green card marriage interview include:
Where did you meet?
Where did you go on your first date?
How long were you dating before you decided to get married?
When did you meet each other's parents?
How do you usually celebrate holidays?
How long has your spouse been working for his or her employer?
Where did your spouse work before his or her current job?
Where was the last vacation you took with your spouse?
These questions aren't designed to trip you up – but they are designed to show the USCIS officer whether you appear to have a legitimate marriage.
What About Biometrics?
After you apply for a green card based on marriage, you'll most likely need to appear at a biometric services appointment. A USCIS official will take your fingerprints and photos and capture your signature digitally. The purpose of this appointment is so that USCIS can confirm your identity and run background or security checks.
Seek Professional Legal Assistanc
Immigration law is complicated. Attempting to navigate the variables of visa applications, immigration and entry, legal residency, green cards, and U.S. citizenship without professional assistance can fail. Experienced immigration attorneys like the professionals at Nanthaveth & Associates of Austin, TX understand the intricacies of immigration law and resident rights.
In recent months, there has been much political commentary and legislative activity surrounding immigration and the rights of current residents. In many cases, the window seems to be narrowing for many individuals hoping to come to the United States to work or to join their families.
Accurate, organized, and well-presented applications are more likely to succeed. Similarly, in case of conflict, experienced legal representation from a reputable immigration law firm is essential.
Contact Nanthaveth & Associates Immigration Law Firm in Austin
In Austin TX, schedule your free consultation with the multilingual professionals at Nanthaveth & Associates to discuss green card marriage processes or other immigration challenges. The free consultation will allow you to understand your rights and to begin the bureaucratic process of applying for permanent residency by green card marriage.