How to Become a U.S. Citizen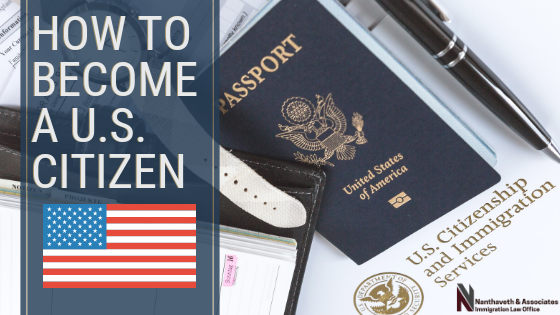 If you're like most people who want to immigrate to the United States, whether or not you're already living here, you want to know how to become a U.S. citizen. There are four basic ways a person can become a U.S. citizen:
By birth
Through naturalization
Through derivation
Through acquisition
How to Become a U.S. Citizen
For most people who aren't born in the U.S., the only way to gain citizenship is through naturalization.
Naturalization is the process by which you voluntarily become a U.S. citizen when you're over 18 and meet eligibility requirements, such as having been a permanent resident for the past 5 years, being married to a U.S. citizen for the past 3 years or currently serving in the U.S. Armed Forces.
Eligibility Requirements for Becoming a U.S. Citizen
In order to become a U.S. citizen, you have to meet strict eligibility requirements. Although there are some waivers available, in most cases, you must:
Be over the age of 18 at the time you file your petition
Be a lawful permanent resident
Show that you have had continuous permanent residence in the U.S. for at least 5 years (or 3 years if you're married to a U.S. citizen)
Show that you've been physically present in the U.S. for 30 months (or 18 months if you're married to a U.S. citizen)
Show that you've lived for at least 3 months in the state where you claim your residence
Be able to speak, read and write basic English
Be able to pass a citizenship test that involves up to 10 questions on U.S. government and history, as well as speaking, reading and writing basic English
Be a person of good moral character who's attached to the principles of the U.S. Constitution
When you meet the eligibility requirements, you can apply for naturalization. For many people, this also involves working with an Austin immigration lawyer throughout the process, which can take a significant amount of time.
Your attorney will file the appropriate forms with U.S. Citizenship and Immigration Services. From there, you'll go to a biometrics appointment (if you need to) to be fingerprinted and get set up for a background check. You'll then attend a citizenship interview with a USCIS official who will ask you questions about your application and your past. You'll also you'll take the citizenship test. If you pass everything, your petition will be approved and you'll take the Oath of Allegiance to the United States. After you swear your loyalty to the U.S., you'll receive a certificate of naturalization.
Other Methods of Obtaining U.S. Citizenship

Do You Need to Talk to an Austin Immigration Attorney?
If you're trying to learn how to become a U.S. citizen, we may be able to help you. Call us right now at 512-371-9000 for a free immigration consultation with an experienced attorney.
Schedule a FREE Consultation Or Call (512) 371-9000
---
About Nanthaveth & Associates:
Nanthaveth & Associates, PLLC is a trusted immigration law firm located in Austin, Texas. Immigration law experts at Nanthaveth and Associates are prepared to provide legal counsel for businesses, families and individuals in the areas of green cards, deportation, adjustment of status, work visas and investor visa applications, family-sponsored immigration, employer compliance, self-petitions, permanent residence, naturalization, waivers, appeals, foreign adoptions, mediation and more.
For Austin, TX immigration help call Nanthaveth & Associates at 512.371.9000.