Nanthaveth & Associates is Preparing DACA Renewals After District Court Mandate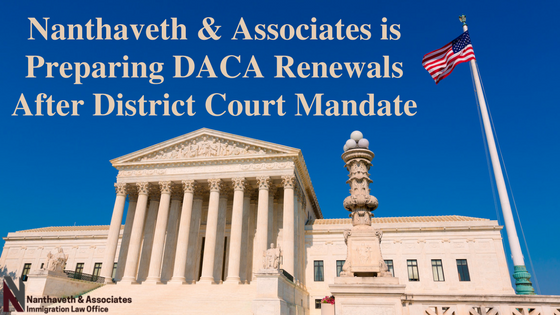 In the wake of a recent order by the district court to continue maintaining the Deferred Action for Childhood Arrivals (DACA) program, immigration law firm Nanthaveth & Associates, is encouraging DACA recipients to prepare their renewal paperwork for filing.
DACA is an immigration program that was put in place in 2012. This program allows individuals who were brought to, and illegally remained in, the United States as minors to be granted a two-year period of deferred action from deportation and be eligible for a work permit.
DACA has been at the forefront of political conversation since September 5, 2017, when the Trump Administration decided to rescind the program.
Although the program still faces future uncertainty, on January 9, 2018, the district court directed the government to continue maintaining the DACA program nationwide and under the same terms and conditions, with the following exceptions:
New DACA applications will not be accepted and the Department of Homeland Security (DHS) will not be processing applications for those who have never before received DACA protections. (DHS is not prevented from adjudicating new DACA applications.)
Advance Parole applications based on DACA do not have to be continued. (DHS is not prevented from adjudicating advance parole applications based on DACA)
Discretion is to be exercised fairly and on an individual basis, and the government has the ability to take steps ensuring this happens.
Enforcement action can be taken against anyone, including those with DACA protections, who may pose a threat to national security, public safety, or "deserves… to be removed" per the judgment of DHS.
The court also specified that USCIS would be publishing information on how to proceed with the DACA renewal process, but no such information has been released in January.
Although no official process for renewing DACA has been outlined by USCIS, one can be expected to be published in the upcoming weeks as it was court mandated.
For this reason, Nanthaveth & Associates is advising clients to consider waiting to file DACA renewals until the process is established. Waiting to file may prevent your application from being denied or delayed if it doesn't follow the new process.
Nanthaveth & Associates is preparing DACA renewals now, as the future of the DACA program remains unknown, and will hold them until the renewal process is established in the upcoming weeks.
To help prepare your DACA renewal for filing, call Nanthaveth & Associates today at (512) 371-9000
Schedule a FREE Consultation Or Call (512) 371-9000
---
About Nanthaveth & Associates:
Nanthaveth & Associates, PLLC is a trusted immigration law firm located in Austin, Texas. Immigration law experts at Nanthaveth and Associates are prepared to provide legal counsel for businesses, families and individuals in the areas of green cards, adjustment of status, work visas and investor visa applications, family-sponsored immigration, employer compliance, self-petitions, permanent residence, naturalization, waivers, appeals, foreign adoptions, and more.
For Austin, TX immigration help call Nanthaveth & Associates at 512.371.9000.