Need a Fiancé Visa? Read This First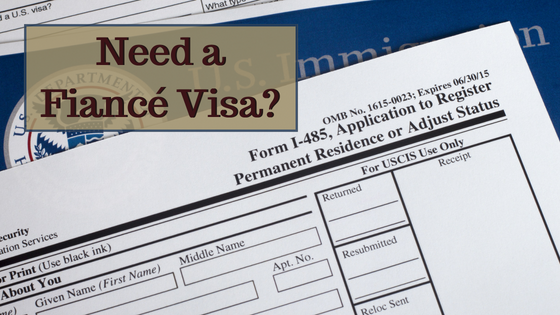 If you're like most people, you know that some people are eligible for a fiancé visa – but how do you get one, how long will it take, and should you work with an Austin immigration attorney throughout the process?
This guide answers your questions about the K-1 fiancé visa, including:
What is a fiancé visa?
What documents do you need for a fiancé visa?
How long does it take for the U.S. government to approve a K-1 visa?
When you have all the information you need, you can decide whether you should hire an immigration lawyer to help you through the process.
What is a Fiancé Visa?
A fiancé visa – officially a K-1 nonimmigrant visa – is a way for a foreign citizen to travel to the United States and marry his or her U.S. citizen sponsor. Under the K-1 visa program, people who receive it must marry the sponsor within 90 days of arrival. (If you are already married, the process is different for you.)
What Documents Are Needed for a Fiancé Visa?
The U.S. citizen sponsor is the one who has to apply for a fiancé visa. However, most of the documentation the U.S. Citizenship and Immigration Services needs is about your soon-to-be spouse. You'll have to provide completed application forms, as well as:
A valid passport for your fiancé's travel to the U.S.
Divorce decrees for any previous spouses of either party, if applicable
Death certificates of any previous spouses of either party, if applicable
A police certificate from your fiancé's present country of residence, as well as all the countries in which he or she lived for at least 6 months since age 16
Proof of a medical examination
Evidence of financial support
Two 2-inch-by-2-inch photographs
Evidence of the relationship between you
Sometimes the consular officer will ask you for additional documentation, but this is a start.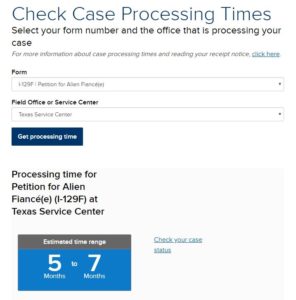 How Long Does It Take for a Fiancé Visa to Be Approved?
Wait times for the government to approve a K-1 nonimmigrant visa can vary widely – it's a matter of how many people have applied. You can check wait times by following these steps:
Choose "I-129F | Petition for Alien Fiancé(e)" from the drop-down menu under "Form."
Choose "Texas Service Center" from the drop-down menu under "Field Office or Service Center." The site will display the approximate wait time for a fiancé visa. If you've already applied, you can also check your case status here.
What Happens After You Get Married?
If your spouse had a valid K-1 nonimmigrant visa when you married, he or she has to file a status change. However, your spouse is required to stay in the U.S. for two years under "conditional residence" before the government will grant him or her permanent residence.
Do You Have Questions About a K-1 Nonimmigrant Fiancé Visa?
For most people, it makes sense to talk to an attorney before applying for a visa – the paperwork can be complicated, confusing and exhausting.
Call us at 512-371-9000 for a free immigration consultation with an experienced lawyer right now. We can answer your questions and explain your rights so you know exactly what to expect from the K-1 visa application process.
Schedule a FREE Consultation Or Call (512) 371-9000
---
About Nanthaveth & Associates:
Nanthaveth & Associates, PLLC is a trusted immigration law firm located in Austin, Texas. Immigration law experts at Nanthaveth and Associates are prepared to provide legal counsel for businesses, families and individuals in the areas of green cards, adjustment of status, work visas and investor visa applications, family-sponsored immigration, employer compliance, self-petitions, permanent residence, naturalization, waivers, appeals, foreign adoptions, and more.
For Austin, TX immigration help call Nanthaveth & Associates at 512.371.9000.