What is the DACA Program and Why is It Ending?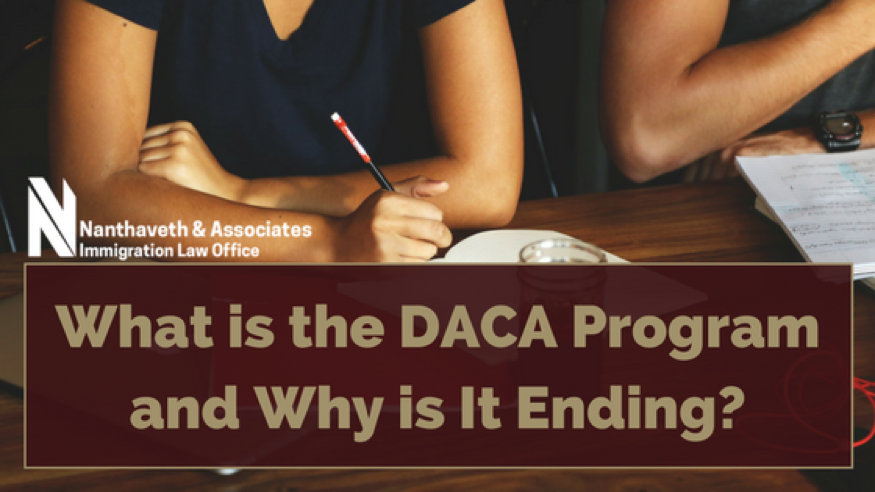 Almost daily, news from Washington D.C. refers to DACA and its future in the United States. So what is the DACA Program?
The DACA program was introduced in 2012 by President Barack Obama to protect individuals who were brought to the United States as minors, usually by parents without documentation. The DACA program, Deferred Action for Childhood Arrivals, recognized individuals who have grown to adulthood since their arrival and were thereby granted a two-year deferral from deportation or other legal action and could continue working legally. Since then, applicants have been allowed to renew their application at the end of each two-year period.
When President Obama issues the executive order, the qualifications of the so-called DREAMers were that they should:
Be under the age of 31 years as of June 25, 2012
Have come to the United States under the age of 16
Have lived continuously in the United States since June 15, 2007
Have a high school diploma, GED Certificate, are currently attending school, or have been discharged honorably from the military
Not have committed any felony or serious misdemeanor
Upon acceptance, DREAMers were provided work permits and protected from deportation for two years. DACA acceptance by itself does not grant permanent residency status nor citizenship.
At the end of 2017, there were an estimated 800,000 DACA recipients. On the sidelines, according to one USA Today article, are an estimated total of 3.6 million people who could qualify for the DACA program.
Reasoning Behind The DACA Program
DREAMers include people who have spent most of their lives in the United States, are beginning careers, and have become valuable employees, attended school, and have pledged their allegiance to the United States.
In 2016, according to a Fox News report, 359 DACA recipients enlisted in the U.S. Army
Since a considerable percentage of DREAMers' years have been spent in the United States, they no longer have a "home" country to which they can be deported.  In many cases, they may not even be fluent in the language of their parents' native country.
Latest Developments in the DACA Debate
In September 2017, President Trump announced his intention to dismantle the DACA Program. According to his directive, no new applications would be processed. However, in January 2018, a San Francisco judge ruled that the program should stay intact as litigation processes play out. Applications for renewal could continue.
The future of the DACA program is currently being considered in Congress, although no resolution has been achieved. The President's stated position is that if Congress can agree to increase border security, fund the controversial border "wall," and resolve other security issues, he and the Republican-controlled Congress would be amenable to a more permanent DACA solution.
March 5 Deadline for DACA Resolution
A March 5 deadline has been set by President Trump to resolve the DACA program matter. He has proposed that the current DACA recipients and future eligible recipients could receive legal status if specific demands are included in new legislation.
These demands include:
Funding for a wall along the United States and Mexico border
Enhancement of Homeland Security and law enforcement staffing to reduce "overstays" and illegal border crossings
Immigration court reforms
Limitations on family reunification or "chain immigration," restricting parents, siblings, and adult children
End of the Diversity Immigration Visa lottery
Many members of both parties support the continuation of DACA. However, if the legislation must include each of the above conditions, the likelihood of sufficient support appears minimal. Already several bills have been proposed, but none have reached the 60% requirement for passage in the Senate.
On February 15, the Senate voted on four different DACA amendments. None succeeded. One bipartisan bill received the most votes at 54-45, not achieving the necessary 60 votes. That particular bill would have granted a path to citizenship to approximately 1.8 million individuals, funded $25 billion for the "Wall," and limit family immigration to spouses and minor children, and eliminate the diversity visa lottery systems.
However, it should be noted, the president threatened to veto even this plan if it had passed.
Consulting a Professional Immigration Lawyer
Legal representation is becoming essential for any immigration matter. In Austin, Texas, contact Nanthaveth & Associates, PLLC, for a free initial consultation to discuss your circumstances. The multilingual and experienced professionals, led by Vi Nanthaveth, work tirelessly to protect the rights of clients in all areas of immigration law. Their job is to stay current with matters that may affect your status and help to provide peace of mind.
Clearly, for the DACA program, staying abreast of the situation is critical.
Call today or visit the Nanthaveth and Associates CONTACT US page to propose an appointment time that works for you.
Schedule a FREE Consultation Or Call (512) 371-9000
---
About Nanthaveth & Associates:
Nanthaveth & Associates, PLLC is a trusted immigration law firm located in Austin, Texas. Immigration law experts at Nanthaveth and Associates are prepared to provide legal counsel for businesses, families and individuals in the areas of green cards, deportation, adjustment of status, work visas and investor visa applications, family-sponsored immigration, employer compliance, self-petitions, permanent residence, naturalization, waivers, appeals, foreign adoptions, mediation and more.
For Austin, TX immigration help call Nanthaveth & Associates at 512.371.9000.