Choosing an Expert Immigration Attorney: Four Important Steps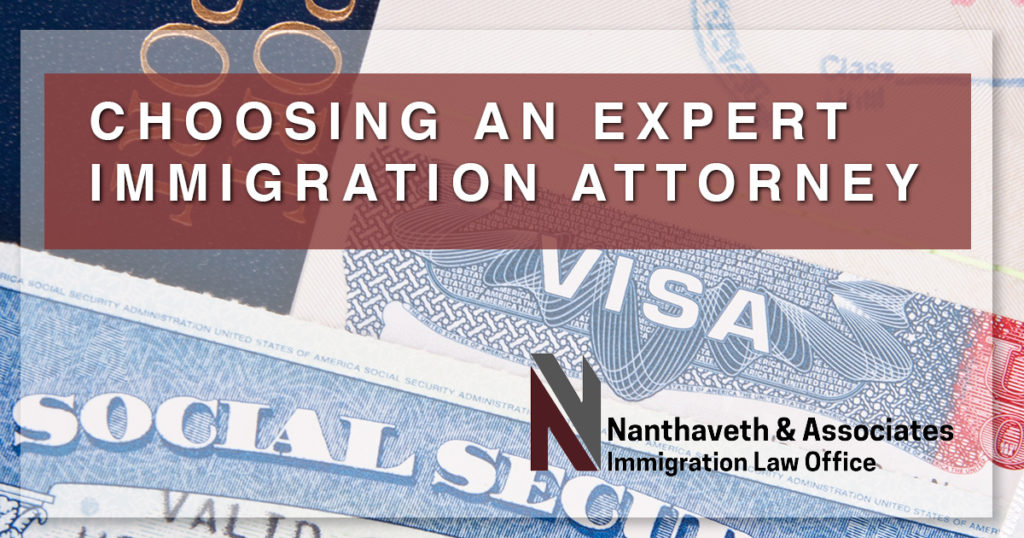 Choosing an Expert Immigration Attorney: Four Important Steps
Immigration is a cornerstone of United States history and culture. Its importance cannot be denied. Notwithstanding the heated debates currently occurring at all levels of our government and across the country. In Austin, and in Texas as a whole, immigration is a critical issue that impacts diverse communities. Immigration influences our state in many ways. Countless Texans find themselves in need of legal help with their immigration concerns.
The current political climate means it is essential you find an expert immigration attorney. One who can guide you through any immigration or naturalization challenge you may face. Federal and state laws and policies regarding immigration, deportation, visas, green cards, and naturalization are changing. They are updating regularly, especially under the Trump administration. A qualified immigration lawyer will skillfully navigate the legal processes.
It can be difficult to find a qualified and considerate attorney whom you trust. One who will represent your case and protect your rights. Professional help is often necessary regarding immigration.  It can be hard to find the right law firm. There are four steps you can take during your search that will make your journey easier and hopefully guide you to the perfect immigration attorney for your unique needs. These steps are a comprehensive guide to how you can find, interview, and choose an immigration attorney who is qualified, prepared, and experienced.
STEP ONE: Start Your Search
So, you are ready to find an immigration attorney to represent your interests and protect your rights and livelihood. Despite the importance of finding such representation, it can be difficult to know exactly where to start. The immigrant status of you and/or your family is too important to trust to just anyone. With thorough research, you can pinpoint a few attorneys to pursue in further depth before making a final decision.
Talk to Friends and Family
Do you have any friends or family who have also needed the help of an immigration lawyer in your area? If so, ask them who represented them and whether or not they would recommend their services. Don't be afraid to ask detailed questions! They may be able to provide you with a name of an attorney or law firm that represented them expertly and professionally.
Use the Internet
The internet is an excellent resource to use to find immigration law attorneys in your area. A simple search via search engine should return several options that you can investigate. Once you have a list of law firms, read each website fully. Look for websites that are professionally managed and provide a wide breadth of information for potential clients. You can also use a law firm's website to get to know their specific offerings and attorneys. Once you have a list of law firms and/or lawyers that seem to be a good match, you are ready to reach out and schedule a free consultation.
As a note, beware when using the internet to find immigration advice and legal help. While the internet can connect you to a variety of qualified and expert immigration attorneys, there are also scams that can appear very believable. Keep on the lookout for anyone who says they are a "visa consultant," a "notario," or acts as if they are capable of helping with your immigration concerns despite lacking a legal degree. Only a lawyer certified by your state's bar association can truly represent and protect your immigration interests to the fullest legal extent and has the knowledge to navigate an often complicated judicial process.
Make a List
Using your resources at hand, including any potential personal referrals and internet results, create a list of law firms that you are interested in meeting. This should include only law firms that appear trustworthy and have lawyers certified by your state's bar association. Once your list is complete, you can move on to Step Two.
STEP TWO: Meet with Credible Law Firms
Once you have selected a few potential law firms, you can start to make contact, either by phone or via the internet. Make sure that a firm's website makes it very clear how to get in contact, either by displaying their phone number prominently or providing a contact form on their website. Contacting firms should be easy and comfortable. For example, Nanthaveth & Associates allows you to contact their expert lawyers either by telephone at 1-512-371-9000 or by filling out an online contact form.
Schedule a Free Consultation
Most law firms, including Nantheveth & Associates, will provide free consultations  to new clients. These consultations allow both attorney and client to meet, discuss the case details, and review other important information regarding your immigration concerns. It is important that you bring all your case materials with you to your meeting so that the attorney can completely understand the situation.
Nantheveth & Associates provides free 30-minute legal consultations to anyone with immigration questions or concerns. Additionally, if a potential client wishes to have more than 30 minutes to discuss their case, an unlimited time session can be provided for a small fee.
Prepare Your Case Materials
Whether you are renewing a visa, sponsoring a green card, fighting deportation, or experiencing any other legal immigration concern, you can prepare for your consultations with attorneys by organizing all relevant materials to your case. Remember, any information in your possession that could be of use to your attorney should be readied, organized, and brought to your free consultation. This should always include information like scheduled court dates, letters, forms, and prior rulings or decisions immediately relevant to your case.
Once you have all of your materials organized and at the ready, you're prepared for your consultation. To make things as efficient as possible, bring your materials in a folder or binder.
Ask Questions
Don't be afraid to ask questions during your free consultation. It is imperative that you fully understand the potential courses of action that your lawyer can take on your behalf. Prepare a list of questions before your free consultation. Doing so will help you remember every question that you feel important. Each question you ask will better help you understand whether or not a specific attorney is the right fit for you.
A potential list of questions includes:
How long have you been practicing immigration law?
What is your legal specialty?
Are you accredited by the state bar association?
How much access will I have to an attorney if I choose this law firm?
What will representation cost? (This will likely be an estimate.)
What are the potential outcomes of my case?
Do you have any previous clients I can speak with?
Take Notes
During your free consultation with an immigration attorney, you'll likely receive a lot of crucial information about your case. Be prepared to take plenty of notes; these will be helpful once you have met with several lawyers and are ready to choose an immigration representative to oversee your case. It may also be helpful and make you more comfortable to bring a trusted friend or family member with you. They may be able to take notes for you so you can concentrate on the information you're receiving and ask questions.
Beware of Any Promises or Guarantees
Do not hire any immigration attorney or law firm that promises you a specific outcome. Even for the best attorneys, no specific immigration decision or outcome is guaranteed. A trustworthy and experienced immigration attorney will likely be able to outline a few possible outcomes as they deeply understand the legal process. Ultimately, the decision on your case will be in the hands of an immigration judge and/or court, and no attorney can predict with certainty a court's final rulings.
Request Recommendations
A successful lawyer at an immigration law firm will likely have plenty of prior clients. Ask for the names of clients who might be willing to talk to you about their experience. These recommendations will help you completely understand what it's like to work with a specific immigration attorney and/or law firm. You may learn that you've found a perfect match for you or, after talking with previous clients, decide to pursue another representative.
STEP THREE: Do Your Research
Once you have met an attorney whom you trust and hope to hire, you'll want to complete some additional research before making a final decision. If you and your potential immigration attorney discussed the topics below during your free consultation, then you will likely already know the answers to these questions. But, if your consultation has left you with additional questions, it is essential that you complete some research before making any decisions.
Accreditation
Most importantly, you'll want to ensure that any attorney you hire is accredited by your state's bar. Any non-lawyer who approaches you and promises proper legal representation should be avoided. These may include individuals who identify themselves as "visa consultants" or "notarios." Only an attorney accredited and certified by your state's bar association is properly equipped to help you with your immigration concerns.
Experience
Expert immigration attorneys are more likely to be both efficient and successful representatives. They will be innately familiar with both the legal challenges you face and how to potentially overcome such circumstances. The lawyers at Nanthaveth & Associates have a combined 30 years of experience, ensuring that you'll have an attorney who knows the "ins and outs" of immigration law.
Additionally, you'll want to consider the offerings of the law firm as a whole. Does the law firm only practice immigration law? If so, the firm will be better able to argue your case with the most up-to-date information and ensure you are represented by a true expert in the field. Nanthaveth & Associates specializes in immigration law, and represents clients in the following practice areas: family immigration, business immigration, deportation, and immigration appeals.
Language
Some people do not feel comfortable speaking, reading, and/or writing in English. If you do not, it is critical that you find a lawyer who can speak your native language. They will be better able to serve you and your interests. Additionally, your lawyer will be able to translate any and all legal information provided in English to ensure that you fully comprehend the details of your case.
Cost of Services
Hiring an excellent immigration attorney is not cheap, but it is worth it. Be prepared to pay more for reputable lawyers. Lawyers with experience relevant to your specific situation are worth the money. When you or your family's ability to live in the United States is in jeopardy, it is imperative that you hire the best immigration lawyer for the job. Often, this comes at a higher cost.
Location and Access
Because immigration concerns are liable to require plenty of time, effort, and attention, you'll want to make sure that your attorney is as near to your home as possible. During your case, you may also need to travel often to the law firm's offices. You can expect to discuss case developments or strategize with your immigration attorney. It will be less burdensome for both you and your family if you choose a representative that is near your home.
Likewise, you'll want to ensure that you will have ample access to your immigration representative. This is especially important if your case quickly escalates. Your lawyer should be available to you when you need them. Finding a qualified immigration attorney in your area can make the all the difference and ensure that . In the Austin area, you can trust Nanthaveth & Associates to represent your interests and protect your rights.
STEP FOUR: Make Your Final Choice
Once you have met with an immigration attorney or attorneys that you trust and have completed any additional research, it's time to choose. Depending on the depth and breadth of your search, you may have one candidate or many. It is helpful to follow Step Three and research each and every immigration attorney in depth. This will ensure that you are making this crucial decision with as much information as possible. If you have consulted with a credible immigration attorney, asked questions, and researched your options, it is likely that your final choice will be perfect for you.