2019 Immigration Statistics and What to Expect for 2020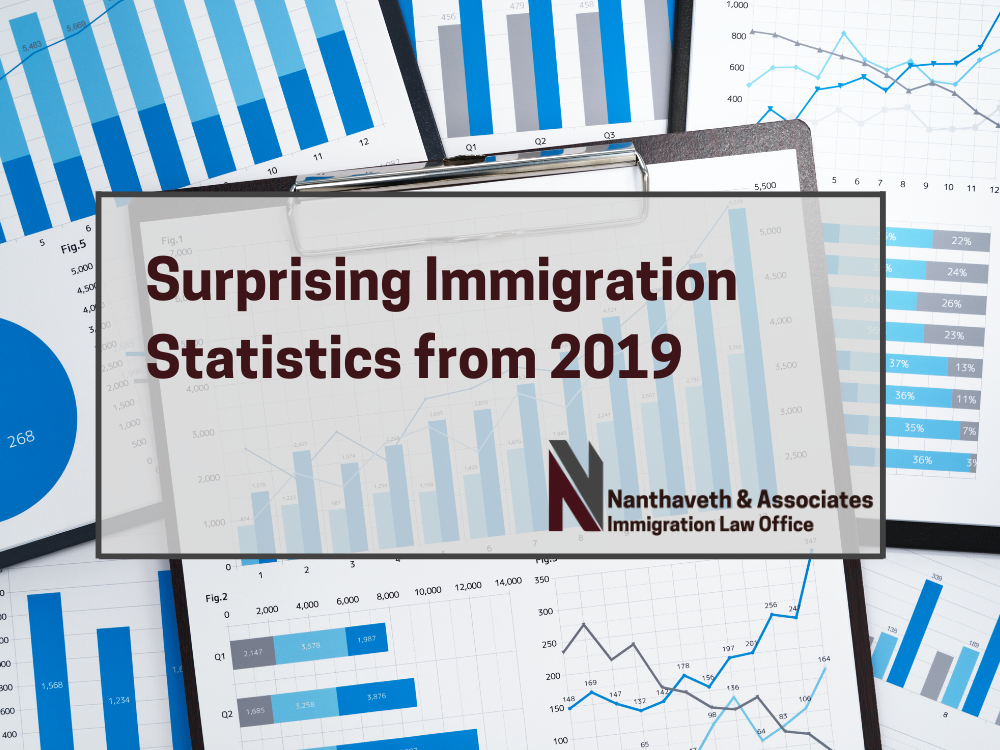 2019 immigration statistics are just coming in, tallied by the Office of Immigration Statistics (part of the Department of Homeland Security) and several other research agencies, and what they cover might surprise you.
2019 Immigration Statistics
The only 2019 immigration statistics available as of this writing are for the first quarter of the fiscal year, which began in October 2018. The statistics will certainly change over the remainder of the year, as more statistics are analyzed and released by DHS. They cover:
Lawful permanent residents
Refugee arrivals
Naturalizations
Here's a closer look at each.
Lawful Permanent Resident Statistics From 2019
During the first quarter of 2019, approximately 257,000 foreign nationals obtained lawful permanent resident status in the U.S. In order to obtain LPR status, petitioners must apply for and be approved for a green card, which grants permanent residency and the ability to work with no restrictions in the United States.
Of those who obtained LPR status, more than 140,000 people adjusted status from inside the U.S. Another 117,000 came to the U.S. as new arrivals, having applied through consular processing, which is the process of applying for a green card from abroad.
Approximately 39 percent of the people who gained LPR status in the first quarter of FY 2019 came from:
The People's Republic of China
India
Cuba
The Dominican Republic
The Philippines
Mexico
Related: How to immigrate to the United States
Refugee Arrival Statistics From 2019
In FY 2019's first quarter, a total of 5,700 refugees were admitted to the United States. The vast majority – 90 percent – came from these six countries:
The Democratic Republic of the Congo
Ukraine
Burma
Eritrea
Afghanistan
Burundi
Naturalization Statistics From 2019
During the first quarter of FY 2019, a total of 175,000 foreign nationals became naturalized U.S. citizens. This was a slight increase over the previous year's first quarter. Around 40 percent of naturalizations involved people from these countries:
Mexico
India
The Philippines
The People's Republic of China
Cuba
Vietnam
What About Other Data?
It takes quite a bit of time for the government to compile and analyze data, so it will still be nearly a year before all the immigration statistics from 2019 are released. However, other agencies routinely compile data and statistics on immigration, such as the Pew Research Center. These are some highlights:
As of 2017, the U.S. foreign-born population is about 44.4 million people. That equates to about 13.6 percent of the entire U.S. population.
The vast majority of immigrants in the United States are here legally (77 percent). The remainder – those who are in the country illegally – are typically people who overstayed a visa after entering the U.S. lawfully. Very few people "sneak" across the border, according to the Department of Homeland Security.
Not all lawful permanent residents apply for U.S. citizenship. During fiscal year 2018, only 800,000 people applied for naturalization in the U.S., despite millions being eligible.
The top five countries for immigrants in the U.S. include Mexico, the People's Republic of China, India, the Philippines and El Salvador. However, by region of birth, immigrants of South and East Asia dwarf the number of immigrants from Mexico; 27 percent of all immigrants come from South and East Asia.

What to Expect for 2020
The current presidential administration is attempting to drastically reduce legal immigration to the United States. However, most of the changes the administration has proposed have been blocked by federal judges because they're unconstitutional.
During 2020, you can expect the administration to continue attempts at curbing legal immigration with court battles to ensue.
Related: New Public Charge Rule blocked by district courts
Do You Need to Talk to an Attorney About Immigration?
If you're thinking about immigrating to the U.S., you may want to talk to an immigration attorney who can help. There are several pathways you can follow to visit on a visa, get a green card or become a naturalized citizen, and we can help you explore them – so call us today to schedule your consultation.
Schedule a FREE Consultation Or Call (512) 371-9000
---
About Nanthaveth & Associates:
Nanthaveth & Associates, PLLC is a trusted immigration law firm located in Austin, Texas. Immigration law experts at Nanthaveth and Associates are prepared to provide legal counsel for businesses, families and individuals in the areas of green cards, adjustment of status, work visas and investor visa applications, family-sponsored immigration, employer compliance, self-petitions, permanent residence, naturalization, waivers, appeals, foreign adoptions, and more.
For Austin, TX immigration help call Nanthaveth & Associates at 512.371.9000.