Nanthaveth & Associates Launches New Immigration Law Website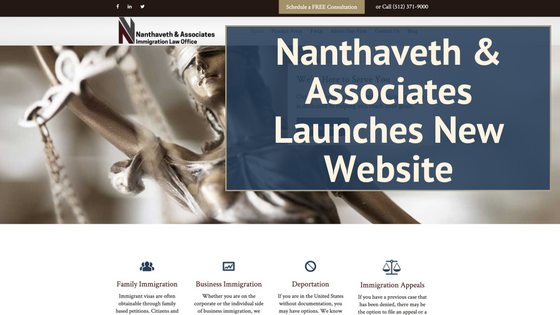 Recently, Nanthaveth & Associates launched their new immigration law website, offering more support and information for readers, as well as the ability to schedule a free consultation.
This year, Nanthaveth & Associates has gone through big changes, first with the new office space and location, and now with the launch of their website: www.austinimmigrationattorney.com
The new immigration law website offers information on practice areas including family immigration, business immigration, deportation and appeals, as well as addresses frequently asked questions regarding these areas of law.
To get a better sense of the law firm, an About Nanthaveth & Associates page has also been added to the immigration law website for general information regarding staff and business history.
For those in search of legal representation, a Nanthaveth & Associates "contact us" page allows for scheduling of a free consultation, including appointment date and time set up, directly on the website.
However, the most frequently visited area on the new website is the Nanthaveth & Associates blog. This section is updated biweekly and offers articles detailing important immigration law news, industry updates, firm updates, and information regarding various specific areas of immigration law, such as: obtaining visas, visa types, marriage to an immigrant or permanent resident, Texas SB4 updates, DACA updates, etc.
The goal of the Nanthaveth & Associates is to help as many families and individuals as possible in Austin and surrounding areas. For this reason, the immigration law website has been tailored to specifically create a space where questions are answered, dialogue is encouraged, and a relationship can be fostered between the community and the firm.
Schedule a FREE Consultation Or Call (512) 371-9000
---
About Nanthaveth & Associates:
Nanthaveth & Associates, PLLC is a trusted immigration law firm located in Austin, Texas. Immigration law experts at Nanthaveth and Associates are prepared to provide legal counsel for businesses, families and individuals in the areas of green cards, adjustment of status, work visas and investor visa applications, family-sponsored immigration, employer compliance, self-petitions, permanent residence, naturalization, waivers, appeals, foreign adoptions, and more.
For Austin, TX immigration help call Nanthaveth & Associates at 512.371.9000.