Everything You Need to Know About the H1B Visa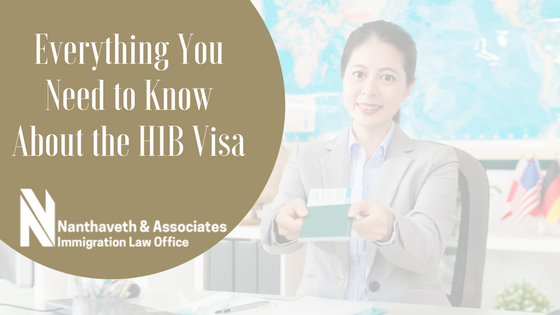 With the United States economy currently in a growth phase and business becoming more complex, companies are competing for more specially trained and educated individuals to fill critical positions. Human resources managers are finding that qualified U.S. citizens are either fully employed or reluctant to relocate. This growing demand is pushing companies to recruit beyond the nation's borders.
As in the past, hiring qualified individuals from abroad can be a logical solution. The United States Citizenship and Immigration Service (USCIS) offers a means by which companies can sponsor individuals as nonimmigrants, who have the equivalent of a bachelor's degree or possess other uniquely specialized talents to come to the United States to work.
Qualifications of H1B Visa Workers
To qualify for an H1B visa, the prospective hiree must possess particular talents or skills, or have earned a minimum of a university bachelor's degree or equivalent. Without the bachelor's degree equivalent, an individual is expected to have at least 12 years of work experience or a combination of work and post-high school education equaling twelve years.
Sponsoring companies should consult with an experienced immigration law firm to learn the requirements to effectively navigate the steps for applying for H-1B workers.
Once approved, an H-1B applicant is allowed to work in the United States for three years. If necessary, the company may apply for an extension of up to three additional years.
Are There Quotas for the Number of H-1B Visas Per Year?
Yes. Since 2004, the quota for H-1B visas has been 85,000 per year which includes 20,000 slots open for individuals holding a Master's degree or higher. However, the number of applicants in recent years has far exceeded the quotas, so a random lottery system is in place. In fiscal year 2016, for example, the USCIS received 233,000 H-1B petitions, so approximately two-thirds of the applications were not accepted.
Of the 80,000 H1B visa slots available, 6,800 are reserved annually for two countries, Chile and Singapore, based upon a free trade agreement with these nations.
The current administration has openly suggested reducing the number of visas of all types allowed per year, but no legislation has yet been enacted that affects the current quota for H-1B visas.
2018 H-1B Visa Applications
The 2018 H-1B application period took place between April 3 to April 7, 2017, The number of applicants reached the quota within three days. The total applications submitted reached 199,000. The lottery to choose the final 65,000 was held on April 11, 2017.
The 2019 application period is scheduled to begin around April 1, 2018. Companies with an interest in bringing qualified foreign employees to work in the United States should begin work on the application process soon for the 2019 quota.
To enhance the chances of a successful application, companies should seek a qualified immigration law firm to collaborate on completing the application process accurately. In Austin TX, consult with Nanthaveth & Associates to discuss your needs and collaborate on the application process.
How to Apply for an H-1B Visa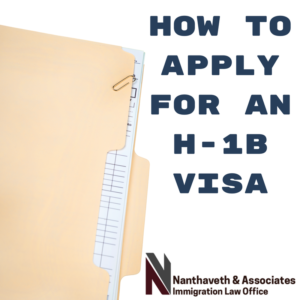 Companies interested in sponsoring a foreign citizen to work in the United States must follow specific steps and guidelines for applying. These are:
The sponsor:
Makes an offer and receives acceptance from the candidate. The offer should include:

Exact duties
Dates of service
Information regarding supervisors and co-workers

Must offer the prevailing wage in the market or actual wage of comparable employees, whichever is higher.
Submits a Labor Certification Application (LCA) application to the Department of Labor.
Posts notice in two different locations of the intent to hire a foreign citizen. Also, the company will provide notice to the collective bargaining body, where applicable.
Submits the H-1B application confirming the financial stability of the company and affirming that the new employee will receive the same rights and benefits as the existing employees. Also, a copy of the prospective employee's educational degrees and qualifications will be included.
The candidate:
Applies for the H-1B visa at a consulate or embassy nearest their location.
Will schedule an interview
Will be fingerprinted and photographed
Undergoes an interview
Waits for H-1B visa to be issued
Contact Nanthaveth & Associates, Immigration Law Office in Austin
Applying for an H-1B Visa for foreign employees can be a complicated matter. The process becomes even more difficult when forms are improperly completed or submitted at the wrong time. Accuracy, completeness, and timeliness are the keys to success.
Experienced immigration lawyers know best how to manage this process. In the Austin TX area, the best strategy is to work with Nanthaveth & Associates for an initial familiarization consultation. This multilingual law group specializes strictly in matters regarding immigration law and are experienced in H1B visa processes.
Schedule a FREE Consultation Or Call (512) 371-9000
---
About Nanthaveth & Associates:
Nanthaveth & Associates, PLLC is a trusted immigration law firm located in Austin, Texas. Immigration law experts at Nanthaveth and Associates are prepared to provide legal counsel for businesses, families and individuals in the areas of green cards, adjustment of status, work visas and investor visa applications, family-sponsored immigration, employer compliance, self-petitions, permanent residence, naturalization, waivers, appeals, foreign adoptions, and more.
For Austin, TX immigration help call Nanthaveth & Associates at 512.371.9000.