Can You Get a Green Card With a Criminal Conviction?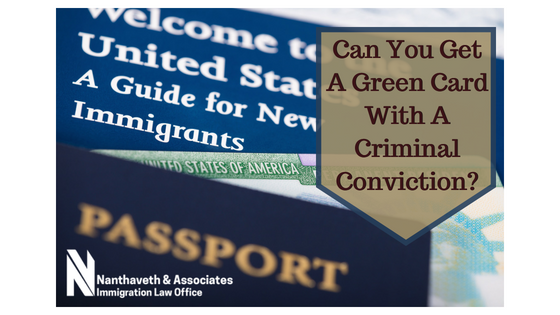 Having a criminal record can put the brakes on your green card application. If you have a criminal conviction in your past, it's in your best interest to talk to an Austin immigration lawyer who understands inadmissibility and how having a record could impact your ability to emigrate to the U.S.
Can You Get a Green Card With a Criminal Conviction?
Your immigration attorney will help you determine whether your record will prevent you from successfully applying for citizenship, but there are no guarantees in immigration – nobody can predict how U.S. Citizenship and Immigration Services will rule in most cases. The facts of your circumstances matter, and USCIS may look at things like:
The definition of the crime you were convicted of
Your age at the time you committed the crime
How many convictions you have
Crimes That Make You Inadmissible to the U.S.
Some crimes do make you inadmissible to the U.S., such as those involving moral turpitude and controlled substances. Drug trafficking, kidnapping, prostitution and money laundering can also make you inadmissible. However, there are always exceptions to the rules. It's best to talk to your lawyer about your situation before you apply for a green card.
What is Moral Turpitude?
In order to qualify for a green card, you must be a person "of good moral character." That means USCIS will look at your criminal history and determine whether you lied on your application. Usually, USCIS will examine your conduct in the 5 years before your application (3 years if you're applying as a spouse of a U.S. citizen) – but if you have a criminal record that involves crimes of moral turpitude, USCIS could deny your petition immediately.
Moral turpitude refers to "conduct that shocks the public conscience as being inherently base, vile, or depraved, contrary to the rules of morality and the duties owed between man and man, either one's fellow man or society in general." These types of crimes are called crimes involving moral turpitude, or CIMTs.
Some crimes that can make you inadmissible to the U.S. include:
Crimes against a person that involve criminal intent or recklessness, or those that are defined as morally reprehensible
Crimes against property that involve fraud against the government or an individual
Sexual crimes
Crimes against authority of the government, such as bribes or counterfeiting
What is a Waiver of Inadmissibility?
In some cases, the U.S. government makes exceptions. However, you'll have to talk to your immigration attorney about the specifics in your own situation. In some cases, people who have committed a CIMT qualify for a waiver, such as those who have:
Committed only one CIMT, and the CIMT has a potential sentence of less than a year of incarceration and a sentence of 6 months or less was imposed
Committed only one CIMT that occurred while the petitioner was under the age of 18 and at least five years have passed since your conviction and release from jail
Waivers are available to many other people who are inadmissible for reasons other than crimes involving moral turpitude, though – your attorney can help you determine whether you qualify.
Do You Need to Talk to a Lawyer About Getting a Green Card With a Criminal Conviction?
You may be able to get a green card with a criminal conviction – and we may be able to help you.
Call us at 512-371-9000 for a free consultation with an immigration attorney who will answer your questions and help put you on the right path.
Schedule a FREE Consultation Or Call (512) 371-9000
---
About Nanthaveth & Associates:
Nanthaveth & Associates, PLLC is a trusted immigration law firm located in Austin, Texas. Immigration law experts at Nanthaveth and Associates are prepared to provide legal counsel for businesses, families and individuals in the areas of green cards, deportation, adjustment of status, work visas and investor visa applications, family-sponsored immigration, employer compliance, self-petitions, permanent residence, naturalization, waivers, appeals, foreign adoptions, mediation and more.
For Austin, TX immigration help call Nanthaveth & Associates at 512.371.9000.