Types of Temporary and Work Visas in the United States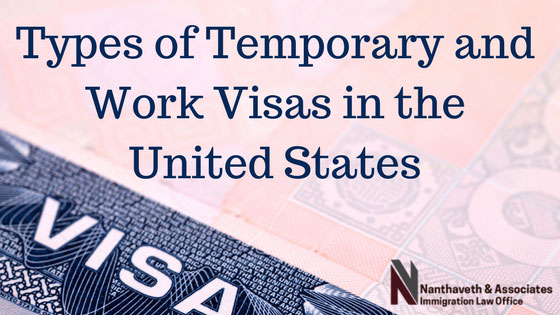 Knowing the appropriate category of visa that you may need for your temporary nonimmigrant visit or work function in the United States is necessary to expedite the process correctly. There are several categories and choosing the right one will eliminate delays and confusion. To help define your visa type and professionally apply for your temporary nonimmigrant entry into the United States, you should contact an experienced immigration visa lawyer who specializes in immigration law. Knowing the real purpose and providing valid proof of your intended stay while in the United States are essential to obtaining the proper temporary or work visas.
Sometimes the processes can be complicated.
In Austin, TX, and Baton Rouge, LA, one immigration visa lawyer, Nanthaveth and Associates, focuses strictly on immigration and visa matters. Their reliable service ensures that your case is handled professionally and accurately.
Current Situation for the Issuance of a Visa
Based on the rhetoric of the 2016 Presidential Election surrounding immigration in general, the process for securing permission to enter the United States may be getting more difficult. Individual scrutiny might strengthen as embassy and consulate officials await further instructions regarding the interpretation of an executive order issued earlier in 2017. The President's directive has not been fully endorsed by the United States Supreme Court, but workers or temporary visitors such as athletes and competitors from some mostly Muslim countries have already experienced rejection and delays in receiving an entry visa.
Temporary Employment
Many work and temporary visas are related to specialized work needed to be performed in the United States. It is important that companies that are requesting the visas for temporary workers collaborate with a qualified immigration visa lawyer to pave the way for a smooth transition. Error-free, well-documented applications can make the process go smoothly.
Types of Temporary Visa
The U.S. State Department Travel and Visa website details over 30 categories of temporary travel and work visas. Determining the right classification and proving you meet all the requirements for that category are required. A qualified and experienced immigration visa lawyer located in the United States is important to securing the visa in a timely fashion.
Here is a list of some nonimmigrant visa classifications temporary and work visas defined by their purpose: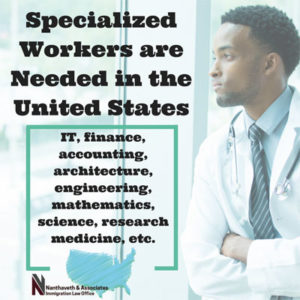 B-1: Athletes in competition, professional and amateur
J: Au pair
BCC: Mexico Border Crossing Card
B-1: Business visitor
CW-1: CNMI-only Transitional Worker
D- Crew Member
A-Diplomat and Foreign Official
B-1: Domestic employee
G-1, GS, NATO: Employees of International Organizations like NATO
J: Exchange visitor
A2, NATO1-6: Foreign military
Q, International Cultural Exchange
B-2, Medical Treatment
I, Journalist
P, Artist, entertainer
J, Physician
FM, Academics
H-2B, Temporary Worker
B-2, Tourism
C, Transiting the U.S.
V, Nonimmigrant Visa for Spouse or children of a permanent resident
Temporary Workers
Individuals are deemed Temporary Workers if they are intended to be in the country for a fixed, but not permanent period. The U.S. Department of State has some specific categories for Temporary Worker designations. Some of these are:
H-1B, Specialty Occupations
H-1B1, Free Trade Agreement Professionals
H-2A, H-2B, Temporary Agricultural Worker
H-3, Trainee Visitor
L, Intracompany Transfer
P-1, P-2, P-3, Athlete or entertainer individually or in groups
Q-1, Participants in a Cultural Exchange Program
Contact the Law Offices of Vi Nanthaveth
Nanthaveth and Associates are fully certified to manage and assist with all immigration and visa matters. If you need a temporary work visa, save time and money by working with an experienced, professional, and knowledgeable immigration visa lawyer to ensure your application is properly completed.
Schedule a FREE Consultation Or Call (512) 371-9000
---
About Nanthaveth & Associates:
Nanthaveth & Associates, PLLC is a trusted immigration law firm located in Austin, Texas. Immigration law experts at Nanthaveth and Associates are prepared to provide legal counsel for businesses, families and individuals in the areas of green cards, adjustment of status, work visas and investor visa applications, family-sponsored immigration, employer compliance, self-petitions, permanent residence, naturalization, waivers, appeals, foreign adoptions, and more.
For Austin, TX immigration help call Nanthaveth & Associates at 512.371.9000.