Secure Legal Entry with a Qualified Immigration Visa Attorney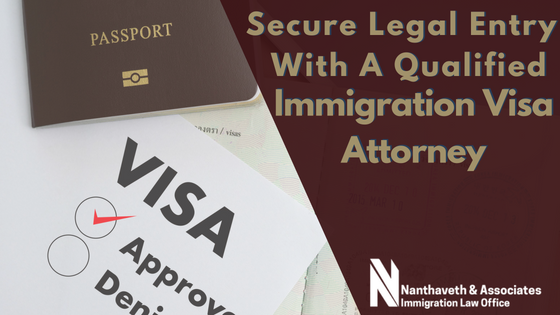 The United States Department of State issues visas to allow foreign nationals to enter the country for specific reasons and for defined periods of time.
The individual's purpose for coming to the U. S. establishes the category of visa required.
Merely requesting a visa to enter the United States does not ensure permission will be granted.
Petitions, documentation, sponsors, interviews, and screening make up the process. Given the current political attention surrounding unauthorized entry, securing a visa of any kind may be more difficult.
Individuals and companies requesting a visa for entry by foreign citizens should work with a qualified immigration visa attorney to help the process move smoothly and increase the chance of success.
Categories of Visas Required to Enter the United States
With some exceptions, the United States Department of State requires alien individuals entering the country for any reason to have a visa issued by the U.S. State Department.
The principal categories of visas available to enter the United States are:
Immigration
Tourism and Visitor
Business
Employment
Study and Exchange
Transit
Official Government Travel
Religious Worker
Crew Worker
Humanitarian
All but the first, immigrant visas, may be considered short-term or temporary entry visas. Immigrant visas are intended to permit qualified individuals permanent residency and even citizenship, eventually.
Petitioning for an Immigration Visa
Any foreign individual seeking to immigrate to and remain in the United States legally requires a sponsor, either a U.S. Citizen, a legal permanent resident, or a prospective employer. The initial petition must be submitted and approved before an Immigrant Visa can be granted.
In any case, working with an experienced and qualified Immigration Visa Attorney makes the process go smoother. The petition must be completed appropriately and follow-up must be prompt to avoid delays.
To few people's surprise, many individuals pursuing an immigration visa unassisted have met with frustration and delay.
In light of the current political circumstances surrounding illegal entry and deportation, unambiguous and verifiable documentation is essential.
Experienced and proven immigration attorneys understand precisely what is required to secure an immigration visa.
Steps to Acquiring an Immigration Visa:
Determine the Immigration Visa You Seek: If you are a U.S. Citizen or permanent legal resident, you may sponsor spouses, children, parents, and siblings to receive an immigration visa. As an employer, you may choose to sponsor a foreign employee to become a U.S. Green Card holder or permanent resident to obtain the immigrant visa.
Submit a Petition: The sponsoring family member must submit a Form I-130 Petition for Alien Relative. A sponsoring employer must file a Form I-140 Petition for Alien Worker. Working with a qualified immigration visa attorney will eliminate confusion and misunderstanding.
Petition Approved and Forwarded to the National Visa Center (NVC) for Processing: At this point, an Agent is designated, and fees are paid. The Agent can be your Immigration Visa Attorney who helped prepare the petition and would be responsible for receiving communication from the NVC. At this point, the fees will be submitted also.
Submit Requested Forms to the NVC: At this point, the actual immigrant visa application form is submitted along with all necessary financial and supporting documents. Your immigration attorney will know how to package and present these to the NVC.
Interview Process: The applicant will be required to take a medical examination and prepare for an interview before the visa can be awarded. The interview process involves the submission of a range of documents certifying the identity of the candidate immigrant, photographs, civil documents, and financial documents. The interview invitation will designate which documents will be needed. After the interview, the U.S. Consular officer will advise whether the visa application is approved or denied.
For your free consultation regarding immigration, residency, or citizenship issues, call Nanthaveth & Associates at 512.371.9000. Or, fill out the simple Contact Us form and an associate will contact you for a personal consultation.
Schedule a FREE Consultation Or Call (512) 371-9000
---
About Nanthaveth & Associates:
Nanthaveth & Associates, PLLC is a trusted immigration law firm located in Austin, Texas. Immigration law experts at Nanthaveth and Associates are prepared to provide legal counsel for businesses, families and individuals in the areas of green cards, deportation, adjustment of status, work visas and investor visa applications, family-sponsored immigration, employer compliance, self-petitions, permanent residence, naturalization, waivers, appeals, foreign adoptions, mediation and more.
For Austin, TX immigration help call Nanthaveth & Associates at 512.371.9000.