How to Check Your Immigration Case Status Online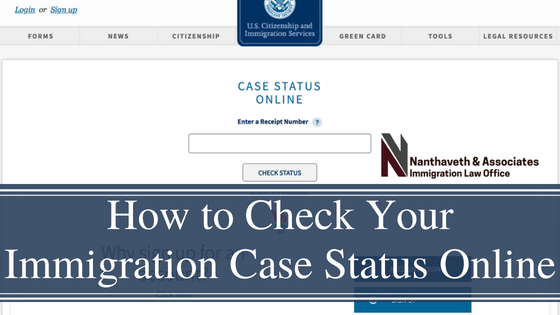 Once you submit an Application for Citizenship with the United States Citizenship and Immigration Service (USCIS) to become a naturalized citizen, awaiting the next steps to complete your immigration case status can make anyone feel anxious. This anxiety is also common for those applying for Permanent Residency, Visas, Application for Asylum, Adjustment of Status, and other situations.
Some of these legal processes take months to complete, mainly because of a backlog of applicants in many regions. Sometimes delays occur because of a lack of supporting information and a need for additional documentation.
With recent crackdowns on immigration and removal, more individuals will be applying for permanent residency and Naturalized Citizenship to secure their futures and protect their families from deportation.
As a result, the USCIS attempts to provide a way in which any person may go online to check on their current immigration status, update any changes in address or contact information, and view a list of next steps leading up to the resolution.
Form 797 Receipt Notice
The legal immigration process begins with the submission of the 1-400 Application for Citizenship, work visa application, Permanent Residency or Adjustment of Status petition, or other and the subsequent acknowledgment of receipt by the USCIS. All fees must have been submitted as well.
Applicants will receive a Form 797 Receipt Notice by mail that includes:
A successful receipt of the application/petition and appropriate fees by the USCIS
Assignment of a 13-character barcode to be used for identification in case of query
Once you have received this number, you may use it to access your immigration case status through the USCIS online tool by computer, by phone, or in person.
myUSCIS Portal and Checking Your Immigration Case Status
myUSCIS is a new online portal designed by the USCIS to assist applicants in understanding more about the process.
The site not only gives you a personalized view of your immigration status, but it also provides essential services for helping applicants in other ways.
The site offers assistance and tips to prepare for the citizenship tests for English and civics. Also, myUSCIS is designed to provide other helpful services such as locating a USCIS certified doctor for your medical examination. Or, the website can help you find a practical class to help you to prepare to become a productive citizen of the United States.
The best part, myUSCIS can be accessed any time of the day or night to check on your current status.
The Advantages of Working with an Experienced Immigration Lawyer
Immigration and Naturalization Law can become complicated.
Many who have been faced with legal immigration challenges have improperly petitioned for residency and were met with failure. In extreme cases, this error can end with Removal proceedings.
Texas has had the most deportations of any state by far, mainly because of the strict system and a higher percentage of individuals attempting to defend themselves without experienced legal advice or support.
Whether to assist with the naturalization process, green card designation, work visas, or deportation proceedings, working with an expert immigration law firm is essential for success.
For naturalization applications, multi-lingual and compassionate immigration lawyers like Nanthaveth & Associates are more important than ever.
For naturalization cases, a qualified lawyer can ensure:
The application is completed perfectly
All necessary documentation is provided
Appropriate fees are paid
Monitoring of the immigration case status,
Appropriate action and help responding to further questions
Encouragement and assistance in finding support for English and Civics study
For Your Free Legal Consultation, Contact Nanthaveth & Associates in Austin, Texas
No matter what your immigration case status may be, political pressures seem to be adding extreme stress to the lives of many foreign-born residents of the United States.
Contact Nanthaveth & Associates in Austin to get a better understanding of your situation.
A free consultation will allow you to discuss your situation and give you direction on how to move forward.
Nanthaveth & Associates, headed by lead attorney, Vi Nanthaveth, is focused only on legal matters about immigration, visas, residency, naturalization, and removal proceedings.
Visit the Nanthaveth & Associates website and schedule your initial free law consultation appointment. Or, you may phone Nanthaveth & Associates in Austin to schedule your consultation at (512)-371-9000.
Also, to stay abreast of your immigration case status and immigration law issues, see the latest Nanthaveth & Associates articles for useful discussions regarding nearly every immigration matter.
Schedule a FREE Consultation Or Call (512) 371-9000
---
About Nanthaveth & Associates:
Nanthaveth & Associates, PLLC is a trusted immigration law firm located in Austin, Texas. Immigration law experts at Nanthaveth and Associates are prepared to provide legal counsel for businesses, families and individuals in the areas of green cards, adjustment of status, work visas and investor visa applications, family-sponsored immigration, employer compliance, self-petitions, permanent residence, naturalization, waivers, appeals, foreign adoptions, and more.
For Austin, TX immigration help call Nanthaveth & Associates at 512.371.9000.