How to Apply for a Green Card in Austin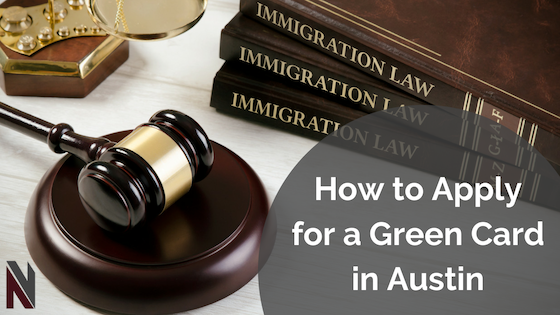 If you're eligible to apply for a green card, which gives you an official immigration status in the U.S. and allows you to live and work here permanently, you may find it helpful to work with an Austin immigration attorney – many people do.
Here's how to apply for a green card in Austin and the surrounding communities:
Find out whether you're eligible
Fill out the right forms
Provide supporting documentation
Go to a biometrics appointment, if necessary
Attend an interview with a U.S. Citizenship and Immigration Services official
Wait for a decision on your application
How to Apply for a Green Card in Austin
For many people, working with a lawyer simplifies the entire application process. Your attorney can help you prepare the right forms, pull together the necessary documentation and prepare you for your interview. (Some interviews can be more intimidating than others, such as those involving green card marriage.)
In order to apply for a green card, you'll have to go through the same steps everyone else does – and they're outlined here.
Are You Eligible to Apply for a Green Card?
Not everyone is eligible to apply for a green card. Typically, you have to get your green card through family connections or your employer's sponsorship, or you have to fall into a special immigrant category. You may also be eligible to apply if you're a refugee or an asylee, or if you're the victim of certain types of crimes.
What Forms Do You Need to Fill Out to Apply for a Green Card?
Your attorney can fill out your Form I-485 – Application to Register Permanent Residence or Adjust Status for you. He or she will also file it for you.
Supporting Documents for Your Green Card Application
You'll have to provide some supporting documentation when you apply for a green card. In addition to your passport-style photos, government-issued ID, birth certificate and initial admission documents, you may have to provide documents for your immediate relatives, as well. Some other documents you might need to provide include:
Certified police records
Your marriage certificate or license
Divorce records
Proof that you've maintained a lawful status since you arrived in the U.S.
Adoption records
Proof of employment
Waivers, if you were granted any
Biometrics Appointments
A biometrics appointment usually only takes about 15 minutes. During the appointment, a USCIS official will take your photo and get your fingerprints. You'll also be asked to sign your name electronically. Bring your appointment notice and a photo ID.
The USCIS Interview When You Apply for a Green Card
Almost everyone has to go through an immigration interview when they're applying for a green card. These interviews are usually over in less than a half-hour, but not always.
You can expect the USCIS official assigned to your case to ask you if anything has happened in your life that could affect your application, like an arrest, the birth of a child, or a new job. He or she may also ask you questions based on the type of green card application you've filed, like:
How, when and where did you meet your spouse?
What's your spouse's birthday?
What's your spouse's work schedule like?
Do you share money?
What kind of car did your spouse have when you first met?
When did you decide to marry? How did your spouse propose to you (or how did you propose to your spouse)?
Can you describe the furniture in your bedroom?
Receiving a Decision on Your Application
You might receive a decision at your interview. However, sometimes immigration officials need more information to make a decision – and if that happens, you'll have to wait. Typically, you'll receive a decision within 90 days.
Do You Need a Lawyer's Help to Apply for a Green Card?
If you need a lawyer's help to apply for a green card, we're here for you. Just call us at 512-371-9000 or schedule a free immigration consultation online – we'll be happy to help.