Checklist for Hiring an Immigration Attorney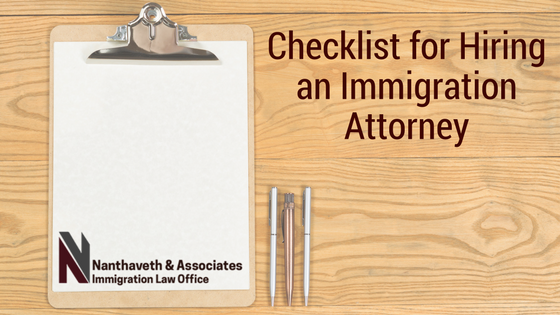 During the past year, considerable debate and media coverage has targeted the issue of immigration and residency in the United States. At the highest level of government, conflicting commentary has created uncertainty around the fate of DREAMers and the continuation of DACA, the Deferred Action for Childhood Arrivals.
Similarly, in 2017, a Texas legislation titled SB4 passed in 2017 which brings greater scrutiny to the plight of current residents, allowing law enforcement to demand residency documentation at just about any time. Texas sanctuary city authorities are being challenged to stop ignoring the presence of undocumented residents.
While many U.S. companies require skilled foreign workers to grow their businesses, the current administration is curtailing visa quotas for H-1B workers, a crucial segment of the United States workforce.
Finding the Best Immigration Attorney  
Many foreign-born individuals are becoming concerned about their status and that of members of their family. Although the concern may not be warranted for some, the importance of having a clear understanding of your legal situation cannot be overstated. Recently empowered authorities may act quickly to target unsuspecting individuals.
Your best protection is a qualified immigration attorney to inform and protect your rights in cases where your rights and freedoms may be challenged. One experienced immigration law firm, Nanthaveth & Associates in Austin, Texas, has handled many immigration cases successfully and are prepared to work diligently to ensure your protection.
Checklist for Finding the Best Immigration Attorney
Hiring the right immigration attorney can make the difference between achieving your objective or having to accept an unsatisfactory ruling. Never try to save money by working with the least-cost option or by accepting a 3rd-party recommendation without research. Do your investigation and follow specific guidelines when making your selection.
Check your state's Bar Association website to identify a list of qualified attorneys. Also, when narrowing the list of candidates, research each website to understand their real qualifications.
Checklist:
Make sure you are working with a certified immigration attorney
Watch out for scam artists who take money but are not qualified. Avoid titles like Notario, Immigration Consultant, Immigration Petition Expert, and Immigration Consultant. Ensure that the immigration attorney is certified to practice law by the State Bar Association where you reside.
Find an attorney specializing in immigration law
Some law firms offer representation in the entire scope of business and criminal law with no focus on immigration law. Look for a law firm with a clear commitment to immigration law as it pertains to family immigration, business immigration, deportation matters, and appeals.
Consider a firm offering a free consultation
A free initial consultation is beneficial to both you and the immigration attorney. You may review your circumstances, present all documents, ask questions about similar cases, and determine whether the individual is genuinely concerned. The immigration attorney should offer ideas and perhaps a strategy to help. While there are no guarantees, this meeting can determine if the individual is someone you can employ.
Be sure the firm and attorney are accessible
Choose an attorney whose office is relatively near your residence. Circumstances can change quickly. If you should need assistance on short notice, will the immigration attorney be available? If not, is there a qualified associate who can respond who will know your case and respond appropriately.
Ask for references for cases similar to yours
Successful immigration lawyers are pleased to share their successes with potential clients. Ask who you might contact regarding similar cases to understand how those circumstances were handled.
Look for online reviews
According to Adweek, 81% of all shoppers look for online reviews to help make shopping decisions. A third-party commentary is even more critical when looking for an immigration lawyer.
Do your research
Attorneys interact with the same judges and immigration officials frequently. While a positive relationship may work in your favor, a grudge against certain attorneys who have misrepresented a case or otherwise misbehaved in the past can negatively affect your case. Do your research to determine if the attorney has represented themselves and their clients well, and are respected by colleagues in the industry.
Does the immigration lawyer demonstrate compassion?
Over time, the practice of law can become a heart-hardening experience. Determine whether the individual is genuinely committed to helping and caring for those in need, or if the practice has become merely a business.
Contact Nanthaveth & Associates, PLLC, in Austin, TX
Compassionate, experienced, and successful, Nanthaveth & Associates specializes in immigration law. Vi Nanthaveth heads a multilingual team of professionals dedicated to protecting the rights and residency of foreign-born individuals and their families.
Learn more about the firm and read recent blogs regarding immigration matters by visiting the Nanthaveth & Associates website.
If you wish to contact Nanthaveth & Associates for a free consultation, complete the contact form below or give us a call!
Schedule a FREE Consultation Or Call (512) 371-9000
---
About Nanthaveth & Associates:
Nanthaveth & Associates, PLLC is a trusted immigration law firm located in Austin, Texas. Immigration law experts at Nanthaveth and Associates are prepared to provide legal counsel for businesses, families and individuals in the areas of green cards, deportation, adjustment of status, work visas and investor visa applications, family-sponsored immigration, employer compliance, self-petitions, permanent residence, naturalization, waivers, appeals, foreign adoptions, mediation and more.
For Austin, TX immigration help call Nanthaveth & Associates at 512.371.9000.