Naturalization: Becoming A Citizen In America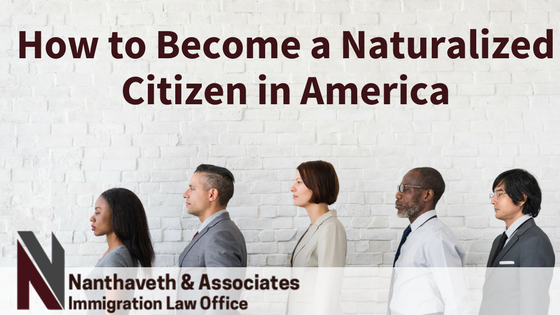 For those who hold permanent residency status in the United States, becoming a naturalized citizen is the next step for many. During the past decade, according to the United States Citizenship and Naturalization Service (USCIS) website, 7.4 million people have been officially welcomed as new citizens.
During 2016, the U.S. recognized over 700,000 new naturalized citizens. While the number of citizens gained through naturalization varies each year, the number has tended to range between 500,000 and as high as one million per year. The Migration Policy Institute states the variance can be a result of backlogs due to processing times as well as the number of applicants motivated to apply.
Benefits of Becoming a Naturalized U.S. Citizen
Naturalization extends the same rights, benefits, and responsibilities that native-born Americans enjoy, including the right to vote and no longer live in fear of deportation. Besides improving their earning potential, new citizens may also sponsor immediate relatives to come to the United States. Access to government benefits is an additional element of naturalization.
What are the Requirements for Naturalization?
To begin, the candidate must meet specific requirements as defined by the USCIS. These are:
Must be at least 18 years of age
Must be a green card holder (lawful permanent resident)
Must have been a legal permanent resident for at least five years
Must have lived in the United States for at least 30 months
Must be of good moral character
Must be able to speak, read, write, and understand English to an acceptable degree
Must have knowledge of United States History and civics
Must be able to recite the Oath of Allegiance
The rules for naturalization for spouses of U.S. citizens or U.S. military members are slightly more relaxed for becoming a naturalized citizen. A spouse of a U.S. citizen may be awarded citizenship after only three years of permanent residency. The spouse of a citizen serving in the United States military abroad may be able to forego the usual residency requirements.
In most cases automatic citizenship is granted to children of U.S. citizens that are under the age of 18.
Special concessions to become a citizen are also awarded to non-citizens who have served in the U.S. military.
Application Process
If you are qualified to apply, you will complete a Form N-400, Application for Naturalization. You will include two recent passport-type photographs if you currently reside outside the United States. Gather and submit all documents that supports your eligibility to become a citizen.
Send your completed Form-400 to the USCIS and fees. Additional medical documentation is required if you are unable to complete any of the requirements for language or history.
You will be notified once USCIS receives the form. You may check on the status by visiting the website at uscis.gov.
USCIS will schedule a face-to-face interview. Asking for the interview to be rescheduled can delay the process by months, so it is essential that you attend the interview at the designated time and place.
At the interview, you will also take your English language and civics tests to prove your eligibility. You can prepare for the tests by utilizing the citizenship practice questions on the USCIS website.
It is possible to receive the judgment at the end of the interview and testing. However, in some instances, the interviewer may ask for more information or continue the case for another interview. Or, you may be notified of the rejection of your application.
Importance of Legal Assistance
Working with a certified immigration lawyer will improve your chances for a smooth process when applying for Naturalization.
A capable immigration lawyer who is familiar with the naturalization process can help to present an error-free application in the best possible light. Moreover, the immigration lawyer can help you prepare for the interview and testing, as well as steer you to avoid the pitfalls that have delayed other applications.
Working with an experienced immigration lawyer to apply for naturalization may help in this current and challenging political environment.
Contact Nanthaveth & Associates in Austin, Texas
If you or a family member are qualified candidates for citizenship, you should arrange a free consultation with a certified immigration attorney.
In Austin, Texas, contact Nanthaveth & Associates Immigration Law Office led by principal attorney Vi Nanthaveth. Their multilingual staff will meet with you to discuss the naturalization process and answer any questions.
In fact, you may benefit by contacting the law firm several months in advance of your eligibility to begin preparing for the actual application process.
Phone Nanthaveth & Associates for a free consultation to become a naturalized citizen of the United States. To contact, call (512)-456-2696 or submit a form at the Contact Us section of the website and someone will reach out within 48 hours.
Schedule a FREE Consultation Or Call (512) 371-9000
---
About Nanthaveth & Associates:
Nanthaveth & Associates, PLLC is a trusted immigration law firm located in Austin, Texas. Immigration law experts at Nanthaveth and Associates are prepared to provide legal counsel for businesses, families and individuals in the areas of green cards, deportation, adjustment of status, work visas and investor visa applications, family-sponsored immigration, employer compliance, self-petitions, permanent residence, naturalization, waivers, appeals, foreign adoptions, mediation and more.
For Austin, TX immigration help call Nanthaveth & Associates at 512.371.9000.