Texas SB4 Immigration News and Advice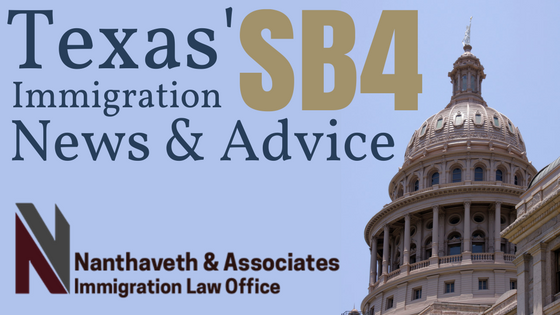 The United States Constitution was established to provide and protect the rights of all individuals residing in the United States. The courts have clearly stated that many of these rights and protections apply to everyone, not just citizens, who happen to live in the United States.
Racial profiling and discrimination against people of a particular religion or ethnicity have been deemed unconstitutional in many court rulings.
Considerable debate centered around immigration during the 2016 political campaigns. The Republican presidential candidate threatened deportation of undocumented immigrants and the elimination of so-called "sanctuary cities." The heated debate carried over into state legislatures and, in Texas, this effort resulted in the passage of Senate Bill 4 (Texas SB4) that discourages sanctuary cities and strengthens the effort to identify and deport undocumented immigrants.
What Are "Sanctuary Cities?"  
So-called "sanctuary cities" are ones that do not actively assist immigration officials in tracking down undocumented immigrants even though many of these individuals have been in the country for over ten years, have raised families, worked, and paid taxes.      
The concept of sanctuary cities became a highly publicized issue after the election as well. Presidential Trump highlighted his concern for immigration and the elimination of sanctuary cities as a central theme of his administration.
The concept evolved into an election focal point. The fever pitch spilled over into several states, notably Texas, where the governor and legislators began to introduce more restrictive legislation to rid Texas of undocumented aliens.
What is the Texas SB4 Legislation?
Originally to be activated on September 1, SB4 was publically supported by the Texas governor. This new law allows law enforcement and immigration officers to confront any individual for proof of their residency.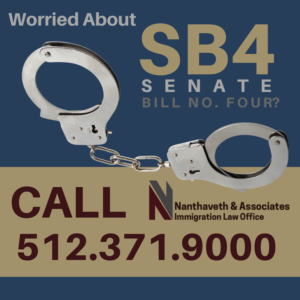 The law is believed by opponents to be far too extensive in its reach. Not only are law enforcement officials able to question those who demonstrate "reasonable suspicion" during routine confrontations like traffic stops, but the law encourages individuals to report any government or law enforcement officials who seem to overlook immigration violators.
As noted in an NBC News report, Texas SB4 has several key components that Texas legislators intend to broaden their reach. These are:
The authority to check the credentials of any individual is not limited to police officers. Others such as magistrates, prosecuting and district attorneys, booking clerks, and even campus security are empowered.
Any elected or appointed government officials who attempt to block immigration checks are subject to removal.
Individuals are encouraged to report government or campus officials who knowingly resist the new law.
Crime victims and witnesses who report a crime are subject to an immigration check of their own.
In case an individual is sued for upholding SB4, the state attorney general commits to defending that person.
A similar law had passed in Arizona previously. However, the federal courts reduced many of the sanctuary city protections that remain in place in Texas SB4.
Opposing Position
Opponents of Texas SB4 believe that the law is unconstitutional. They argue that the legislation promotes "profiling" which will subject many legal residents, permanent citizens, and current visa holders to unfair scrutiny.
Another potential downside to the Texas SB4 legislation pertains to the ability of law enforcement to scrutinize innocent crime victims and witnesses. The presumed impact is that residents will be less likely to report serious crimes given the fear that they or others around them will be asked to verify their citizenship. This reluctance to report crimes will likely lead to a surge in dangerous offenses as law-abiding immigrants choose to withhold information.
Latest News
At the end of August, just before the scheduled September 1, 2017, enactment of SB4, a U.S. District Judge ruled that the Texas SB4 could not be enacted as written because of violations to 1st and 4th Amendments.  The cities of Houston, Dallas, and Austin had joined with El Cenizo, TX in the suit to stop the legislation against sanctuary cities.
Similarly, in Chicago, another federal judge ruled on September 15, 2017, that the president and attorney general overstepped their authority by withholding federal grants from cities they deemed "sanctuaries."
In Austin, Seek Legal Support from Nanthaveth & Associates
As the controversy grows, individuals who may be affected by the elimination of sanctuary cities and related law enforcement efforts should seek expert legal advice from a qualified immigration lawyer.
Being prepared is essential. An initial free consultation with the expert lawyers of Nanthaveth & Associates will help you to:
Understand the current status of Texas SB4
Know what to do if confronted by law enforcement
Enjoy peace of mind knowing that you have highly competent legal support
Phone the offices at Nanthaveth & Associates at 512.371.9000 for your free consultation. The multilingual legal staff will be pleased to help you with your questions and concerns.
Contact Nanthaveth and Associates
Schedule a FREE Consultation Or Call (512) 371-9000
---
About Nanthaveth & Associates:
Nanthaveth & Associates, PLLC is a trusted immigration law firm located in Austin, Texas. Immigration law experts at Nanthaveth and Associates are prepared to provide legal counsel for businesses, families and individuals in the areas of green cards, adjustment of status, work visas and investor visa applications, family-sponsored immigration, employer compliance, self-petitions, permanent residence, naturalization, waivers, appeals, foreign adoptions, and more.
For Austin, TX immigration help call Nanthaveth & Associates at 512.371.9000.