Immigration Law Firm, Nanthaveth & Associates, Acquires New Office Space in Austin, TX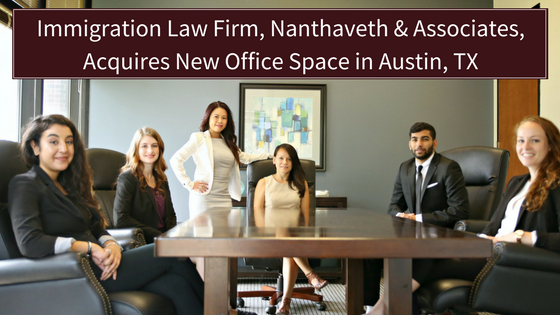 Nanthaveth & Associates, an immigration law firm located in Austin, Texas, has recently acquired new office space and is open to the public for free immigration consultations.
The move to 11211 Taylor Draper Ln #107, Austin, TX 78759 is favorable to existing clients, and families or individuals seeking immigration law services, due to easy accessibility to  US-183 (Research Blvd.).
While the office is in a better location, that is more accessible and easier to find, Vi Nanthaveth, owner and lead attorney at Nanthaveth & Associates, says there is still more growing to do in the business' future.
"We are still in growth-mode, but considering new-hired staff and the office space, we have nearly doubled the size of our business operations already," says Nanthaveth.
Attorneys at Nanthaveth & Associates have over 30 years of combined experience practicing immigration law and are experts in family immigration, business immigration, deportation, asylum and appeals.
Nanthaveth & Associates also has a second office, located in Baton Rouge, Louisiana, but can work with clients throughout the U.S. and internationally.
Bilingual services are offered in Spanish, Lao and Thai, with translation in other languages available upon request.
With free consultations (in-person, on-the-phone and via video-chat) and payment plans for clients, Nanthaveth & Associates makes critical and sometimes life-saving immigration law services available to everyone.
Whether you need an American work visa, are applying for permanent residency, or are seeking safety from persecution in your own country, Nanthaveth & Associates can assist you in your legal immigration case.
Contact Nanthaveth and Associates
Schedule a FREE Consultation Or Call (512) 371-9000
---
About Nanthaveth & Associates:
Nanthaveth & Associates, PLLC is a trusted immigration law firm located in Austin, Texas. Immigration law experts at Nanthaveth and Associates are prepared to provide legal counsel for businesses, families and individuals in the areas of green cards, adjustment of status, work visas and investor visa applications, family-sponsored immigration, employer compliance, self-petitions, permanent residence, naturalization, waivers, appeals, foreign adoptions, and more.
For Austin, TX immigration help call Nanthaveth & Associates at 512.371.9000.