Frequently Asked Questions About Deportation and Removal Proceedings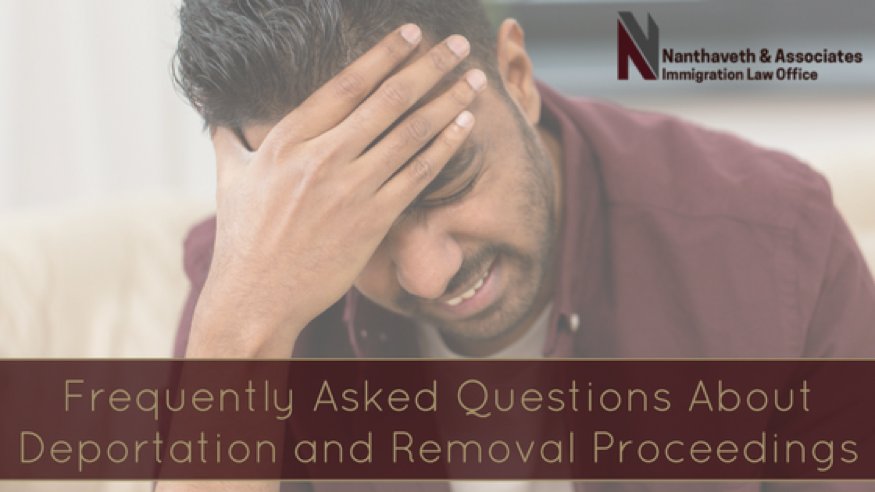 Deportation and removal proceedings should not be taken lightly. Every immigrant, including those who are fully documented and even legal green card holders, can be at risk for deportation. For many, the process can mean separation from family, friends, jobs, and a life to which they have become accustomed. Moreover, after being returned to a country with which you are no longer familiar, deportation can mean you may never return to the United States.
In the past year, with stricter laws intended to crack down on undocumented immigrants and challenge the activities of so-called sanctuary cities, the Immigration and Customs Enforcement (ICE) agents are more empowered than ever to question foreign-born citizens to scrutinize their circumstances. As a result, the number of individuals who may be facing deportation and removal could grow. Therefore, knowing your legal rights is becoming more critical than ever before.
During 2017, according to a U.S. Immigration and Customs Enforcement report, 226,119 removals were conducted.
Particularly in Texas, where the current legislature and governor are focusing considerable attention on immigration matters, finding a qualified deportation attorney to defend your rights is key. Individuals who could be facing the threat of removal, or are already involved with deportation proceedings, should immediately seek out a professional immigration and deportation attorney to have any real chance of challenging the process.
Important Questions Regarding Deportation Proceedings
Consulting with a proven immigration and deportation attorney before any action is ever taken is an important step and can help you to be prepared for any possibility. During an initial consultation, individuals usually ask questions regarding deportation and removal that they might face in case removal proceedings are initiated.
Some of the questions are:
What are the normal reasons for Deportation Proceedings?
Entering the United States without proper permission
Working without permission
Violating the conditions for legal admission
Criminal convictions
Member of a prohibited organization
Becoming dependent on government assistance within the first five years after arrival
How does the deportation process begin?
The individual in question will receive a formal Notice to Appear in Removal Proceedings that will set a time when you must appear in Immigration Court to plead your case. Consulting an experienced deportation lawyer should be the first step after receiving this notice. Never skip the court appointment or removal will become automatic.
If the Immigration Judge orders you to leave, how much time do you have?
The official removal date will be determined. If you wish to appeal the judgment, you have only 30 days to do so. However, if you have no grounds to appeal, you have the right to agree to a "Voluntary Departure" at your own expense. Having an official removal order on your record will make returning to the United States very difficult. Voluntary Departure does not leave the same negative blot on your history that a "forced" deportation does.
What is the deportation policy for individuals committing crimes?
A green card holder or other non-citizen is always liable for deportation if they commit a crime, particularly a violent one.
What if you refuse to obey a deportation order?
The case will be placed on "fugitive status" and the Immigration and Customs Enforcement (ICE) officials will track down and arrest the individual. The person may be charged with a criminal offense and held in jail or prison until physical deportation occurs.
If you are deported, how long before you can legally enter the United States again?
Eventually, you may be able to return. However, the length of time before you can return depends on the circumstances and severity of the reasons for the initial removal. But your conditions may change over time and a qualified immigration and deportation lawyer can help you with presenting your case for returning.
In Austin, TX, Contact Nanthaveth & Associates for Deportation and Removal Issues
The threat of deportation and removal can be intimidating. A qualified deportation attorney will explain the process, assist with preparing and pleading your case, and provide peace of mind and meaningful guidance during the process. As a result, your chances of remaining in the United States will be higher.
A free initial consultation with the professionals at Nanthaveth & Associates in Austin, TX, will provide you with the information and guidance about removal proceedings. The lawyers at Nanthaveth & Associates in Austin, guided by the lead attorney, Vi Nanthaveth, specialize in immigration law and are compassionate defenders of the rights of recent arrivals. Multilingual and available, the staff at Nanthaveth & Associates is familiar with deportation and removal matters and, with many years of experience and familiarity with the process, will work to protect you and your family.
Visit the Contact Us Page to schedule your free first-time consultation with a highly qualified deportation attorney. Alternatively, phone (512) 371-9000 today.
Schedule a FREE Consultation Or Call (512) 371-9000
---
About Nanthaveth & Associates:
Nanthaveth & Associates, PLLC is a trusted immigration law firm located in Austin, Texas. Immigration law experts at Nanthaveth and Associates are prepared to provide legal counsel for businesses, families and individuals in the areas of green cards, adjustment of status, work visas and investor visa applications, family-sponsored immigration, employer compliance, self-petitions, permanent residence, naturalization, waivers, appeals, foreign adoptions, and more.
For Austin, TX immigration help call Nanthaveth & Associates at 512.371.9000.