Illegal Immigration: 10 Facts That May Surprise You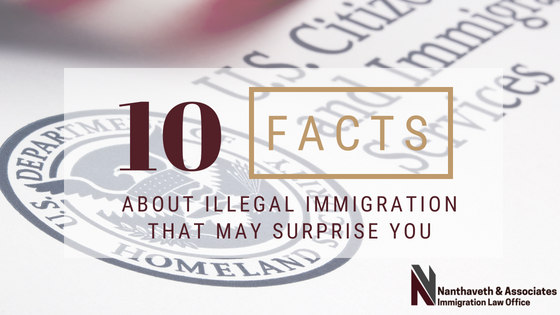 If you're like many people, you know that the Department of Immigration and Naturalization Services ceased to exist in 2003 – but its functions were transferred to U.S. Citizenship and Immigration Services, U.S. Immigration and Customs Enforcement, and the U.S. Customs and Border Patrol – all of which track data on illegal immigration. However, tens of thousands of Americans aren't quite sure what those agencies know, so here are ten facts about illegal immigration and immigration naturalization services that may surprise you.
Illegal Immigration: 10 Facts That May Surprise You
There an estimated 11 million undocumented immigrants in the U.S. at any given time, but the vast majority of Americans aren't very familiar with where these immigrants come from, what they do when they're here, and how they contribute to society. Check out these ten facts about illegal immigration and immigration naturalization services to see how much you know.
1. The number of Mexicans coming over the U.S.'s southern border has declined 81.5 percent since 2000.
This report from the U.S. Border Patrol shows a dramatic drop in apprehensions across regions of the southern border. The numbers dropped significantly during the past 5 years, as well.
2. Most undocumented immigrants come in on a legal visa.
Sixty-five percent of new undocumented immigrants come to the U.S. on a legal visa and overstay it – they don't cross the border illegally.
3. Undocumented immigrants are far less likely to commit crimes than U.S. citizens are.
According to criminal conviction data from across the U.S., undocumented immigrants commit only a fraction of the crimes that native-born citizens do.
4. States with larger shares of undocumented immigrants have lower crime rates than states with fewer immigrants.
"Increases in the undocumented immigrant population within states are associated with significant decreases in the prevalence of violence," authors of a study published in the journal Criminology found.
5. Toddlers sometimes have to appear in court with no attorney.
Minors who are separated from the adults who bring them across the border or who are caught entering the U.S. alone must often defend themselves in court. Some are as young as a year old; during fiscal year 2017, there were 172 cases in which the respondent was a one-year-old child. While some immigration naturalization services assist in representing these children, many who don't even speak English must represent themselves in court.
6. There are only about 350 immigration judges in the U.S.
Despite false claims that the United States has "thousands and thousands" of border judges, there are only about 350 of them serving right now.
7. Fraud involving trafficking and smuggling children to the border is under 1 percent.
Although Department of Homeland Security Secretary Kirstjen Nielsen claimed that there was a 314 percent increase in child trafficking through the border, the truth is that there were 191 suspected cases of fraud out of 31,102 family unit apprehensions in the time period. That amounts to only 0.61 percent.
8. There was never a law that required the break-up of families at the border.
Since the George W. Bush administration – and possibly before – Immigration and Customs Enforcement held families seeking asylum together, in family detention centers. There's also never been a law requiring the "catch-and-release" of people crossing the border illegally.
9. People who illegally cross the border now are not eligible for the Deferred Action for Childhood Arrivals, or DACA, program.
Some politicians say that DACA is a major draw for people to bring their children across the U.S. border, but the fact is that those who cross the border today – and those who have crossed at any time since 2012 – are not eligible for the program.
10. Undocumented immigrants cannot vote in federal elections or receive public benefits, but they do contribute to the U.S. economy.
Federal law and laws in every single state prohibit non-citizens from registering to vote and voting in federal elections. Further, food stamp and welfare programs are not open to undocumented immigrants – and finally, the majority of working illegal immigrants pay federal income tax and payroll tax. Additionally, undocumented immigrants spend the money they earn in their local economies.
Do You Have Questions About Immigration?
If you're seeking immigration naturalization services in the U.S. or you need help obtaining a visa, we may be able to assist you. Call us at 512-371-9000 for a free consultation with an experienced lawyer today.
Schedule a FREE Consultation Or Call (512) 371-9000
---
About Nanthaveth & Associates:
Nanthaveth & Associates, PLLC is a trusted immigration law firm located in Austin, Texas. Immigration law experts at Nanthaveth and Associates are prepared to provide legal counsel for businesses, families and individuals in the areas of green cards, adjustment of status, work visas and investor visa applications, family-sponsored immigration, employer compliance, self-petitions, permanent residence, naturalization, waivers, appeals, foreign adoptions, and more.
For Austin, TX immigration help call Nanthaveth & Associates at 512.371.9000.