Deportation Defense: Understanding Your Rights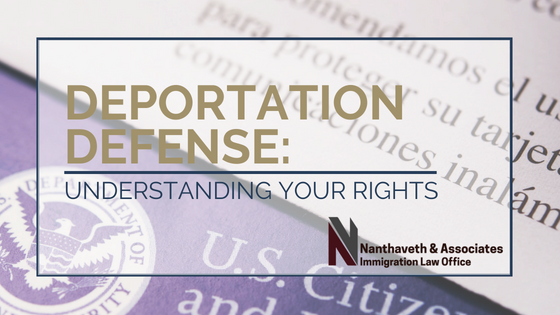 If you're an immigrant in the U.S. who's being threatened with removal – commonly called deportation – you still have rights, even if you came here illegally or overstayed your visa. While deportation defense can be complicated, especially if you're not sure how the system works, federal law provides you with a handful of guarantees.
What Are Your Rights if You're Being Deported?
Like anyone else in the U.S. who is subjected to judicial proceedings, you have certain rights. While they're not identical to the rights of U.S. citizens in some cases, you should know that you have:
The right to a deportation defense attorney
The right to a hearing
The right to an interpreter
Your Right to an Attorney for Deportation Defense
Statistically, having an attorney results in a better outcome during deportation proceedings – but U.S. immigration law doesn't provide for the right to an appointed lawyer. However, you do have the right to hire your own attorney. Although the U.S. won't guarantee you representation, you are free to retain a lawyer to:
Provide you with legal advice
Explain possible outcomes of your removal proceedings
Be present with you and defend you in court
Provide evidence to assist you during your hearing
Appeal the court's decision if it doesn't go in your favor
Your Right to a Hearing for Deportation Proceedings
In most cases, you are entitled to a hearing as part of the deportation process. Typically, this begins when you receive a Notice to Appear in Removal Proceedings. Your Notice to Appear, or NTA, must include:
The nature of the proceedings
The alleged grounds for your removal
Your right to hire an immigration attorney at your own expense
What will happen to you if you fail to appear at scheduled hearings
These hearings are held before immigration judges. Your immigration judge will determine whether your actions or your lack of immigration status make you removable from the U.S., or if you qualify for any type of relief.
When You're Not Entitled to a Deportation Hearing
There are some circumstances that take away your right to a hearing, though. If you're an undocumented immigrant who arrived within the past two years and you cannot prove to officials that you have been continuously present in the U.S. for at least two years, or if you are inadmissible as an arriving alien (either you lied or misrepresented a material fact, or you do not have a valid entry document), you could be placed into expedited removal proceedings – and in that case, you're not entitled to a hearing.
Your Right to an Interpreter During Removal Proceedings
You have the right to be understood – and the court will provide an interpreter in your language. According to the U.S. Federal Court System, interpreters must be:
Impartial
Highly proficient in English and the second or subsequent language
Able to effectively translate messages across languages
Able to interpret simultaneously
Able to communicate orally in both languages
Highly professional
Even if you're very proficient in English, you are entitled to an interpreter. This is to ensure that you can express yourself as clearly as possible and so that you can completely understand what the judge is telling you – it helps ensure there's no room for error in interpretations.
Do You Need to Talk to an Immigration Attorney About Removal Proceedings?
You don't have to face removal alone – and you definitely don't have to come up with your own deportation defense.
Call us right now at 512-371-9000 for a free consultation with a deportation defense lawyer who may be able to help you.
Schedule a FREE Consultation Or Call (512) 371-9000
---
About Nanthaveth & Associates:
Nanthaveth & Associates, PLLC is a trusted immigration law firm located in Austin, Texas. Immigration law experts at Nanthaveth and Associates are prepared to provide legal counsel for businesses, families and individuals in the areas of green cards, adjustment of status, work visas and investor visa applications, family-sponsored immigration, employer compliance, self-petitions, permanent residence, naturalization, waivers, appeals, foreign adoptions, and more.
For Austin, TX immigration help call Nanthaveth & Associates at 512.371.9000.