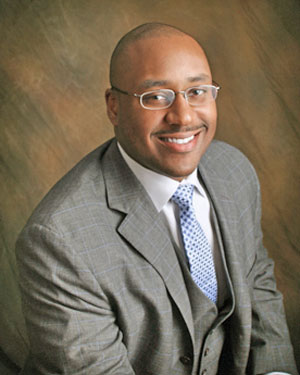 In 2001, Mr. Bush earned a Bachelor of Arts degree from the University of Illinois at Urbana-Champaign. His degree was awarded in economics with heavy emphases in the fields of computer science and mathematics. During his college career, he was a University of Illinois President's Award Scholarship Recipient, became a member of Kappa Alpha Psi Fraternity, Inc., volunteered with the Champaign area Boys and Girls Club and tutored fellow students through the Black Student Union. His knowledge and experience in the field of computer science presented him with the opportunity to work two consecutive summers at "The Boeing Company" as an INROADS intern in computer software development.
Immediately following college, Mr. Bush began the study of law at the Paul M. Hebert Law Center of Louisiana State University, and in 2004 earned a Juris Doctor degree as well as a Bachelor of Civil Law degree. During his time at LSU, Mr. Bush was an active student who was chosen for several leadership positions, including, Chairman of the Moot Court Board and Parliamentarian of the LSU chapter of the Black Law Student Association (BLSA). While in law school, as a result of his scholastic efforts, Mr. Bush earned a position on the Chancellor's List and was also employed as a research assistant to Professor John V. White, who is now the Dean of the William S. Boyd School of Law at University of Nevada Las Vegas. After graduation, Mr. Bush was fortunate enough to receive the honor of having been selected as a member of the Chancellor's Young Alumni Leadership Council for the LSU Law Center, which is comprised of at most two alumni from any given graduating class.
After passing the Louisiana Bar Exam, Mr. Bush accepted a position as an associate attorney with the law firm of "Percy & Percy" in Ascension Parish, Louisiana and became a named partner within five years. Attorney Bush later founded "The Bush Law Firm, L.L.C." (f/k/a "Dallon Bush & Associates, LLC.") and has practiced in the fields of criminal defense, personal injury, general civil litigation and deportation proceedings. Aside from his active private practice, Attorney Bush has been actively engaged in public service throughout his career.  As a city attorney for St. Gabriel, Louisiana, Mr. Bush was the lead attorney in sales tax litigation which will result in the City receiving an annual revenue increase of over half a million dollars, as well as a lump sum receipt of sales and use tax revenue of over 1.6 million dollars. Recently, Mr. Bush disengaged from his criminal defense practice due to having accepted a position as an Assistant District Attorney for the 23rd JDC District Attorney's Office for Ascension Parish, Louisiana and now focuses primarily on prosecution of felony criminal matters, private personal injury litigation, family and immigration law.

11211 Taylor Draper Lane Suite 107
Austin, TX 78759
Tel: (512) 371-9000
Hours: 8:00 AM - 6:00 PM
Payment: all major credit cards, cash, check, money orders, cashiers check